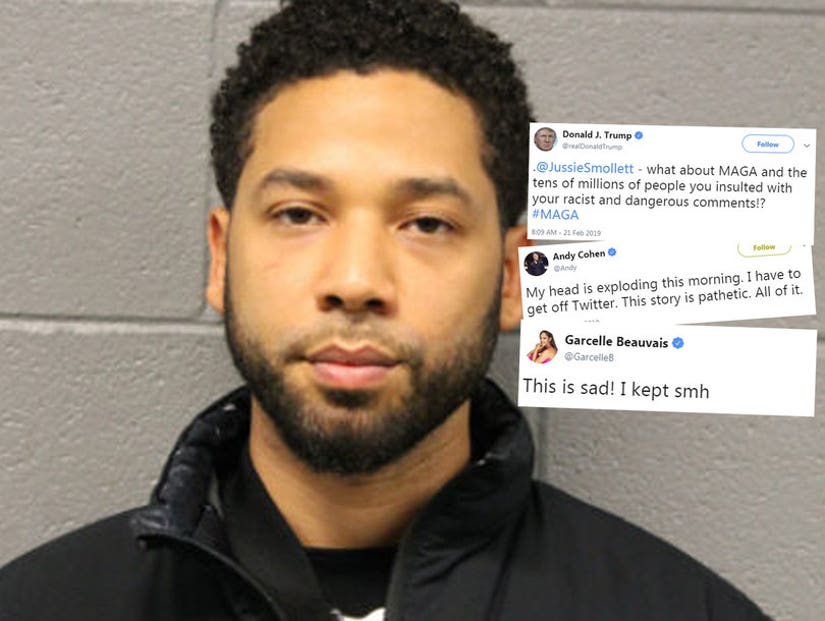 CPD / Twitter
From Donald Trump to 50 Cent, social media exploded in response to the "Empire" star's indictment.
Jussie Smollett turned himself in and was booked by Chicago PD early Thursday morning under a felony charge for filing a false police report; following claims he made about being attacked by racist, homophobic, MAGA supporters.
The response to his indictment, following weeks of media attention on what was first believed to be a hate crime, took over social media with many celebrities -- and POTUS -- weighing in on the situation.
Donald Trump tweeted soon after CPD gave a press conference on Smollett's arrest, writing: "@JussieSmollett - what about MAGA and the tens of millions of people you insulted with your racist and dangerous comments!? #MAGA".
A nauseated Patton Oswalt summarized how many people were feeling on Twitter: "Way to go Jussie. You just handed this racist dipshit a "Get Out Of Race-Baiting Free" card that he's gonna wave around like a soiled diaper until he's re-elected.
50 Cent was among the first to react to the "Empire" star's arrest on Wednesday night with an Instagram post. He shared a mock-up of a cover of Tupac's penultimate album that tweaked the title to "All Liez On Me"; in reference to a statement Smollett made following his supposed attack when he called himself the "gay Tupac."
Fiddy wrote: "It's 2019 people, things are a little different now. Commander Emanuel Gonzalez would say, if you see him shoot him on sight."
The Deputy Inspector Gonzalez 50 was referring to was Brooklyn precinct commander who, according to a NY Daily News report, suggested the "In Da Club" hitmaker be gunned down if spotted at a recent boxing match.
While insensitive and perhaps ill-conceived, many took 50's post as a joke and more of a commentary on Gonzalez than Smollett.
Waiting for your permission to load the Instagram Media.
Jussie made the bizarre self-comparison during a performance at the Troubadour in West Hollywood earlier this month, his first since claiming two men had put a rope around his neck, beat him and poured chemicals on him while shouting racist and homophobic slurs.
"Above all, I fought the f--k back," he shouted adding: "I'm the gay Tupac."
O'Shea Jackson Jr, who played his own father Ice Cube in Straight Outta Compton, also blasted his fellow actor on Twitter in a lengthy diatribe.
"What upsets me about this Jussie situation is that people were genuinely worried about you man. And the things that you said happened could have led to some serious outcomes. People were prepared to fight for you bruh. Things coulda got ugly...... and you made it up,' he wrote.
"The world has plenty of real monsters. You don't have to make up any. And what for? Just further dividing people for personal gain? It sucks for the people who actually have to deal with that type of hate.
"And why did you call yourself the gay Tupac. What does Tupac have to do with anything that happened to you? Did you do this to sell records bro? Did you fake a hate crime, Enrage the Black community. The LBGT community and anti-Trump community just to sell records bruh?
"People could've gotten hurt. Thinking they're protesting and standing up for you. This is not a game," he added. "This Black History Month was horrendous at this point. Day 20. Thank you to everyone who contributed to this s--t."
Waiting for your permission to load the Facebook Post.
Andy Cohen said: "My head is exploding this morning. I have to get off Twitter. This story is pathetic. All of it."
NYPD Blue's Garcelle Beauvais simply said: "This is sad! I kept smh."
Community star Yvette Nicole Brown, who initially shamed people for disbelieving Jussie, received some flack on Twitter, but stood by her original sentiments.
"I won't delete it. It's how I felt" she replied when one follower suggested she erase her earlier posts insisting he would never lie. "I don't hide from how I feel or what I stand for, even as situations change. I'm saddened by this entire situation. How I felt upon hearing what Jussie said happened broke my heart. As it should have broken everyone's heart hearing it.
"I've been vocal about this situation & my love for Jussie & his entire family," she added. "I will continue to hope for the best for everyone involved as things continue to unfold. And I, like all of you, will watch them unfold. But believing victims is always the right choice. Always."
Tyler Perry had a more thoughtful take, highlighting the plight of two missing-but-not-famous men, while refusing to condemn Jussie.
"How I wish that the disappearance of Terrance Williams and Felipe Santos could get half as much attention as this Jussie Smollett thing," he posted on Facebook along with pictures of the missing men (for whom he last year put up $200k for information).
"I have personally spoken to Jussie, and he is adamant that he's telling the truth. Also, everyone that I know who knows him says that he is not the kind of person who would make up such a horrible and awful thing.
"Yet the evidence seems to state otherwise. I'm lost for words. To stoke fears and raise racial tensions is wrong in every situation on ALL SIDES! Yet my prayers are still with him and his family and our Nation. CAN WE PLEASE STOP THE HATE!"
Piers Morgan said Smollett's greed, hatred for Trump & craving to be a celebrated "victim" made him fake a racial, homophobic attack: "He deserves no mercy, no sympathy, just our fury."
Of course the topic of Jussie was everyone's lips on Thursday's "The View"; Ana Navarro was incredulous his alleged motive was his "unsatisfactory" salary of $65k per episode of Empire.
"He's gonna have no salary now," she pointed out. "I feel duped, I am pissed, I am gonna need more than a rehab counseling, I'm going to need more than an apology. He's gonna have to pay real consequences for what he has done.
Meghan McCain suggested Jussie could be "A sociopath".
"I don't understand why victim-hood, making himself the victim in any way would be the way to go for your salary dispute. There has done really long term damage for real people who are victims of hate crime, every hate crime coming forward.
A disgusted Abby Huntsman chimed in: You remember him on that interview he did with our wonderful Robin Roberts and how, I'm just wondering, what's going through his mind because he just sat there with pins promoting LGBT and other things ... how does he look at himself in the mirror when you get up in the morning, how do you go to bed at night?"
Sunny Hostin meanwhile congratulated law enforcement for never being duped: "I saw real anger from the Chicago Police Department, rightfully so. They did an amazing job investigating this, but they also spent probably hundreds of man hours that could have been used investigating real crime. This hoax, this thing that he did, is going to have a chilling affect now and people won't come forward."
Some stars chose to see the funny side in the whole affair, such as Snoop Dogg, who posted several memes mocking the disgraced actor.
Waiting for your permission to load the Instagram Media.