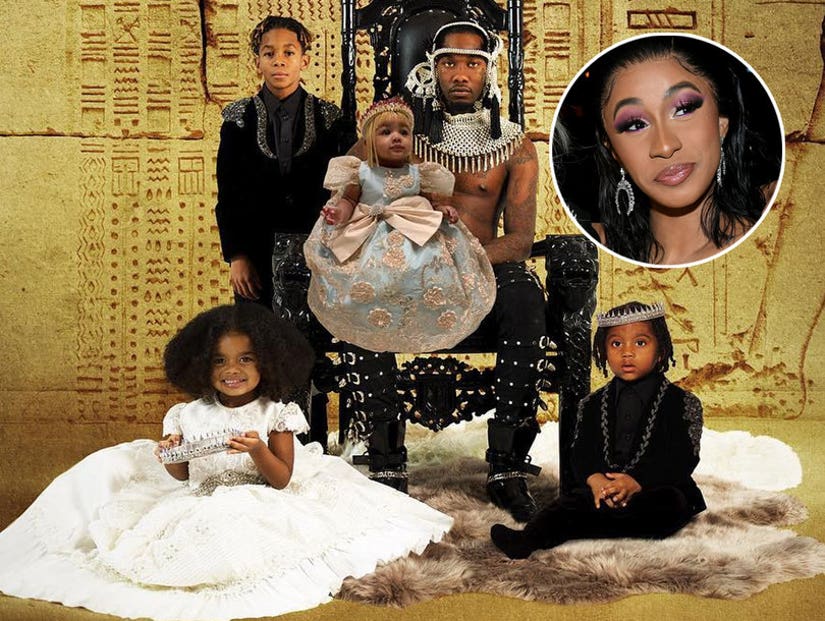 Capitol / Getty
Offset spends a lot of time apologizing for being a rubbish family man... but spends just as many lines blaming others.
Offset says he was a bad father and a bad husband —- and he's sorry.
That's the main takeaway from the rapper's latest album "Father Of 4", which dropped on Thursday night.
The cover of the 16-track record features the 27-year-old with the four children he shares with four different women, including sons Jordan and Kody, and daughter Kalea, as well as youngest Kulture, whom he shares with wife Cardi B.
Cardi is addressed several times throughout the album, and even features on one track, "Clout".
While Offset spends a lot of time apologizing for being a rubbish family man, he spends just as many lines blaming others, like his mom, his exes and especially the "lying" media.
In the opening track "Father of 4", he apologises to his eldest three children for not being there in their early years, but blamed both his own mama and his babies' mamas for kicking him out.
"Had a baby as a kid, mama kicked me out / Had to go and hit a lick, tryna put food in your mouth / Then I got caught for the shit, in the pen when she pushed you out / Your mama tried to push me down, ain't let me stay at the house," he rapped.
Regarding his youngest Kulture, he notes he won't share her picture on social media, and acknowledges he will get kicked out once again — by Cardi this time — if he stops making money.
"Gotta protect her from the world, I can't even post her / Ups and downs in this fame, roller coaster / If I don't ball, then everything 'round me fall / I'm prayin' to God to watch my kids, that's my all".
In "How Did I Get Here", while lamenting he's "Lookin' at my kids through the blinds", he answers his own titular question by boasting of threesomes; the very thing that he was accused of proposing to Summer Bunni and Cuban Doll, which got him dumped last year.
"Street n----s, we rare, unique / We can f--k 'em by the pair, by the three," he ill-advisedly gloats.
In an even more dangerous line in "Made Men", Offset could be interpreted to be calling his wife — whose pet name is Buttercup — a "thot" (That Hoe Over There), who owes her success to him.
"Brown skin thot, Buttercup / How does it feel to be the runner up? / Toppin' the charts every time I touch / The long way, stuff it in all in her gut / / Give her ten bands, tell her shut it up," he boasts.
However it is more likely (hopefully) that Offset is telling this "brown skin thot" that she is the runner-up to his Buttercup (Cardi is a big fan of the powerpuff girl, and wears a necklace to prove it, while Offset even has a huge Buttercup tattoo on his neck).
In "North Star", Offset further shrugs off the blame for his behavior, even going so far as to claim the media are lying about his indiscretions.
"I sit back and watch and see / They plot they enemies / They try to split the three," he raps, referring to himself, his wife and his daughter.
"The blogs is after me / They tryna capture me / They lyin' about the hoes, it's fu--in' my bitch up mentally."
But whatever it is he did to Cardi, he begs her not to do it back to him: "Shit be glitter, it don't be gold the fame can f--k up your family / It's hard to hold, I'm sorry I fold / But you can't do this shit back to me."
It takes until track 8 — "After Dark" — for Offset to take sole responsibility for his actions: "Whole lot of pain, black in my heart / I know she ashamed, I broke her heart," he grovels.
But it is the following track "Don't Lose Me" that is the real apology; it even opens with an audio recording of Offset's mea culpa after Cardi dumped him for cheating last year.
"And I apologize, you know what I'm sayin'? Breaking your heart, breaking our promise, breaking God's promise, and being a selfish and messed up husband, you know what I'm sayin'? I'm, I'm tryn- I'm tryna be a better person. I wanna get this off-" it begins.
In the song he admits "Temptation, had the devil in my soul", and concedes: "I really miss her, I really miss her."
But it only takes the duration of the song for Cardi to forgive him, and tell him to stop drinking the lean he turned to: "I'm sorry, let me come on home / She said 'Put down the styrofoam' / I'm bored and on the jet, come home."
He lavishes compliments on his wife in the track: "I done put your name on me / I don't really know any bitches that can keep up"; "I'm a genie and I'm grantin' wishes / Only for the Mrs"; "Number one, it's a loyalty code / I wanna be with you when we old"; "You bad, you a cutie / I love your attitude, moody / I love when you call a n---a stupid / I love that you're ratchet not boujee".
Kulture Kiari even gets a shout out: "You told me don't use me / KK, all beauty / When I'm lookin' down at her, it's you and me."
Cardi is complimented on other tracks too —- In "Underrated" he insists she does not have ulterior motives for marrying him: "Ni---s called me stupid when I first proposed / She a bad bitch, but she don't got no goals."
In "Wild Wild West," he applauds her sexual prowess: "She givin' brain, this an In-N-Out move / I'ma put her in a Rover, f-k her in her Fashion Nova."
Cardi herself guest appears on just one track, "Clout", where the couple give a shout out to Kim Kardashian and Kanye West... even though Ye has been acting strange of late.
"My bitch on your ass, Kim K / No disrespect / The n---a be tripping, but we love Ye,' Offset spits.
He reaffirms the knowledge once again that Cardi will leave him if success does first: "If I go broke she gone leave, escape / I put 2 mill in the safe just in case, don't go my way."
In her verse, Cardi stands by her man, warning off females who would try come between them: "They using my name for clickbait / Bitches even wanna start fake beef / Soon as these bitches got something to sell / They say my name, say my name, Destiny Child."
In one of the best lines from the entire album, she insists she only pays heed to social media accounts that are verified — anyone else is wasting their time: "Public opinions from private accounts / You not a check, then you gotta bounce."
Offset saves his greatest praise for his "main bitch" until the final track "Came A Long Way": "I won't let this fame or these chains break my family / F--k it, put that ring on my main bitch, you stuck with me".
He adds, referencing her smash hit "I Like It: "Get this shit on film, yeah my bitch is not a basic / Drippin' in Balenciaga sock with no laces."