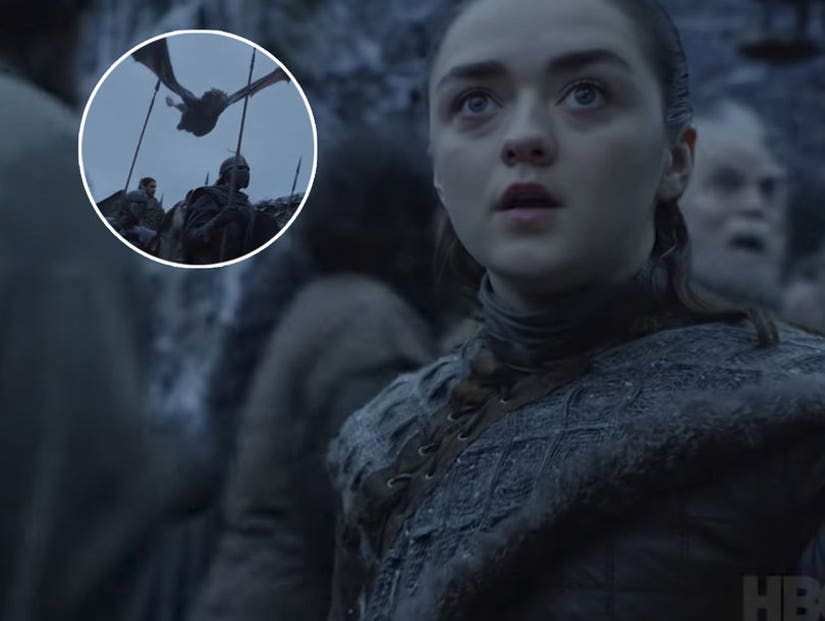 HBO
It takes a lot to impress Arya — but this seems to have done it.
A girl has seen a lot in her short life... but a girl has never seen something quite like this.
Brand new "Game of Thrones" Season 8 footage was unveiled on Sunday night, and it appeared to show the first time Arya set eyes on Daenerys' pet dragons.
The tantalizing seconds-long snippets were buried within an otherwise very-impressive HBO reel of new and returning shows.
The scene shows Drogon, the largest of the three dragons, flying rider-less above an army of Unsullied and Dothraki, as they march purposefully through the snow-covered North.
While a group of older Northernmen and women cower and scatter in fear as they stare into the sky, Arya stands her ground and gazes in awe, before a hint of an impressed smirk starts to spread across her face.
While the clip may well have been edited from two completely different scenes, it certainly appeared to mark the first time the young Stark saw her big brother's girlfriend's children.
Book-ending HBO's exciting line-up, the entire two minute clip opens and closes with equally-brief glimpses of the final season.
The first scene shows a murder of crows, flying through the fog above a still-standing section of the Wall.
The trailer climaxes with flashes of Jon Snow, Tormund Giantsbane, Daenerys Targaryen atop one of her dragons, and the Night King, winding up that ice javelin that took down Viserion in the season 7 finale.
The final scene shows the resurrected ice dragon, flying away from the Wall he just destroyed as it crumbles in his wake.
HBO teased plenty of new distractions to help replace GOT when it finally finishes this year, including the new "Watchmen" series, the "Deadwood" movie, the "His Dark Materials" series based on the Philip Pullman trilogy of books, and the docu-series "The Case Against Adnan Syed", which follows up on the enormously popular first season of podcast "Serial."
Also returning are favorites "Big Little Lies," "Ballers," and "Veep," which also marks its final season this year.
The final six episodes of "Game of Thrones" begin airing on HBO from April 14.