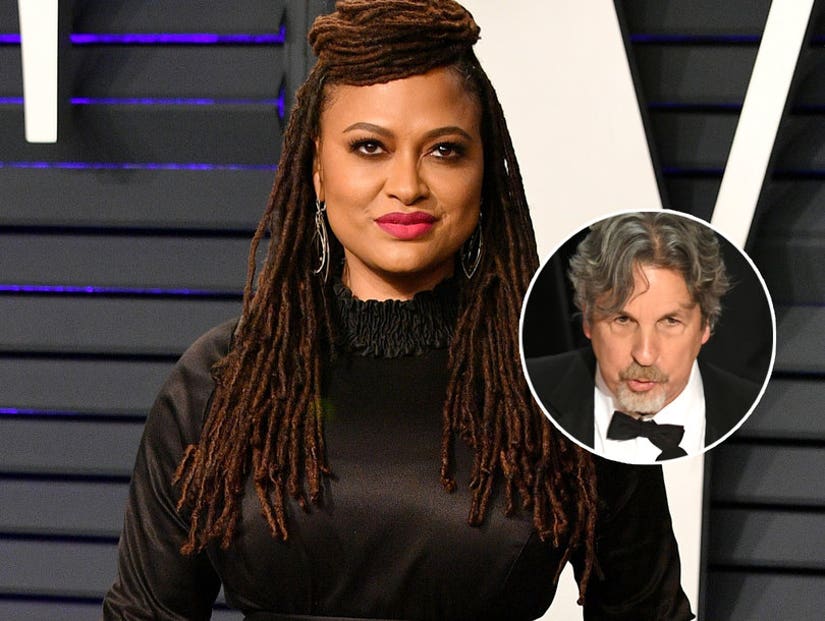 Getty
"It started with Victor Hugo Green," she tweeted of the actual book's author, mimicking the praise "Green Book" director lavished on his white star Viggo Mortensen at the Oscars.
Spike Lee was not shy about his opinion of the Best Picture Oscar winner; others were a little more subtle.
Ava DuVernay took a sneaky swipe at "Green Book" on Sunday night, shortly after Julia Roberts pulled the surprise title out of the envelope at the Dolby Theatre.
During his acceptance speech, director Peter Farrelly heaped praise on his lead star: "This doesn't start, by the way, without Viggo Mortensen," he said. "All these awards are because of Viggo and Mahershala and Linda, but it started with Viggo."
Most of the ire directed on the film is that it gives virtually no credit to the creator of the "Negro Motorist Green Book," from which the title of the film is derived... and the "Selma" director agreed.
"For anyone who may be interested in what the Green Book actually was, here is a link to more information about this act of resistance and source of love and survival for many African-Americans," she tweeted along with a Wikipedia link, adding: "It started with Victor Hugo Green. #OSCARS"
Victor was a postal worker who developed the guide in the 1930s for black people looking for safe places to travel, lodge, eat or even just gas up their cars in an era of Jim Crow laws and racial segregation. Green himself knew how sad and ridiculous the need for his own guide was, and looked forward to the day when it wasn't needed.
Aside from the author's omission, "Green Book" has been at the center of other controversies for a while now, with some feeling it perpetuates the "white savior" mythology that a person of color needs a white person to first blaze the trail for them. They also found it filled with racial cliches as many critics ravaged the film upon release.
Then there was Mortensen's causal dropping of the N-word during a press event which, while he was trying to make a point about racial progress in America, was not received very well.
More recently, some of the people behind the film have come under fire, with the family of the film's true-life protagonist Dr. Don Shirley denying the close friendship between him and Viggo Mortensen's character portrayed in the film. The movie was co-produced by Nick Vallelonga, son of Viggo's character Tony Lip, who also wrote the book upon which the film is based.
Vallelonga had also come under fire in the run-up over an Islamophobic tweet ("@realDonaldTrump 100% correct. Muslims in Jersey City cheering when towers went down. I saw it, as you did, possibly on local CBS news") which wasn't a good look, especially since the film's other big winner on the night, Best Supporting Actor Mahershala Ali, is Muslim.
Also, not many people missed the fact that when "Green Book" was announced as the year's Best Picture, a parade of mainly older white men went up to scoop the rewards.
One person who wasn't too enthusiastic about "Green Book"'s triumph was Spike Lee; while his "BlacKkKlansman" wasn't expected to take home the top prize — many critics predicted Alfonso Cuarón's "Roma" as the favorite — Lee didn't appear to be upset about not winning as much as he was about which film was winning.
According to Deadline, the director first stormed to the back of the theater before ultimately returning to his seat. He then turned his back turned to the stage during the acceptance speech.
While talking with reporters backstage afterward, Deadline reported Lee's joking-not-joking reaction to his own behavior: "Oh wait a minute, what reaction did you see? What did I do?" he said, adding, "No, I thought I was court side at the [Madison Square] Garden. The ref made a bad call."
The director jokingly compared this loss to the 1990 Oscars, where "Driving Miss Daisy" won Best Picture. "I'm snake bit. Every time somebody is driving somebody, I lose. But this time they changed the seating arrangement" — referring to his latest film being up for Best Picture, while "Do The Right Thing" was limited to a screenplay nod in '90.
Sunday night marked Lee's first ever competitive Oscar (he was given an honorary one in 2016), for Best Adapted Screenplay.
It took until 2017 for the Academy to even nominate a black female director for Best Picture: DuVernay for "Selma".