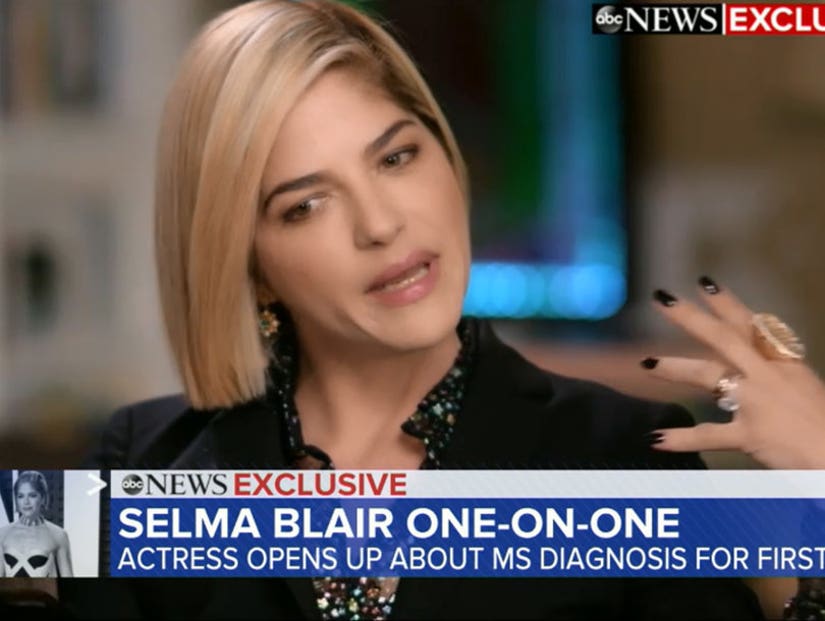 ABC
"My speech is -- as you'll notice -- I have spasmodic dysphonia right now," the 46-year-old actress tells ABC News' Robin Roberts.
After the 46-year-old made her brave red carpet debut with a personalized cane at Sunday's Vanity Fair Oscar Party, ABC News aired an extremely raw sit-down Robin Roberts had with the actress at her home, days before her big night out.
Blair spoke slowly yet positively about her debilitating disease. Her voice quivered and jolted, but she smiled anyway.
"I am doing very well," the actress told Roberts. "I am very happy to see you, being able to just put out what being in the middle of an aggressive form of multiple sclerosis is like. So my speech is -- as you'll notice -- I have spasmodic dysphonia right now."
MS is an unpredictable, often disabling disease of the central nervous system that disrupts the flow of information from the brain to the body, causing problems with vision, balance and muscle control. Spasmodic dysphonia -- a symptom of the chronic disease -- is caused by involuntary movements of one or more muscles of the voice box, otherwise known as the larynx.
"It is interesting to put it out there, to be here, to say, 'This is what my particular case looks like right now,'" she added.
Blair was diagnosed in August of last year, and when she first opened up about her diagnosis in October, she described it as a relief because it gave some clarity to years of symptoms. She speculated that she's likely had MS for 15 years. It was friend and "Saved by the Bell" alum Elizabeth Berkley who recommended Blair see her brother, who was able to provide the diagnosis after seeing lesions on her MRI.
Upon receiving the news, Blair said she cried. "They weren't tears of panic; they were tears of knowing I now had to give in to a body that had loss of control," she explained. "And there was some relief in that because ever since my son was born, I was in an MS flareup and didn't know. And I was giving everything to seem normal. And I was self-medicating when he wasn't with me. I was drinking, I was in pain. I wasn't always drinking, but there were times when I couldn't take it, and I was really struggling with, 'How am I gonna get by in life?'"
Blair said she was "not taken seriously by doctors" and that her symptoms were brushed off as a result of being an "exhausted," "single mother" with "financial burdens."
"I even got to the point where I said, 'I need to go to work, and I have to stay awake,'" she said. "I dropped my son off at school a mile away, and before I got home, I'd have to pull over and take a nap. And I was ashamed. And I was doing the best I could, and I was a great mother, but it was killing me."
Blair said that's why she "cried with some relief" when she finally got the answers she was looking for, thinking to herself, "Oh, good, I'll be able to do something." She also said it was "not at all" difficult to share the news with her 7-year-old son, Arthur Saint Bleick.
"I always want him to feel safe and never responsible for me, but he had already seen that I was falling and doing things, and I was always laughing," she said. "And he'd imitate me, and I'd be like, 'That's fine, but don't do that out of the house. People will think you're a jerk.' And so I did have to tell him after the MRIs that I have something called multiple sclerosis. And he almost cried and said, 'Will it kill you?' And I said, 'No. I mean, we never know what kills us, Arthur. But this is not the doctor telling me I'm dying.' And he was like, 'Oh, okay.'"
When Roberts asked Blair what gets her through her darkest days, she replied, "I get in bed, and I don't move. You just have to. You can't do it all. It's fine to feel really crappy. And my son gets it, and now I've learned not to feel guilty."
Blair admitted to Roberts she was "a little scared of talking" on camera but that her neurologist told her, "'No, this will bring a lot of awareness because no one has the energy to talk when they're in a flareup.' But I do -- because I love a camera!"
The actress said she also sought out the help of actor Michael J. Fox -- who's lived with Parkinson's disease for almost 30 years -- and said, "I don't know who to tell, but I'm dropping things, I'm doing strange things."
"He really helped me," she said. "Plus, I was like, 'I have Michael J. Fox's email now! Like, I'm pretty cool! I'm cooler than I thought. But really, he gives me hope."