The reality star takes to Instagram with more posts about cheaters and self worth.
We're just hours away from what is sure to be an explosive episode of "Red Table Talk" with Jordyn Woods and all eyes are on Khloe Kardashian's social media activity.
The reality TV star has been posting up a storm on her Instagram Stories ever since reports came out that her man, Tristan Thompson, cheated on her with Kylie Jenner's best friend. Most of the posts have been thinly-veiled jabs at both Tristan and Jordyn, as well as affirmations about moving on.
Her posts both last night and this morning were no exception.
On her main feed, Khloe first showed off a photo of a neon light reading "It was all a dream," followed by another photo of her getting her hair styled (above). "Start each day with a grateful happy heart," she captioned the image. "Count your blessings over your burdens. Smile, you got this! Lord, thank You."
The posts in her Stories, however, were a little more pointed.
Her day on Thursday began with a workout, which she captioned as "Therapy," before uploading a series of memes that clearly referred to the situation unfolding around her.
"You ever notice people would rather stop speaking to you instead of apologizing when they're wrong," read one. Another said: "Remember: they cheated because they wanted to, they lied because they could, and now they're sorry because they got caught. it's always about them. You did nothing to cause or deserve it."
After some photos showing flowers and balloons she received was another affirmation. "You're incredible even when you feel you're not," it said. "You might feel lost now, but great things are coming your way. You're stronger than you think, and you have a lot to accomplish. Don't give up. Remember, you matter and you're not alone."
Then, on Friday morning, was another reading: "one day you will see it was not your own worth you should question, it is whether or not other are worthy enough to hold your heart in their hands."
"The best part about life is the fact that you can start over every morning and become a happier version of yourself," said a second post.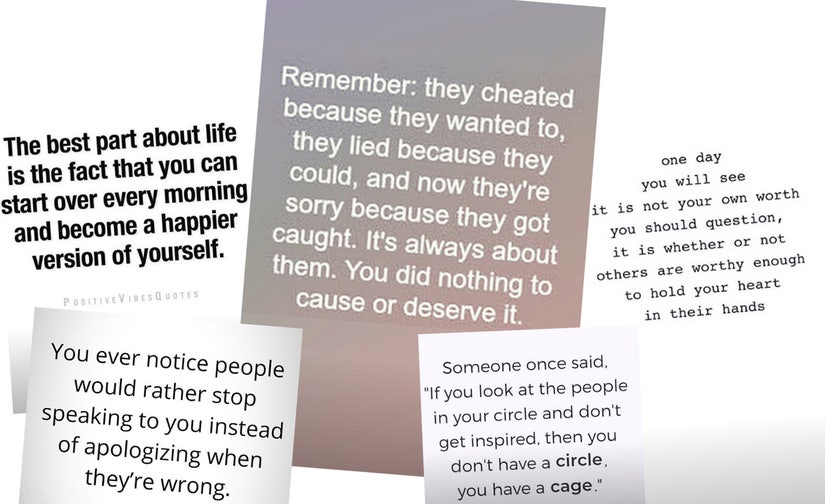 Instagram
And, lastly, a note reading, "someone once said if you look at the people in your circle and don't get inspired, then you don't have a circle, you have a cage."
We'll keep an eye on her page and see if there's any update once Jordyn's interview goes live. It should be an interesting day.