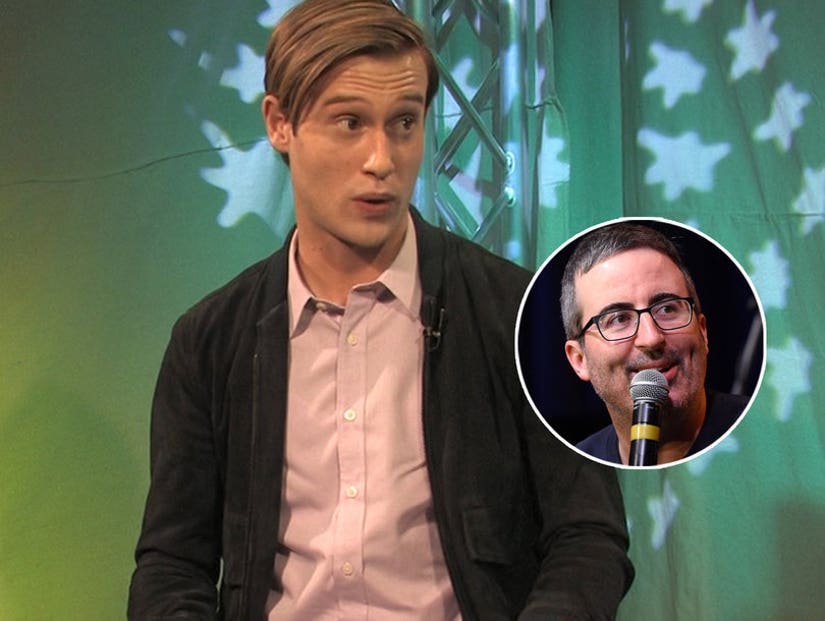 TooFab / Getty
"I think that skepticism is something to be embraced, I think we should question every belief we have," Henry tells TooFab.
The "Hollywood Medium" sat down with TooFab this week, where he confirmed there are "Absolutely, 100%" charlatans out there trying to make money off vulnerable people.
"If you are going to go to a medium, go to a medium as a skeptic... and this is a medium telling you this!" he advised.
"Because if someone is a medium and they are legit, they're not going to be shocked by skepticism, they're not going to be taken aback or intimidated by skepticism. Give as little information about yourself as possible, and let the medium do the talking."
In the most recent episode of "Last Week Tonight," Oliver denounced all mediums, branding the "ventriloquizing of the dead" as "bullshit."
Tyler welcomed the skepticism — but draws the line at cynicism.
"I understand skepticism, I think that skepticism is something to be embraced, I think we should question every belief we have," he said.
"In my opinion I think there's a difference between skepticism and cynicism; I tend to avoid cynicism because I feel it can err sometimes on the side of ignorance, by just disregarding something without actually seeing it or experiencing it first-hand."
One of the charges Oliver and other skeptics make is that mediums can "hot read" a target; research them before a read. However Tyler's MO on "Hollywood Medium" is never knowing who he is reading until he actually meets them on the day.
"Now I totally understand that there are people who are not into it, but with the people who I do read that are skeptics — and I do a whole bunch of them this season, Tom Arnold, Dr. Drew — I really have to be specific and focus on validations," he said. "And these validations have to be things that aren't searchable, aren't Google-able."
Oliver pointed to a specific example, when Henry moved Matt Lauer to tears after claiming to have made contact with his late father.
Tyler continued: "John Oliver's claim is that in reading Matt Lauer there was information about his father on the internet — of course; Matt Lauer is a public figure. It was the information Matt Lauer heard that wasn't public information is what in my opinion got him really emotional and allowed him to have a really cathartic experience. It's not the Google-able stuff that people are getting emotional at."
While the 23-year-old grew up in a very faith-based Presbyterian household, he confirmed he no longer follows a religious denomination.
Asked if he is a man of faith, he replied: "I always say I am a man of trust: I have a deep sense of trust in the universe and something greater."
"I like to think of religion as languages, our religion is very cultural, it has a lot to do with where we are born on this planet, it can really impact our religious beliefs."
He believes his powers are divine — granted unto him by this higher power, adding: "But so is the ability to play basketball really well or paint a pretty picture, gifts from something greater that we are all part of."
Tyler revealed that in an upcoming episode of "Hollywood Medium," he underwent a brain scan while doing a reading; it was conducted by Dr. Drew and a scientist colleague, and they selected one of Tyler's most skeptical clients yet: Steve-O from "Jackass."
"He stapled his testicles to his leg!" Tyler exclaimed, sounding somewhat starstruck. "He was a total non-believer in the beginning — Dr. Drew selected him because he wanted to pick someone who was not a believer."
"All I can say is by the end of it — he believed. He cried," Tyler revealed.
"And the brain scan most interestingly reflected some huge anomalies that they weren't able to explain. So I'm going to be curious to do some follow up testing with that."
"Hollywood Medium" Season 4 continues on E! on Thursday nights.