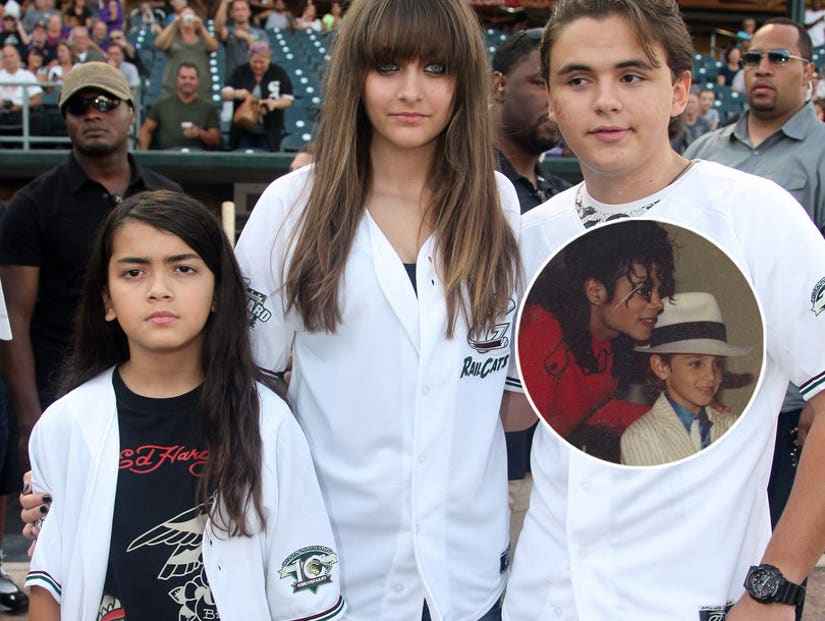 HBO
"They can't believe it, because they know Wade."
Michael Jackson's children have been left "devastated" in the wake of "Leaving Neverland."
The Late King of Pop's family members Tito, Taj, Marlon and Jackie Jackson told E! News that Paris, Prince and Blanket have been hurt by the molestation allegations made in the damning HBO documentary — especially by Jackson accuser Wade Robson, who is featured in the exposé.
"They can't believe it, because they know Wade," Jackie said. "They can't believe what is going on."
"They are going through some troubling times," she continued. "It's painful for them."
Although Michael's three children have yet to address the documentary themselves, their aunt assured: "I am sure they will speak out later."
Michael's sister Janet Jackson has also yet to respond; and according to her nephew Taj, nor will she: "I don't think she wants to give this attention," he said. "As soon as she would have said something, it would've given it a bigger platform."
The family matriarch Katherine Jackson has been purposely kept in the dark about the whole thing: "We try to keep this away from her for as much as we can, because she's an older age," Marlon revealed.
Jermaine meanwhile has been actively defending his little brother on Twitter.
"So many in media, inc @Oprah, blindly taking #LeavingNeverland at face value, shaping a narrative uninterested in facts, proof, credibility," he tweeted on Tuesday. "We faced similar "graphic" claims + trial-by-media in '05. Jury saw through it all. Trial-by-law proved Michael's innocence long ago. Fact."
Wade Robson and James Safechuck are featured in the two-part docuseries that aired on HBO Sunday and Monday evening, followed by interviews conducted by Oprah Winfrey. Both men allege in the documentary that Michael Jackson sexually abused them as children. Jackson maintained his innocence until his death on all charges and allegations of inappropriate behavior with children. It wasn't until after he was gone that Robson changed his story publicly to say he had been abused. Safechuck, upon seeing Robson speak on television about alleged abuse at the hands of Jackson, also chose to come forward with his own story.
It is because of these earlier testimonies that the Jackson estate has spoken out against HBO's newest series and filed a $100 million lawsuit, saying in a press release, "The two accusers testified under oath that these events never occurred. They have provided no independent evidence and absolutely no proof in support of their accusations."