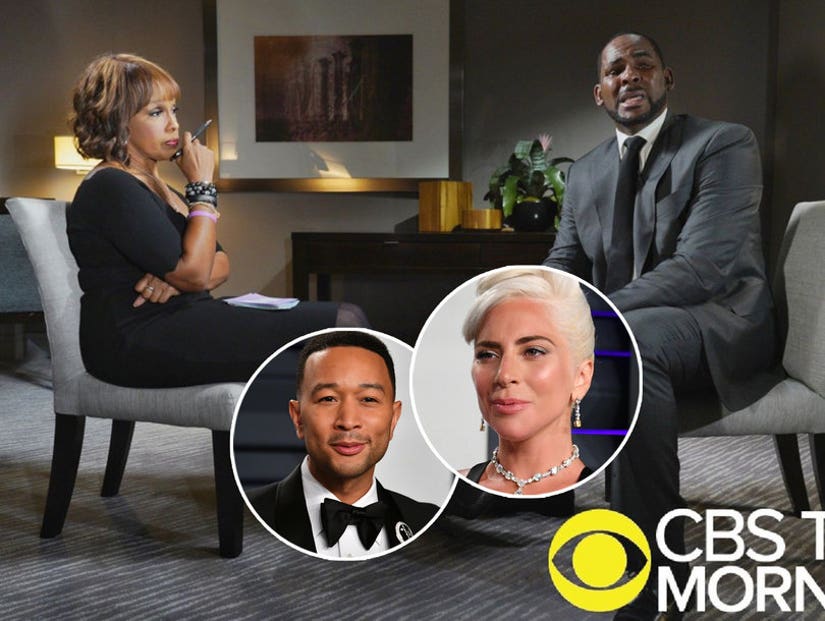 CBS/Getty
Gayle King asks the singer about the reaction to his case from other stars and he's not having it.
Since Lifetime's "Surviving R. Kelly" special, many celebrities have taken a very public stand against the singer, releasing tweets or full statements condemning his alleged pattern of sexual abuse. Now, R. Kelly has reacted to some of the high-profile backlash.
John Legend and Wendy Williams were the only big names who actually participated in the docuseries, while others like Lady Gaga came out with comments distancing themselves from Kelly after it had aired.
Though she worked with Kelly on her 2013 single "Do What U Want," Gaga came out saying she supported his accusers "1000 percent" in light of the series, apologized for collaborating with him in the first place and had the song removed from all streaming platforms.
A preview clip of Kelly's full "CBS News" interview with Gayle King was released on Tuesday night, where King asked about these reactions from other celebrities.
"How do you feel about how people view you in the industry? John Legend has called you a serial rapist, people in the room, some of the top executives were saying he's over, he's done, no one will work with him," she asked. "Lady Gaga has apologized for working with you. Spotify has pulled you off of its playlists. How does all of this sit with you, how you're viewed now in the industry?"
"John Legend, Lady Gaga ... The interesting thing about this is the fact, working with Lady Gaga, she's a very great talent and all and it's unfortunate that her intelligence go to such a short level when it comes to that," he replied. "I have nothing against none of these artists, but I think it's not professional for them to do that."
"Something like this could happen to any artist," he continued. "Anybody famous. Anybody famous can get accused of so many different things."
Gayle pushed back, however, saying she "would disagree this could happen to anybody famous, R. Kelly."
When he reiterated his claim that, "This is earth and this could happen to anybody," she doubled down. "But people have gone their whole careers and not have the allegations that have been leveled against you," King responded.
More of King's sit down with Kelly will air on Thursday, as well as an additional interview with two of the women who live with the singer.