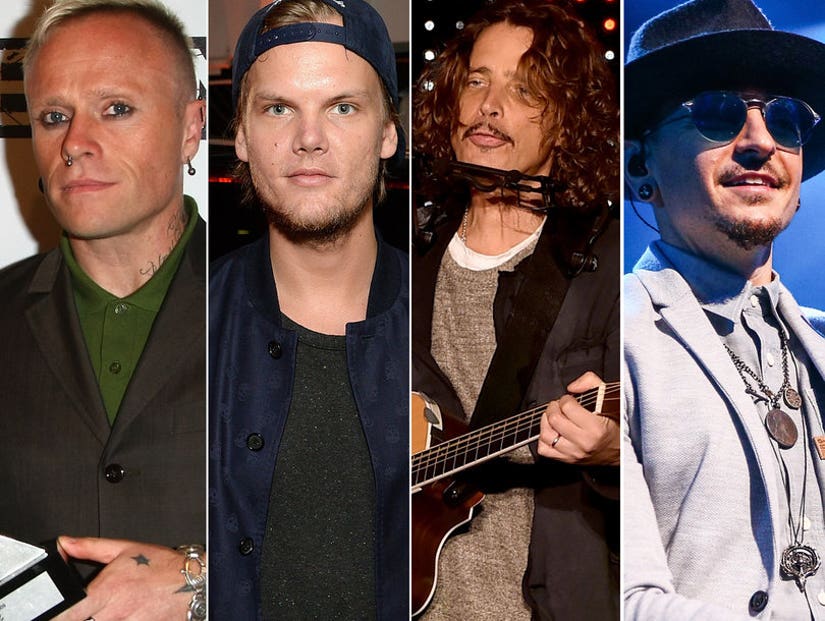 Getty
Keith Flint, Chris Cornell, Chester Bennington and Avicii all tragically took their own lives in the space of just 22 months.
The music industry lost four huge stars to suicide in the past two years; but according to mental health experts it is not a trend to worry about — yet.
Dr. Zain Sikafi, co-founder and CEO of HealthTech counselling platform Mynurva, was reacting to the latest tragic news that The Prodigy frontman Keith Flint had become the latest to take his own life earlier this week.
"It's always tragic to see someone take their own life, and cases like this that garner so much attention from the media give us, if nothing else, an opportunity to talk about mental health and the need for greater support," he told TooFab. "After all, if anyone is in a position where they feel so low and isolated that they are considering suicide, it's vital they know there are places they can turn to for help."
On May 18 of 2017, Soundgarden and Audioslave frontman Chris Cornell, 52, was found dead in his Detroit hotel room, taking his own life hours after performing a show.
On July 20, 2017, Linkin Park singer Chester Bennington, 41, committed suicide at his California home.
On April 20 of 2018, superstar DJ Avicii killed himself in Oman, aged just 28.
According to Dr Sikafi, it is too soon to identify it as a trend; however he said it must be acknowledged that there are "certain lifestyles which can leave individuals more exposed to mental health problems."
"This includes a lack of structure to one's life, combined with influences like alcohol and drugs," he said. "And I certainly think that more must be done in certain professions – including music and the arts – to enable people to find help as and when they need it."
"Particularly for those in the public eye, it can be difficult to admit personal struggles with mental health; but having the confidence and support to speak out is the first step to addressing these problems."
With the exception of Avicii, it could be argued the victims all enjoyed the height of their successes in the 90s; Dr Sikafi pointed out that while all careers have ups and downs, "in some professions the peaks and troughs are more pronounced."
"Music and sport are examples of this, and it can be hard for people to adapt once they come out of the spotlight that they've grown accustomed to," he said. "It's why professional bodies, like the music industry, must take on responsibility for implementing support structures for people both while they're active performers but also in the next phase of their life."
Dr Sikafi doesn't worry young or vulnerable fans will emulate their heroes.
"The rich and famous might be perceived to be living a great lifestyle, but they also face intense scrutiny and challenges that many people do not envy," he said. "Many high profile figures are also under pressure to maintain a certain public image, and can often feel lonely and isolated because of their celebrity status."
"Ultimately, every individual is unique and so is their mental health. It is not for anyone to say whose life is easy or hard, nor who should or shouldn't suffer from depression; such problems can affect people for a huge number of reasons, many of which are often deeply personal. What matters is that we strip away the stigma that surrounds mental health so we can understand that everyone faces their own inner battles, and that will be the first step to empowering people to talk about their problems and get the help they need."
According to the National Center for Health Statistics, 2016 marked a 30-year high suicide rate in the US, of more than 13 deaths per 100,000 people.
"We must enable people to get help when they are suffering from stress, anxiety and depression – governments, charities, employers and society as a whole must all strive towards this goal," Dr Sikafi concluded. "It is time to make mental health a priority across all industries, and implement necessary changes to stop people suffering in silence."