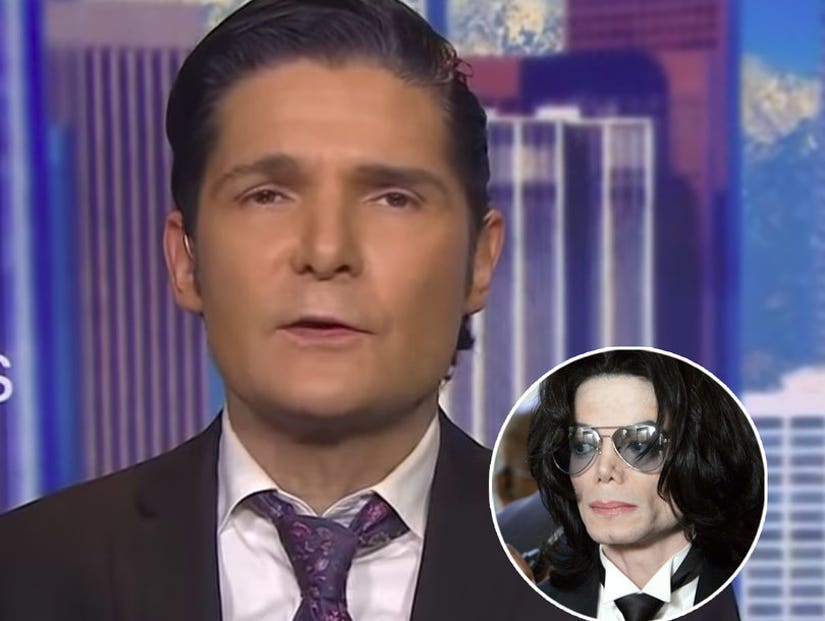 HLN / Getty
"I don't want to be perceived as I'm here to defend Michael Jackson, because I can no longer do that," Feldman said.
Feldman, who as a child star was friends with Michael Jackson, previously questioned the validity of allegations made against Jackson in two-part HBO documentary "Leaving Neverland."
Now the actor and musician has changed his public opinion after watching and processing what he learned in the docuseries, which features two men who claim they were sexually abused by Jackson when they were children.
Appearing on HLN Wednesday, Feldman explained how difficult it was for him to view Jackson from a perspective so drastically different from how he knew him as child.
"You're a kid who has endured sexual abuse, and during those times, I'm looking to somebody like Michael Jackson as a friend, as a big brother figure," Feldman said. "And he was that person to me. However, as you're friends with this guy, all of a sudden you start to hear more and more accusations thrown around by various people."
"It comes to a point where, as an advocate for victims, as an advocate for changing the statutes of limitations to make sure victims' voices are heard, it becomes impossible for me to remain virtuous and not at least consider what's being said and not listen to what the victims are saying," he continued.
While the '80s star maintained his relationship with the much-older Jackson never became inappropriate, Feldman claimed in his 2013 memoir he had been abused as a child growing up in show business.
"I don't want to be perceived as I'm here to defend Michael Jackson, because I can no longer do that," he said on HLN. "I cannot in good consciousness defend anyone who's being accused of such horrendous things. But at the same time, I'm also not here to judge him, because again, he did not do those things to me and that was not my experience."
"My place is not to be the judge, it's not to be the accuser and it's not to be the defender," he continued. "My job in this is to focus on what's most important, which is helping to reform the statutes of limitations in every state, because if we can reform the statutes of limitations, we can prevent these things from ever getting to this point."
"It's extremely important that we all take a pause and listen to all victims right now," he added. "And I certainly want to apologize if anybody took anything that I said out of context in those tweets because it certainly wasn't meant in any way to question the validity of the victims."
"I really hope with all of this, raising this awareness, thank God that they're doing this and getting it out there," he said. "All I can say is that I wish it had happened while Michael was alive so that he could've been on trial and faced it and defended himself. That can't happen today, so I don't know where this leads, but I do know that it's important that we keep talking and we keep hearing each voice of each victim," Feldman concluded.
Following his appearance on HLN, he tweeted, "This was the hardest interview I have ever done ... My heart is with all the victims and the children of MJ who are also victims in all of this."
4 ANY1 WHO MISSED MY INTERVIEW 2DAY, I WANTED 2 POST IT AGAIN HERE! THIS WAS THE HARDEST INTERVIEW I HAV EVER DONE OUTSIDE OF THE DAY CH PASSED. MY ❤️IS WITH ALL VICTIMS, & THE CHILDREN OF MJ WHO ALSO R VICTIMS N ALL OF THIS. PLEASE RESPECT THAT! 🙏🏼 https://t.co/dlfiYPBN8q

@Corey_Feldman
The late King of Pop's family members -- Tito, Taj, Marlon and Jackie Jackson -- told E! News that Paris, Prince and Blanket have been hurt by the molestation allegations made in the damning HBO documentary -- especially by Jackson accuser Wade Robson, who is featured in the exposé.
Wade Robson and James Safechuck are featured in the two-part docuseries that aired on HBO Sunday and Monday evening, followed by interviews conducted by Oprah Winfrey. Both men allege in the documentary that Michael Jackson sexually abused them as children. Jackson maintained his innocence until his death on all charges and allegations of inappropriate behavior with children. It wasn't until after he was gone that Robson changed his story publicly to say he had been abused. Safechuck, upon seeing Robson speak on television about alleged abuse at the hands of Jackson, also chose to come forward with his own story.
It is because of these earlier testimonies that the Jackson estate has spoken out against HBO's newest series and filed a $100 million lawsuit, saying in a press release, "The two accusers testified under oath that these events never occurred. They have provided no independent evidence and absolutely no proof in support of their accusations."