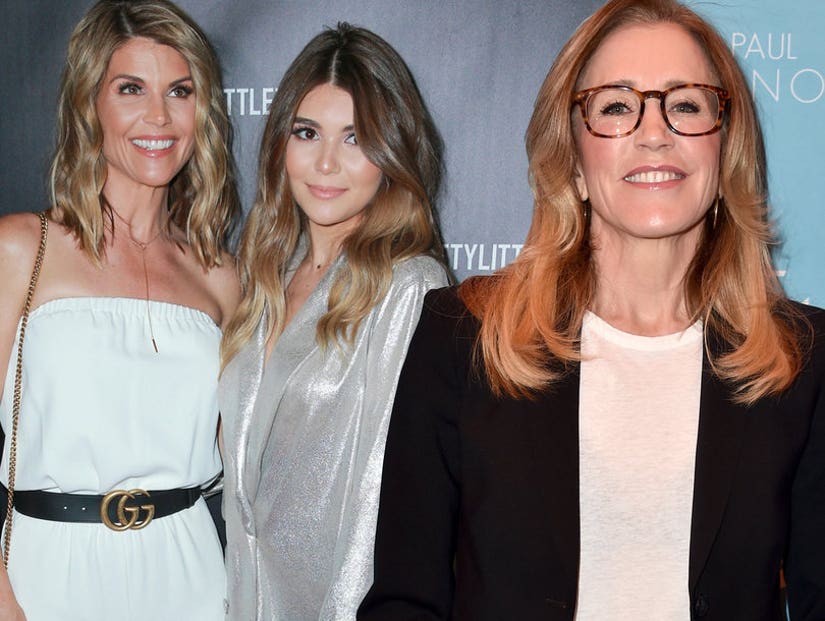 Getty
The shocking news cast a spotlight on anything they may have said about college -- or really anything else -- in the past.
Since news broke Tuesday that the "Full House" star and "Desperate Housewives" alum had both been accused in the scheme, the internet began digging up old tweets and statements by the two women, Loughlin's daughter Olivia Jade, and Huffman's husband William H. Macy.
The two mothers were at the center of national attention after being linked to the scheme involving dozens of parents who allegedly paid a collective total of $25 million to ensure spots for their offspring in elite schools, including Yale and USC. The newfound scrutiny cast a spotlight on anything they may have said in the past -- about really anything.
Read on below for the statements that are now getting special attention in wake of the shocking news.
Felicity Huffman and William H. Macy
When the wild news story went viral Tuesday, people started to resurface an old tweet of Huffman's.
"What are your best 'hacks' for the back-to-school season?" she wrote.
Two months ago, Huffman's husband Macy discussed the "stressful" process of applying to colleges. "My daughters are extraordinary women," the actor told Parade magazine in January. "They're really a joy. They're both thriving. They've got a life ahead of them, but you can exhale a little bit."
When asked if his older daughter plans to attend college, Macy said, "She's going to go to college. We're right now in the thick of college application time, which is so stressful. I am voting that once she gets accepted, she maybe takes a year off. God doesn't let you be 18 twice."
"My daughter Georgia," he added, "She's interested in politics, political science and pursuing that. She's in a very academic school and killing it."
Loughlin previously explained she wanted her children to pursue higher education to give them a more "normal" life than hers. Back in 2016, the "When Calls the Heart" actress told ET: "I want them to be happy. I want to be supportive of everything they want to do, but I do want them to have somewhat of a normal [life]. Finish out high school, college experience, maybe because I didn't have that, I really want that for them."
"And I also say to them, try to have something else right now, because there's so much crossover in the business," she added. "So try to do something else where you have a little more control over your own destiny. For me, when I started my career, it was always, 'Here's your audition, go in, do the best job you can.' And nine times out of 10 you didn't get the job."
Loughlin continued, "Livie is really interested in beauty and makeup and hopes to have her own makeup line or beauty line one day. Bella loves fashion. I can see her designing something. So I'm just trying to encourage them to have something else."
Like Huffman, Loughlin had a tweet that didn't age well. (As of Tuesday afternoon, Loughlin had disabled both her Twitter and Instagram profiles.) Back in 2018, Loughlin wrote, "There are more important things than money. Like doing the right thing. Words to live by."
Lori's Daughter Olivia Jade
On her YouTube channel, which has almost 2 million subscribers, Lori's daughter Olivia has detailed her college experience online. In addition to spon-con with well-known brands such as Sephora, Tresemme and Amazon, she's chronicled her first college party and posted weekly vlogs about her everyday routines.
In the clip (above), which is about all of the "tea" one needs to know about Olivia, the young influencer, answers a fan question about going to school while pursuing acting.
"I don't know how much of school I'm gonna attend," she said. "But I'm gonna go in and talk to my deans and everyone, and hope that I can try and balance it all. But I do want the experience of, like, game days, partying. don't really care about school, as you guys all know."
Olivia received backlash over these comments and followed up with an apology video where she said she was sorry for what she said and that she was "disappointed in herself."
"I said something super ignorant and stupid, basically. And it totally came across that I'm ungrateful for college -- I'm going to a really nice school," she said. "And it just kind of made it seem like I don't care, I just want to brush it off, I'm just gonna be successful at YouTube and not have to worry about school. I'm really disappointed in myself."
"I didn't mean it that way," she added. "I'm sorry for anyone I offended by saying that. I know it's a privilege and a blessing and I'm really grateful."
Waiting for your permission to load the Instagram Media.
Olivia also told People back in 2017 about how her parents taught her about working hard. "From both of my parents, [I've learned that] hard work pays off and dedication and always being on time. Just forming relationships with different people is so important. Just being responsible -- especially because I'm in school so I need to make sure my school work comes first but also learning how to manage everything. A lot of hard work does go into it, and a lot of people don't realize it."
While appearing on the Zach Sang Show last Friday, the 19-year-old said that her parents really wanted her to go to college, because neither of them attended. "I'm so happy they made me go... my sister goes to the same school and we're pretty much inseparable...but I do like it."
Last month, Olivia tweeted that although YouTube will always be her "#1 passion" and she'd prefer filming videos rather than sitting in class, she expressed that her education is "super important" to her.
YouTube will always be my #1 passion. I promise I'd way rather be filming 24/7 than sitting in 6 hours of classes straight but an education is also super important to me so thank u for ur patience and letting me figure out time management . Ily bbs

@oliviajadee