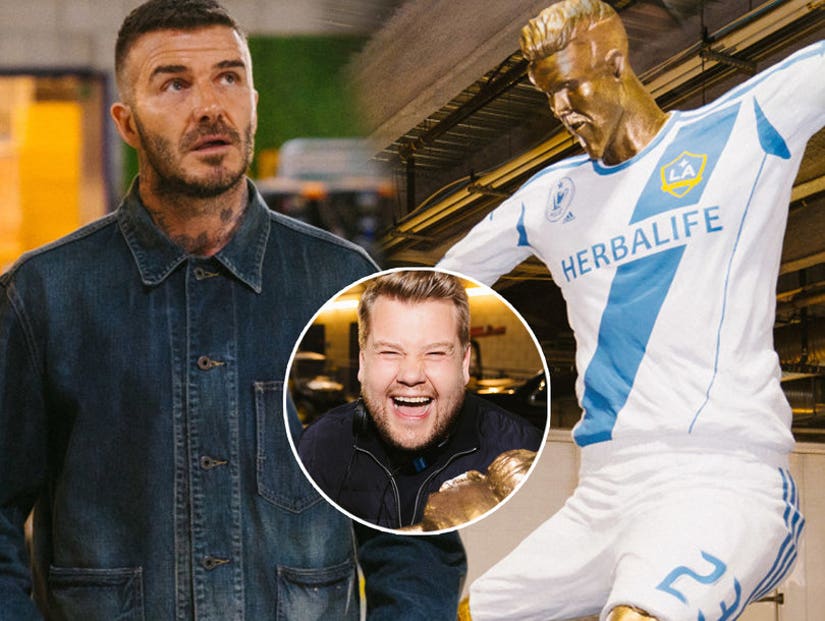 CBS
"If my kids were to see this, they would just cry."
He's probably the handsomest player to ever grace a soccer pitch.
So it was understandable how upset David Beckham got at the unveiling of his hideous statue on Monday — all part of a genius prank by James Corden.
The LA Galaxy legend was at his former home stadium for a private unveiling of his effigy, unaware the "Late Late Show" host had switched the artwork out for a far, far less complimentary one.
Setting up the elaborate hoax, no doubt inspired by Cristiano Ronaldo's infamously grotesque bust at Madeira Airport, Corden told his sculptor that Beckham thought the original mock-up's chin and butt were too big — so of course the fake version was going to get both of these attributes embellished.
Indeed showing off the completed fake, along with its cock-eyed stare and three teeth, the monstrosity boasted an enormous chin and a bum that would make a Kardashian jealous.
Unbeknownst to Becks, Corden had also enlisted a team of actors to make sure the special day was anything but smooth.
At the reception, one "exec" kept referring to the Man United legend's time at Man City — his former club's bitter rivals — while continuously calling him "Dave" which, as Corden was informing on a hidden earpiece, he hates.
His former teammate and Galaxy President Chris Klein then introduced a highlight reel the club were preparing to show at the official unveiling — which was strewn with clips of Beckham's misses, fouls and on-pitch mishaps.
Then came time to finally unveil the statue... and it was hard to tell which Beckham looked sadder between the golden eyesore and the man trying to hide his dismay.
As the dead ball ace politely clapped, Corden and his crew backstage were in hysterics.
"It's slightly different than what it was when I saw it in Chicago," Beckham whispered to the "artist", who unbeknownst to him was actually comedian Maz Jobrani. "When we spoke in Chicago, there was 'capture me in motion' but also making me... I mean, look at my chin?"
"It doesn't really look nothing like me though, look at my eyes. The only thing that looks good is the hair and that's about it. Look at my bum, look at my arse," he lamented.
"I really don't see how this can go out," he continued, panic slowly starting to set in as he realized the public would soon see it in its permanent place outside the stadium. "Look how long my arms are. I honestly look like Stretch Armstrong!"
Getting more agitated, he demanded that the Galaxy cameras be shut off.
"It's lucky my kids are not coming over because if my kids were to see this, they would just cry to be honest," he can be heard saying. "There's no way that can go at the front of the stadium, it's embarrassing."
The final phase of the prank saw a forklift driver arriving to move the statue to its permanent home — and "accidentally" tip it over, smashing it to pieces.
"You've probably done me a favor there," Beckham quips as he somewhat relievedly stares at the splintered remains.
It's not until Corden comes running out to inquire into the crash that Beckham finally realizes he's been had, breaking into a defeated smile and hugging the bestie who bested him.