Lance Bass' new documentary about Lou Pearlman reveals untold stories of the boy band era and the man pulling all the strings.
Lou Pearlman was the man behind NSYNC, Backstreet Boys and O-Town ... and screwed most of them over, royally.
It's this complicated dichotomy that's at the heart of producer Lance Bass and director Aaron Kunkel's new YouTube Originals documentary, "The Boy Band Con: The Lou Pearlman Story," which chronicles Pearlman's unique backstory, the massive success of those he managed and how all of that was ultimately undone through some seriously shady business practices.
Ahead of the documentary's premiere at SXSW this week, TooFab caught up with both Bass and Kunkel to discuss why they decided to tell Lou's story now, in a way that both highlights the good and doesn't ignore the darker side of things.
"My goal was to tell the true story of the birth and death of Lou Pearlman with just facts," said Bass. "We just wanted to tell the true story from the people who actually lived it and have a great cautionary tale for those kids that want to get in the entertainment industry. Hopefully, it's a cautionary tale for them and their parents."
After he helped launch them to fame, both NSYNC and Backstreet cut ties with Pearlman when they discovered the highway robbery he was getting away with thanks to their contracts. Others -- like O-Town, LFO and Innosense -- continued to work with him, but made other allegations about the manager, accusing him of sexual misconduct.
In the end, it was a massive Ponzi scheme, defrauding investors out of over $300 million, that got him locked up for 25 years in prison, where he ultimately died at the age 62 in 2016.
"It was really interesting to make a film about these people who were vert smart people that could still get conned by this guy and how and why he did that," added Kunkel.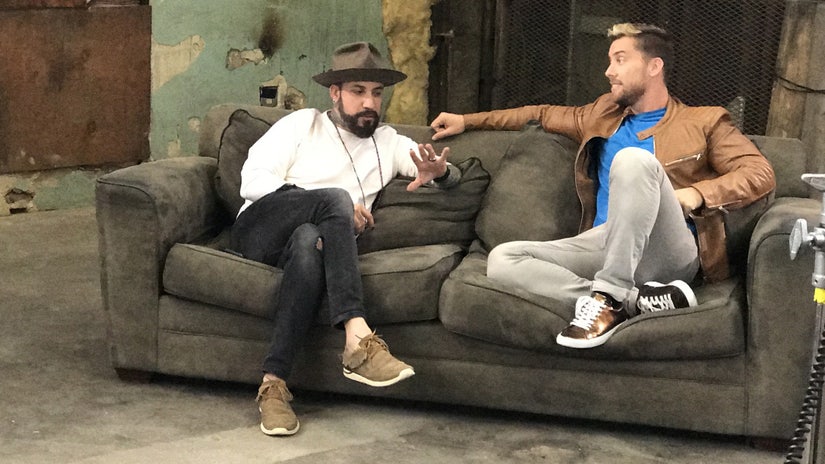 AJ McLean and Lance Bass/YouTube
To get the documentary off the ground, Bass had to call in quite a few favors to his pop star brethren. Appearing throughout the footage with their own first-hand accounts of their dealings with Pearlman are Bass' NYSNC brothers JC Chasez and Chris Kirkpatrick, AJ McLean, O-Town's Ashley Parker Angel, Innosense's Nikki DeLoach and the moms of both Lance and Justin Timberlake.
"Lance was so great at getting everybody on board and bringing that level of trust that we are going to tell the right story," Kunkle explained.
"I would have to say it was pretty difficult with something like this, because this is such a story that affected so many people in different and very negative ways," Bass said of making those initial phone calls. "A lot of times people don't want to rehash the past."
He added that some were concerned the documentary would be a one-sided hit piece, but Bass assured them "every side of the story can be told." Eventually, they got artists on board and were then able to use those initial interviews to get others to sign on as well.
Of course, not everyone said yes. "A lot of people -- from members of bands to people who were working right hand with Lou" all turned them down, according to Bass. Joey Fatone even passed on appearing in the documentary, telling Bass he "just didn't feel comfortable talking about it," but had a change of heart after seeing the first cut.
While he's not in the film, he joined the filmmakers at SXSW for a Q&A after the premiere.
"It makes you really grateful for everybody who did say 'Yes,' that they were willing to relive a lot of this," added Kunkle. "Go back and think about some memories that may have not been the best and discuss this story. You have to feel grateful for that too."
While about Pearlman, a lot of the documentary gives viewers some great intel on the early days of "TRL" pop stars as well. Anyone who grew up in that time knew you had to be either a NSYNC or Backstreet Boy fan, a rivalry that Lou himself set up between two of his own bands.
"Our whole career, we knew Lou was pitting us together and we thought it was because healthy competition is great. Coke and Pepsi, competition is really good," said Bass, who also accused Pearlman of having his own motives for driving a wedge between them. "We didn't understand that the real reason he wanted us separated was so we wouldn't compare stories and find out all the lies he's been telling us, how we're all being ripped off."
According to the documentary, NSYNC was the first to realize their recording contracts were not as lucrative as they should have been. After selling over 10 million records, their first paycheck was only $10,000 each. AJ explained that the money wasn't adding up for BSB either, with some of the guys struggling to pay for their car or apartments. Eventually, NSYNC filled in the Backstreet boys on their money issues at a celebrity basketball game and in swooped the lawyers, who eventually made it possible for both bands to part ways with Pearlman for good.
"Both of our lawsuits happening back to back," added Bass, "We kind of helped each other out in figuring the whole story out and pretty quickly."
Another time the guys inadvertently helped each other out was when BSB backed out of a Disney concert at the last minute, leaving NSYNC to fill the spot. The Mouse House special went into heavy rotation on the Disney Channel after it was filmed, giving the band one helluva launching pad.
The documentary also doesn't shy away from some of the sexual misconduct accusations made about Pearlman, especially regarding his alleged behavior with young men.
Ashley Parker Angel claimed Pearlman would say he minored in physical therapy in college, before offering "awkward massages" to give their "muscles a pump." He also said Lou would often tell the guys to "show off" their abs by taking off their shirts in rehearsals, before retelling a particularly lurid story LFO's Rich Cronin told Howard Stern. Cronin passed away in 2010 after a battle with cancer.
Cronin claimed Pearlman once told them about a mogul in Germany who could make them stars if they let him touch their genitals. Pearlman allegedly said they could "practice" on him first.
Nikki DeLoach also accused Pearlman of recording the girls of Innosense when they'd go into the tanning bed in his home, and said he would show some of his boys the video "to earn their trust." Aaron Carter, however, adamantly hit back at that claim and any allegation of abuse, angrily saying, "Where's that footage? Why didn't she sue him? It's all lies." He added that his parents even "searched" the tanning bed themselves before allowing him to use it.
"As a closeted person, I just thought he was gay and that's why he would act so weird sometimes," Bass said in the doc. "He would give you a massage, he was very touchy feely. He was a touchy guy."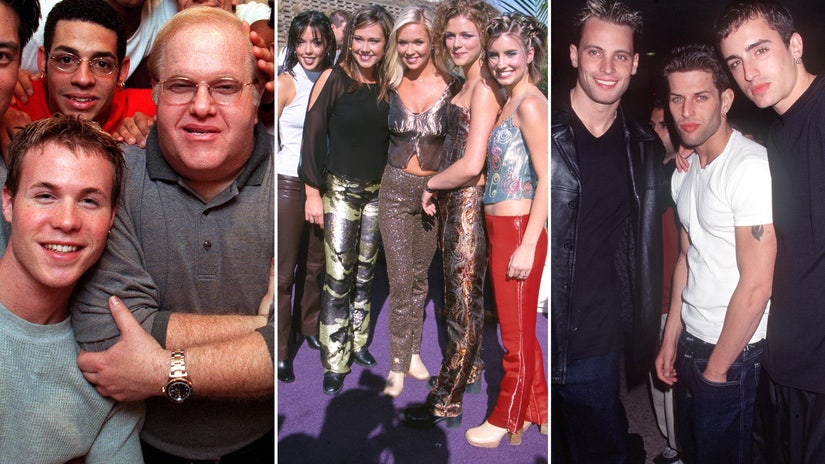 O-Town, Innosense, LFO (L-R)/Getty
"We'd be crazy if we didn't mention it," Bass said of the many allegations in the doc, in which he also points out the lack of physical proof. "In all honesty, we have no proof of that and that's why we wanted Aaron in this in particular. His name always comes up when you're talking about that and we wanted to hear what he said and you hear what he said and have to trust him and believe him."
Kunkel admitted Carter was "in a rough spot in his life" when he did his interview for the film, but said his reaction also points to the complicated relationship almost everyone had with Pearlman. "Lou was a father figure to a lot of people and especially given how young Aaron was when he first started working, it would have been hard for him to not see Lou as an important father figure," he said. "Ultimately, I think that's why he was very protective of someone he saw as a positive person and getting him the career that he has."
Kunkel also added, "I think we are in a time, in a very good way, people are given a platform to speak to tell their truth and I think we wanted to make sure we did that as well."
In the end, Bass said he knows viewers are going to feel "kind of conflicted as we all are" watching the final product and may walk away from it going, "I don't know if I should hate him, if I should feel sorry for him." To the viewers, he promised he's "100%" right there with them.
"The one thing I can say is I have forgiven him," he added. "I feel my conscience is clear and, you know, I have no hard feelings about it."
"The Boy Band Con: The Lou Pearlman Story," a Pilgrim Media Group and Lance Bass Productions film, will debut on YouTube April 3rd.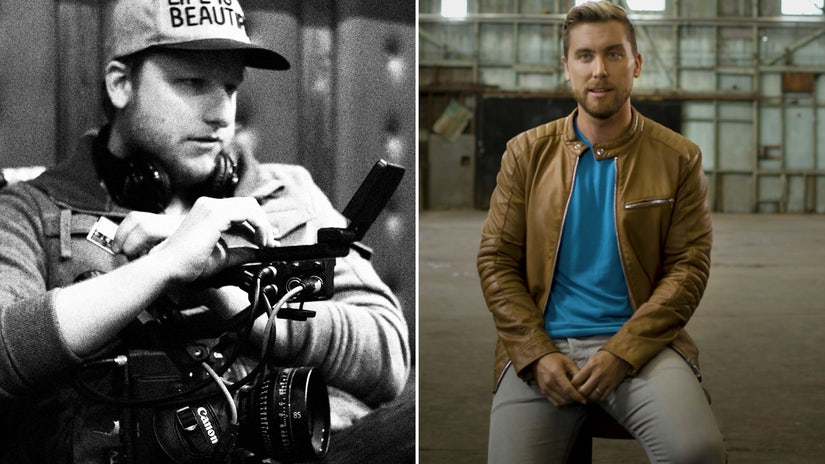 Kunkel and Bass (L-R)/YouTube