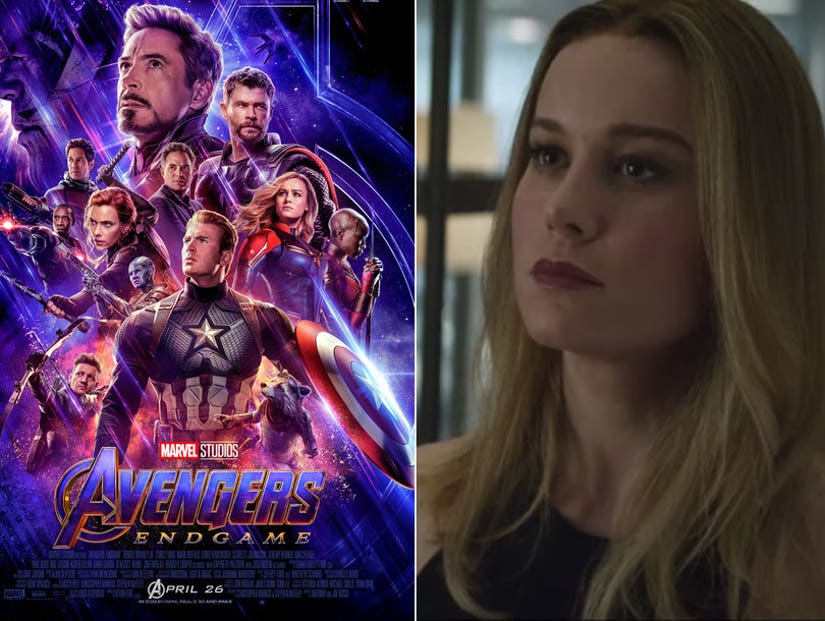 Marvel
Nobody saw her coming, including — hopefully — the Mad Titan.
The Avengers just did to everyone what they hope to do to Thanos: caught us completely off guard.
A brand new "Endgame" trailer dropped without warning on Thursday morning, marking Captain Marvel's first appearance with the squad... and dare we say it, some electric chemistry with a certain God of Thunder.
The Mark Ruffalo's Hulk origin meanwhile sadly is skipped over, as Bruce Banner looked a lot more like Edward Norton back in the day.
The trailer opens with a black and white throwback clip from 2008's Iron Man, as Tony Stark lays in the ruins of the first ever Iron Man suit in the middle of an Afghani desert.
"God it seems like a thousand years ago... I fought my way out of that cave, became Iron Man, realized I love you,' modern-day Stark narrates his recorded message to Pepper Potts as he hopelessly drifts in space.
"I know I said no more surprises... but I was really hoping to pull off one last one."
Similarly, a black and white clip from 2011's Captain America: The First Avenger then shows a scrawny Steve Rogers attempting to enlist in the army before he became the super soldier.
"The world has changed. None of us can go back," the voice of his now deceased World War I ally Peggy Carter echoes. "All we can do is our best, and sometime the best we can do is to start over."
Finally, a black and white glimpse of a jarringly-younger looking Thor back on Asgard from his 2011 origin film, his dad Odin still alive and his long blond hair still in place.
"I saw all these people die," he laments as the heartbreaking shots of their fellow Avengers being turned to dust via Thanos's Infinity War snappening are replayed.
Hidden within the older clips is a previously unseen shot of Hawkeye, AKA Clint Barton (Jeremy Renner), proudly watching his daughter (possibly Kate Bishop, who takes over the Hawkeye mantle in the comics) show off her skills with a bow; a cut to his tortured face, as Black Widow gently takes his hand, all but confirms his family were among those wiped out at the end of the last film.
Cut to what's left of the down-but-not-out Avengers, as Cap and Natasha muster what's left for a last ditch shot at reversing the Mad Titan's destruction.
"I keep telling people they should move on. Someday... but not us," he tells her.
"Even if there's a small chance, we owe this to everyone who's not in this room to try,"she agrees.
Some very brief but enthralling shots of a battered Captain America and Nebula on a ravaged battlefield flash by, as well as a soul-warming shot of Rocket Raccoon (Bradley Cooper) perched on War Machine's (Don Cheadle) shoulder.
Paul Rudd's Ant-Man meanwhile is seen in equally-dramatic action but on his own scale, vaulting on a pencil top to swing past a headphone jack.
The penultimate shot of the trailer gives a hint at how they are going to go about bringing back the other half of the universe's population, and confirms a widely held fan theory, as the Cap leads the remaining squad — including a safely returned to Earth Tony Stark and Nebula — all wearing quantum realm suits. Bruce Banner and Danai Gurira's Okoye are conspicuously missing, however.
How they intend getting to the quantum realm remains to be seen: While Scott Lang has experience in the micro-universe, the brains that helped get him there — Hank Pym (Michael Douglas), his wife Janet (Michelle Pfeiffer) and daughter Hope (Evangeline Lilly) — were among turned to dust in the post-credit scene of "Ant Man And The Wasp".
"Whatever it takes," the Cap vows. "Whatever it takes," echo Natasha and Tony.
The final scene was the one that had fans most excited on Twitter immediately afterward as Brie Larson's Captain Marvel made her Avengers trailer debut — and there was definitely a spark of something between her and Thor.
Wearing civvies rather than her flight suit, she stares down the Asgardian, and he matches her stone-faced.
Reaching out, his axe Stormbreaker flies past her head and into his hand... prompting the tiniest impressed grin from her.
Breaking into a grin of his own, he finally chuckles: "I like this one."
A brand new poster was also unveiled on Thursday, and the only character to appear on it who did not show up in the trailer was Josh Brolin's bad guy, Thanos himself.
Avengers: Endgame opens in theatres on April 26.