"Sending you my love and strength today and always," 18-year-old Gia Giudice says.
The first member of the Giudice family has spoken out after news broke that patriarch Joe Giudice had been released from federal prison.
"Sending you my love and strength today and always," 18-year-old Gia Giudice captioned a photo of her dad carrying her when she was a baby. Gia is the oldest of Joe's four daughters with "Real Housewives of New Jersey" star wife Teresa Giudice.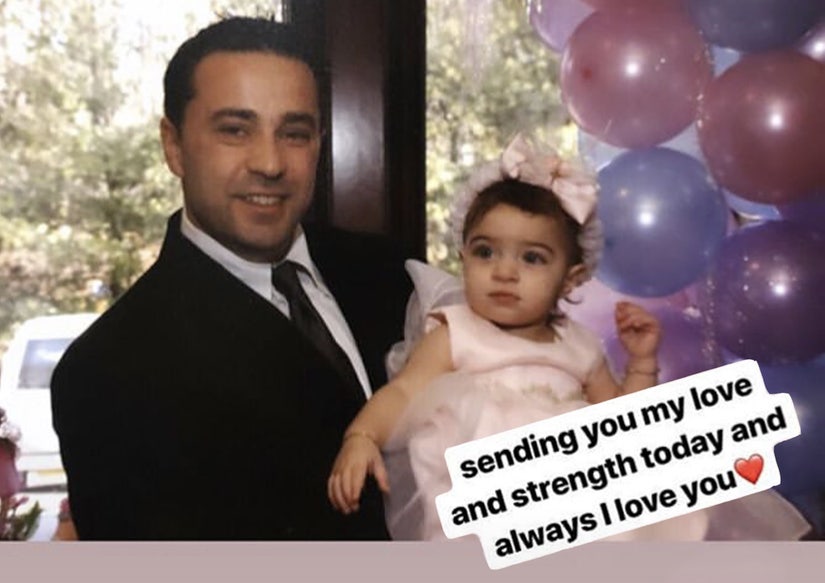 Instagram
Joe served 41 months at the Federal Correctional Institution in Fort Dix, New Jersey, for mail, wire and bank fraud. According to TMZ, he was released early Thursday morning and is in the custody of Immigration and Customs Enforcement (ICE) officials at an unknown location, where he will stay until he gets his day in court to appeal deportation to Italy.
In October of last year, a judge ordered that Joe be deported back to his birth country, which he left when he was an infant, immediately after completing his sentence. Teresa appealed the order, but she told Andy Cohen during the "RHONJ" Season 9 reunion that her lawyers had not given her any new information regarding a possibly different outcome for her family.
When Gia got word of the judge's order, she took to Instagram to share her plea with the world: #BringJoeHome.
"This is one of my favorite pictures of me and my dad," she captioned a sweet shot of herself as a small child, hands around her dad's neck. "My father is no threat to society. He is one of the most warm-hearted people I know. He would never harm a soul. He puts everyone else before himself. I know who my father is, and I think many of you do, too."
"My father did his time and learned from his mistakes," she insisted. "Isn't being in there supposed to make you realize your mistakes so you can become a better person? And that's exactly what my father did."
"We have so many plans to do as a family when he gets out. I need my father to be here. My father belongs with us and his entire family," she continued. "My father came into this country when he was 1. The United States is the only country he knows."
Waiting for your permission to load the Instagram Media.
Earlier this month, Teresa confirmed she would be splitting from her husband if he gets sent back to Italy.
"I'm not doing a long-distance relationship. I'm just not doing it," she told Andy Cohen. "I want somebody with me every day, and I know exactly what happens. I'm sure he'll be with other women. It happens."
"You do the long-distance thing, it's not going to work," she added. "I'd be like, 'Bye, bye.'"
"This man is the one and only love of your life," Andy replied. "But what you're saying is, you would split up? That's what you're saying?"
"Unless my kids say, 'Mommy, I want to move to Italy,'" Teresa said. "Gia's going to college next year; I haven't spoken to Milania or Audriana about it, we haven't gotten there yet; and Gabriella already voiced her opinion to me. She was like, 'That would be so hard for me, Mommy.' She doesn't speak the language. She's like, 'That would kill me even more.' It's like starting a whole new life, and they've been through so much already."