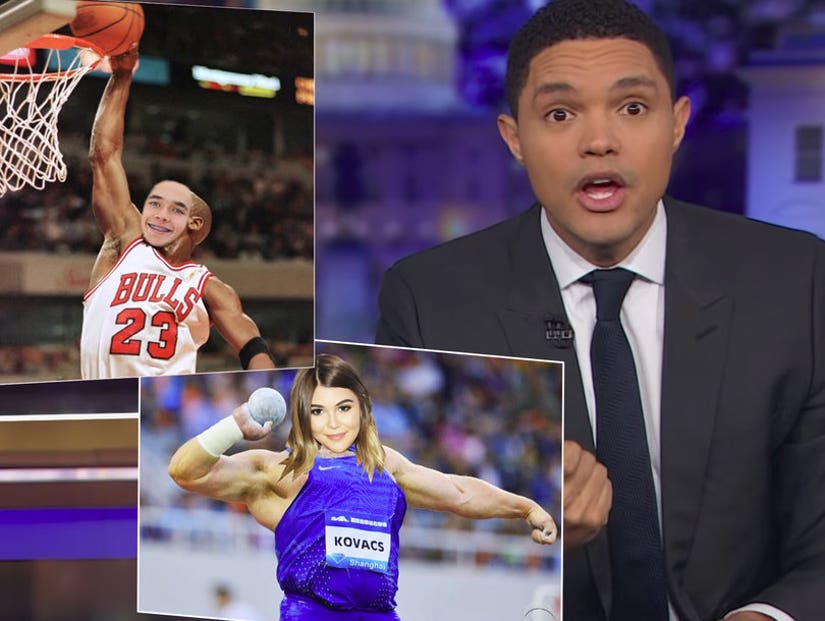 Comedy Central/CBS
The ridicule of those caught up in #AdmissionsScam continued mercilessly among the late night hosts on Wednesday.
There may be fines and jail-time for the parents, and expulsions and humiliation for the students — but Trevor Noah has devised an even better punishment for the coaches allegedly behind college admissions scam.
Every one of the late night hosts continued into a second day of pouring scorn on the likes of Felicity Huffman and Lori Loughlin, who were among the 50 parents alleged to have made $25million worth of bribes in an elaborate cheating scandal.
"So reportedly, these college coaches would take bribes to pretend they needed these non athletes on their teams," Noah explained on "The Daily Show". "And then once the kids got into the schools, the kids would just never play."
"You know what I think? I think the perfect punishment for these coaches would be forcing them to compete with a team full of all the fake athletes that they recruited."
"And then on top of that, we say that they have to win the championship or all of them go to jail. It would be like a really uninspiring Disney movie."
He mocked: "From the makers of 'The Mighty Ducks' comes 'The Wealthy Dicks'."
Trevor slammed the parents, pointing out that not only were they allegedly cheating the other honest students who may have missed out on placing at the colleges, but also the IRS, by reportedly disguising their bribes as charitable donations which they could then write off of their taxes: "How greedy can a person be?"
He did however have some sympathy for the kids, most of whom were unaware of the plots: "It's such a shitty way to find out that your parents think you're a dumbass."
Seth Meyers was puzzled as to how the coaches actually explained to the other players these star additions to the team, who never actually played.
"'Alright everybody gather round, this is our new star player'," he impersonated. "You're not going to see much of her out on the field... but wait til you try her orange slices!'"
James Corden was incredulous at just how lazy these cheating families actually were, going so far as to allegedly Photoshop pictures of the students onto other athlete's photos.
"If you're too lazy to pose with an actual jersey and a lacrosse stick, you really don't deserve to go to college,' he laughed.
Jimmy Kimmel meanwhile claimed to have gotten hold of one of the ringers who took SAT tests in place of some of the cheaters — high school student Chip Anderson.
But a closer look at him revealed he was actually a 70-ish-year-old man in disguise.
"What's poppin Brah? I'm chillin all Gucci with my squad in study hall. We on fleek,' he said, unleashing a very slow and rather shaky dab. "Dont throw shade on me thirsty BAE, I'm a sophomore. Skrrrt!I'm finna play Fortnite with my bronies."
Asked why he did the dirty deed, he boasted: "I'm making bank, I'm making money moves like Cardi B, son!"