See what John Stamos, Candace Cameron-Bure, Bob Saget and Jodie Sweetin have said since news broke of their co-star's indictment.
The castmembers of "Fuller House" have been put in quite the awkward situation after Lori Loughlin -- aka Rebecca Donaldson, aka Aunt Becky -- was charged with fraud as part of the largest college admissions scam in U.S. history.
Since then, Loughlin has been fired from "Fuller House." And while her castmates have remained silent publicly, an Instagram post courtesy of John Stamos led to a conversation online with other stars from the show -- leading many fans to believe the actors were referencing Loughlin's scandal.
Stamos -- who plays Jesse Katsopolis, aka Uncle Jesse, the husband of Loughlin's character -- posted a message of positivity on Friday morning by sharing the cutest video of his 11-month-old baby giggling up a storm. "For those of us who just need a good smile right now. XO," he captioned the sweet snippet, which many believed was directed at his embattled co-star.
Waiting for your permission to load the Instagram Media.
Though Loughlin has deleted her social media accounts in the wake of the scandal, the precious video caught the attention of another co-star, Candace Cameron-Bure, otherwise known as DJ Tanner.
"I definitely needed this right now," she commented on the post. On her own Instagram, Cameron-Bure shared a bible verse that read, "I have asked one thing from the Lord; it is what I desire: to dwell in the house of the Lord all the days of my life, gazing on the beauty of the Lord and seeking Him in His temple."
Bob Saget, series patriarch known as Danny Tanner, also left a comment on Stamos' video. "Wait, was I there and said something hilarious?" the comedian wrote. A few days ago, Saget appeared on "Jimmy Kimmel Live," but the topic of the college bribery scandal was avoided.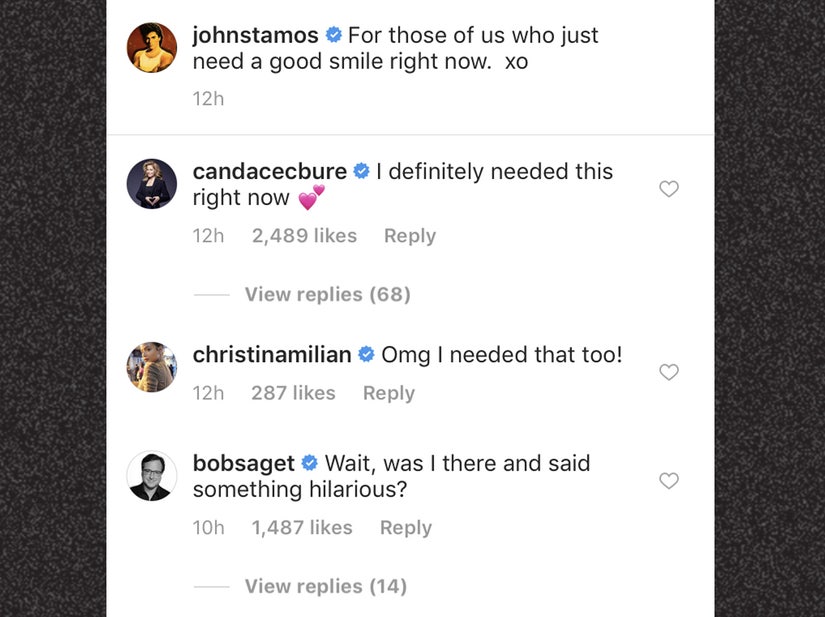 Instagram
Waiting for your permission to load the Instagram Media.
However, when Stamos was spotted by TMZ earlier this week outside Madeo Restaurant and asked about his co-star, he gave a swift "no comment" and flashed a peace sign before getting into his car and driving off.
TMZ also caught up with Jodie Sweetin, aka Stephanie Tanner, at LAX this week -- but she was not down for any questions, let alone ones about her indicted co-star.
"Can I just ask you one question?" asked the cameraman, who was met with a staunch, "No." Avoiding directly referencing the scandal, Sweetin then posted to Instagram a photo of her with her daughter. The caption read, "Sometimes, you just gotta curl up on your couch with your kiddo and watch some 'Riverdale' on a lovely afternoon."
Waiting for your permission to load the Instagram Media.
Earlier this week, news broke that Loughlin, fellow actress Felicity Huffman and 48 other wealthy parents across the country were charged with participating in a conspiracy that allegedly involved cheating on college entrance exams and securing admission to elite universities by bribing coaches to accept certain students under false pretenses.
Loughlin was subsequently jettisoned by the Hallmark Channel, with which she had many lucrative deals, and on Thursday evening, she was fired from "Fuller House," Netflix's revival of the classic '90s sitcom, "Full House." Her husband, fashion designer Mossimo Giannulli, was indicted as well. TooFab has reached out to Target to see about the fate of his clothing line, but so far, no word back.
The couple's daughter, USC student and social media influencer Olivia Jade Giannulli, has since been dropped by Sephora and TRESemmé. Needless to say, it's been quite the week for that family.
We'll update this post as more of Loughlin's co-stars react to the shocking news.