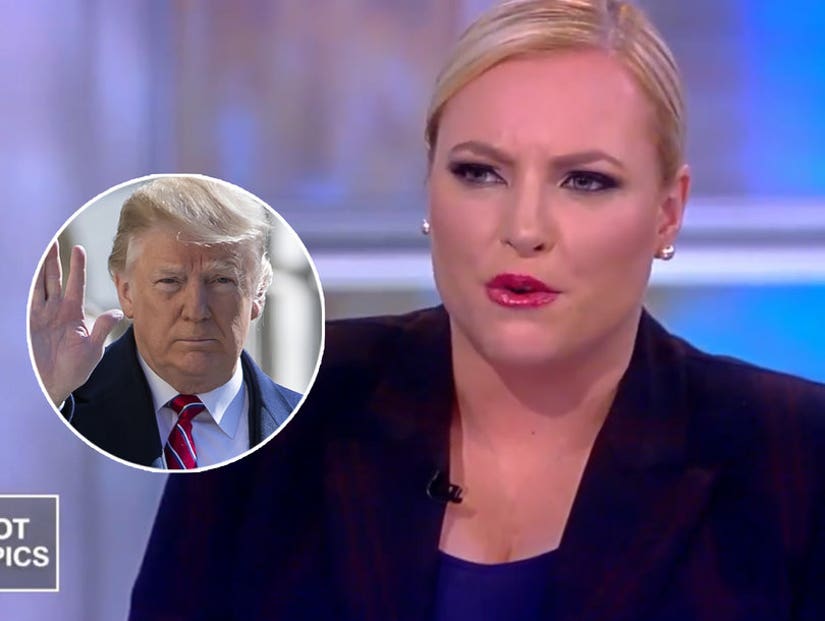 ABC / Getty
"I genuinely feel bad for his family," says "The View" cohost, as Whoopi returns to the table to hit back too.
After POTUS took to Twitter over the weekend to slam both McCain and a "Saturday Night Live" rerun targeting him, Meghan hit back on Monday morning on "The View." Read his tweets in full at the bottom of this article.
"He spends his weekend obsessing over great men because he knows it, I know it and all of you know it, he will never be a great man," she said, keeping her cool composure as she clapped back.
"My father was his kryptonite in life, his kryptonite in death," she continued. "All of us have love and families and when my father was alive up into adulthood, we would spend our times together cooking, hiking, fishing, really celebrating life and I think it's because he almost died and I just thought, your life is spent on your weekends, not with your family, not with your friends, but obsessing, obsessing over great men you could never live up to."
"That tells you everything you need to know about his pathetic life right now," she added. "I genuinely feel bad for his family. I can't imagine having a father that does this on the weekends."
"This is a guy who's supposed to be running the country. Crazy stuff is happening in the world and he's pissed off because he's watching a rerun of SNL?!" Goldberg exclaimed. "I mean what the f ... hell! What is going on, what is happening? Dude, what are you doing? You're missing the point of what your job is supposed to be. You're 2-3 years in, what the hell?!"
She also criticized him for not realizing it was a rerun, considering how often he tunes in and the fact it had "Christmas-y" touchstones all over it.
"You know you watch these shows," Whoopi added. "Sir, get out the way so people who actually love the country and do what they need to do."
Here's his full, rambling Twitter spree:
It's truly incredible that shows like Saturday Night Live, not funny/no talent, can spend all of their time knocking the same person (me), over & over, without so much of a mention of "the other side." Like an advertisement without consequences. Same with Late Night Shows......

@realDonaldTrump
....Should Federal Election Commission and/or FCC look into this? There must be Collusion with the Democrats and, of course, Russia! Such one sided media coverage, most of it Fake News. Hard to believe I won and am winning. Approval Rating 52%, 93% with Republicans. Sorry! #MAGA

@realDonaldTrump
....Should Federal Election Commission and/or FCC look into this? There must be Collusion with the Democrats and, of course, Russia! Such one sided media coverage, most of it Fake News. Hard to believe I won and am winning. Approval Rating 52%, 93% with Republicans. Sorry! #MAGA

@realDonaldTrump
Report: Christopher Steele backed up his Democrat & Crooked Hillary paid for Fake & Unverified Dossier with information he got from "send in watchers" of low ratings CNN. This is the info that got us the Witch Hunt!

@realDonaldTrump
So it was indeed (just proven in court papers) "last in his class" (Annapolis) John McCain that sent the Fake Dossier to the FBI and Media hoping to have it printed BEFORE the Election. He & the Dems, working together, failed (as usual). Even the Fake News refused this garbage!

@realDonaldTrump