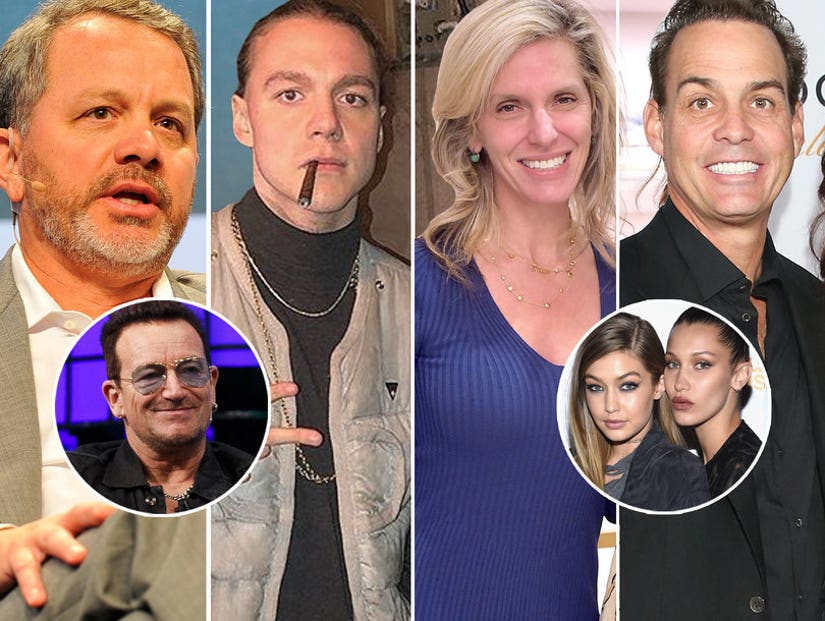 Getty
The reality show host, Bono's investment partner, the friend of the Hadids, and the "future of hip hop" — it wasn't just Lori and Felicity, you know.
Exactly 50 people were arrested and charged in the college admissions scam, most famously actresses Lori Loughlin and Felicity Huffman.
However they weren't the only people connected to the world of celebrity on the list.
Take Jane Buckingham, something of a celeb herself as the host of the short-lived Lifetime reality show "Job Or No Job," in which she dished out advice to those seeking employment.
"I've seen so many young people trying to get a great job — but most don't have the tools they need," she says in the intro for every episode, a full four years before she would be accused of bypassing the necessary tools for getting her son into college.
"No-one's ever told them what they don't want to hear — but I will," she boasted (according to son Jack, he was blissfully unaware his mom had allegedly paid $50k for a proctor to take an entrance exam for him).
Her sign-off is particularly cringe-inducing: "It's up to them to sink or swim."
Jane, whose CV boasts regular appearances on "Good Morning America" and "The View", is also a best-selling author and parenting guru.
In 2012 she wrote a story for Time Magazine on the dangers of "helicopter parenting", in which she claimed: "For years, they have regularly been given pats on the back, often just for showing up. They took a test — how amazing! When they finally join the workforce, it's no wonder members of Gen Y expect a promotion just for being on time to work for six weeks straight."
According to The Hollywood Reporter, Jane was speaking at a retail conference in 2016, when she continued this train of thought.
"It's not their fault, it's their parents, because that's what happens when you give them a gold star for going to the potty and a trophy for not participating and telling them they are fantastic every day of their life," she said. "Now, ten years later, we are mad at them. We made our beds. We have to lie in it."
Probably the most celeb connected name on the list — even more than Lori or Felicity — is Bill McGlashan, founder of TPG Growth, an investment arm of TPG Capital, which owns 35% of CAA, one of Hollywood's biggest talent agencies.
McGlashan also founded The Rise Fund with partner Bono, a "social and environmentally aware" fund, which was all about ethically investing.
He stands accused of allegedly making a $250,000 donation to sneak his son in through the USC "side door" as a kicker or punter of the football team with the help of a little Photoshop magic, now infamously remarking as the deal was set up: "Pretty funny — The way the world works these days is unbelievable."
After news of the scandal broke, McGlashan was fired (though he claimed himself he quit) and investors were permitted to pull their money from his fund.
Then there's Dragon Global CEO Robert Zangrillo, who according to Page Six, has ties to the Hadid family, has been pictured several times with Gigi and Bella, and who even attended their dad Mohammed's birthday party.
Unlike some of the other students who were in the dark, his daughter Amber was well aware of what was going on according to the court documents, even asking mastermind Rick Singer over the phone what he "was doing about an 'F' grade that she had received in an art history class she had taken".
Finally there's Gregory and Marcia Abbott, who are parents to "the future of hip-hop", rapper Billa.
That superlative came from one of the many comments recently left below his YouTube music page, which was thrust into the spotlight when his little sister was outed as one of the alleged side gate users this week, thanks to a reported $125k donation from their mom and dad.
The burgeoning R&B star — real name Malcolm — who himself never went to college, gave his two cents on the scandal when the New York Post descended on his Fifth Avenue apartment looking for his parents, but finding him outside smoking a blunt instead.
"I believe everyone has a right to go to college, man," he declared, before asking reporters to check out his album "Cheese And Crackers", which can be enjoyed here.