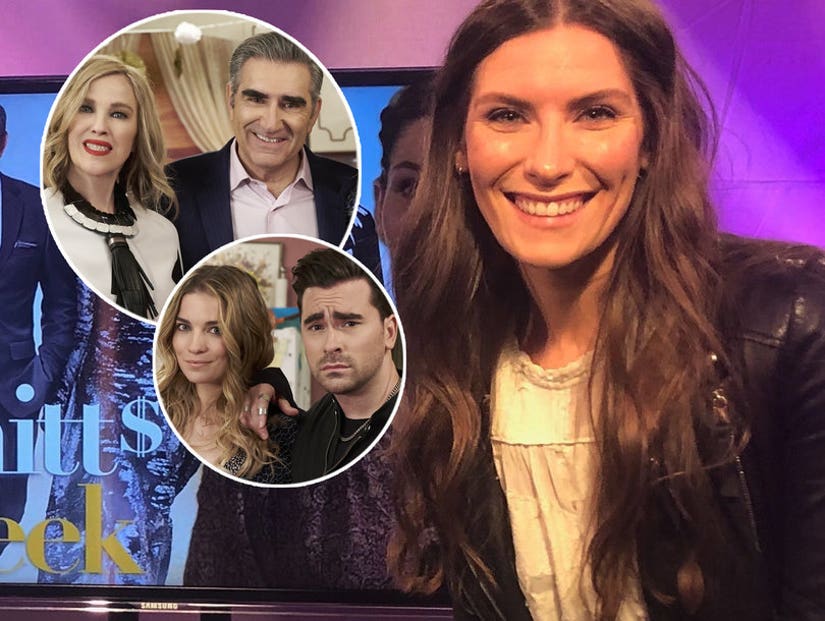 Pop TV / TooFab
"Daniel knows. He's known for a while where he wants it to go," Sarah says of her brother.
It's a bittersweet day for "Schitt's Creek" stans as creators and co-stars Dan and Eugene Levy officially announced today that the show will be returning for a sixth season in 2020, but that season will sadly be its last.
TooFab recently sat down with star Sarah Levy, who plays Twyla Sands and also happens to be Dan's sister and Eugene's daughter. She gave us some insight into the sitcom's impending ending.
Sarah said she's struggled with whether she wants to know the ending before it's time to film the final episode.
"There's a part of me that's like, when this whole thing ends, how does this end? Because Daniel knows. He's known for a while where he wants it to go," Sarah told us. And though she's waffled, she ultimately decided it's best to "watch it and read it and have it unfold with everybody else." So Sarah is in the dark just like the rest of us sadly.
We also asked Sarah why she thinks the show has had such a late-breaking meteoric rise to popularity. "Netflix was a huge player in all of this only because everyone is just wanting to binge everything and also I think specifically because we are a comedy," she said. She went on to point out that, in a streaming world saturated with dramas, people are looking for bingeable comedies. And as any "Schitt's Creek" fan can confirm, the show is incredibly addictive and easy to consume its 30-minute episodes.
As for whether it's hard to keep a straight face on set with such well-written scripts and hilarious co-stars, Sarah insisted, "Everybody is very professional in that they want to just be able to get through a take without breaking though it does happen a lot."
When it comes to who inspires the most "breaking," you might not be surprised by her answer. "Catherine [O'Hara] of course is a genius and it is so hard to keep it together when she just blurts out these random anecdotes that aren't written," Sarah said. "She ad-libs the most. But that being said it's still probably 90% written."
Before heading back to "Schitt's Creek," Sarah indulged us in playing a little game--guessing which Schitt's Creek character said some of the show's most iconic lines.
Check out the results, below.