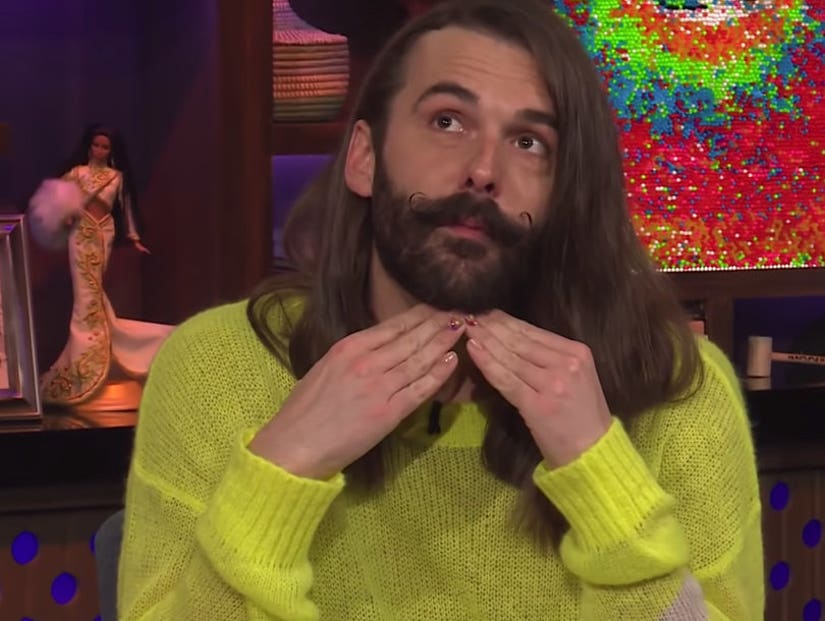 Bravo
"It's very horrific...horrific in embarrassing terms," the Netflix star said. "It culminated in the most embarrassing end to a first date."
"Queer Eye" star Jonathan Van Ness shared a traumatic story Sunday night about a "horrific" hookup that took place during casting for the series.
While appearing on "Watch What Happens Live with Andy Cohen," the Fab Five hair care expert talked all about the intense audition process for the show, describing them as "cheer tryouts from hell." However, late-night host Andy took it a step further, "I'm gonna think -- the idea of all these gay guys in a hotel together auditioning for 'Queer Eye' -- they had to all be banging at night."
JVN at first played coy. "I don't know what you're talking about. I was a single father," he said. "I don't know, I was very busy raising my cats and eating pizza."
"There was maybe one boy," he then admitted. "The [Fab Five] boys know. But they'll never tell you, it's very horrific...horrific in embarrassing terms. It culminated in the most embarrassing end to a first date you could ever..."
Andy and his other "WWHL" guest Kim Zolciak-Biermann wanted to know more and prodded for information. Andy even began to throw out some guesses such as erectile dysfunction. Van Ness then decided to reveal what happened and told the horror story (involving a genital piercing).
"There was, and it's not me... it was the other person, honey," Van Ness said. "There was a Prince Albert that was ripped out, before anything happened... So I lovingly refer to the whole experience as 'bloodgate.' It was very traumatic."
Van Ness also spilled some behind-the-scenes secrets after Andy showed him a clip from last week when his "Queer Eye" co-star Antoni Porowski appeared on the Bravo talk show. During his appearance, Antoni revealed that all of the Fab Five have seen each other in the buff. He also chose Van Ness as to whom he would want to receive a provocative photo.
"We have actually [seen each other naked]" Van Ness confirmed and then added, "We've gotten dressed in the same rooms a lot...when sometimes you're doing a quick change, honey."
Van Ness admitted he's video chatted with Antoni while the Fab Five food expert was naked. "One time we were Facetiming and he accidentally like thought," he recalled. "It was actually more him...'cause he was taking a bath and we were Facetiming, honey."
The reality star then summed it all up, "We don't go out of our way to look but every boy knows how that is in a locker room!"
"Queer Eye" Season 3 is now streaming on Netflix.