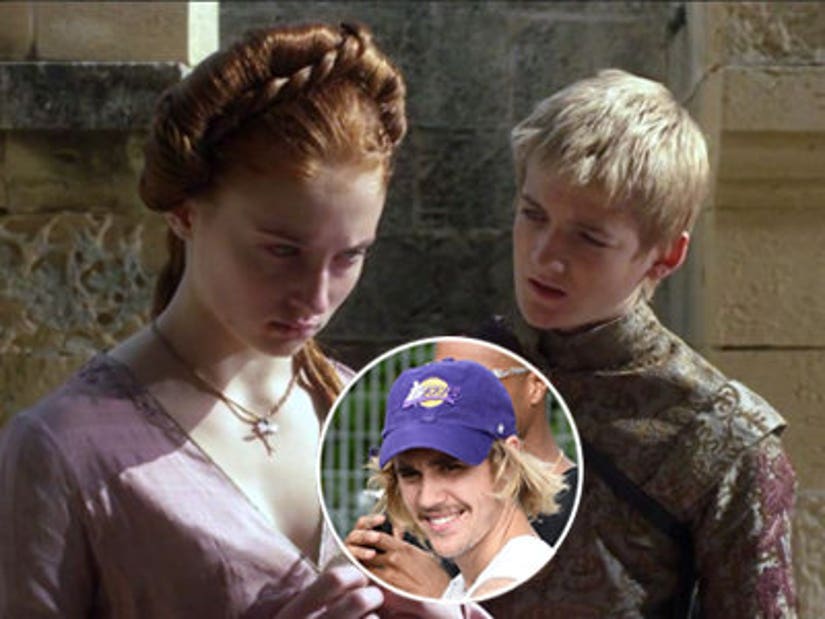 HBO
Like the spoiled child-king, Justin has "a darkness about him" apparently.
They're both JBs, they're both blond, they're both kings of their respective worlds, and they've both made headlines for their weddings.
The actress told Rolling Stone she was instructed by Game Of Thrones showrunners David Benioff and Dan Weiss to look at the evil brat king like she would the "Sorry" singer.
"She sees the world through rose-tinted glasses at the very beginning," she said. "She is completely oblivious to who the royal family are."
Turner plays Sansa Stark, who starts out besotted with the heir to the Iron Throne, but finds out he's not all he's cracked up to when he beats her, kills her dog and executes her father. "It's like any Justin Bieber fan — they don't realize Justin has his darkness about him," she explained.
She told the mag that her real-life younger self was "a Belieber, with a whole wall in my bedroom dedicated to him. David and Dan always told me, 'Look at Joffrey as if he's Justin Bieber and imagine that life.' That's the trick — how to get Sophie to act!"
While Joffrey was a nightmare merely on screen, the actress revealed she has had less than enjoyable experiences off camera too; not on 'Game of Thrones,' but on her Bryan Singer-directed X-Men film, "Apocalypse."
"Our time together was, like Rami [Malek] said, unpleasant,' she disclosed, drawing comparisons to the troubled production of "Bohemian Rhapsody."
Sophie, who is engaged to musician Joe Jonas, admitted she thought she was going to be single forever before meeting him, even revealing she had "experimented" with women before settling down.
"I was fully preparing myself to be single for the rest of my life," she said. "I think once you've found the right person, you just know. I feel like I'm much older a soul than I am in age. I feel like I've lived enough life to know. I've met enough guys to know — I've met enough girls to know. I don't feel 22. I feel like 27, 28."
Re: girls, she added: "Everyone experiments. It's part of growing up. I love a soul, not a gender."
With the final season of "Game Of Thrones" fast approaching, Sophie made another startling revelation that — hopefully — will not encourage any zealous fans to break into her home: The storyboard of her final scene ever adorns her wall, a gift from Benioff and Weiss.
Both men also admitted to the magazine that Sophie and her on-screen sister Maisie Williams were the first to realize the original "Game Of Thrones" pilot episode (which never saw the light of day and was heavily revised and re-shot before debuting on HBO in 2011) was rubbish.
"We remember the both of them bawling and hugging each other, because they loved each other so much after only a few short weeks, and were afraid they'd never see each other again, because the show wouldn't get picked up," the showrunners recalled.
"It was a viable fear. But we're very grateful that it didn't work out that way, and that they both got to spend all those years with each other, and with us."
The eighth and final season of "Game of Thrones" kicks off on HBO on April 14.