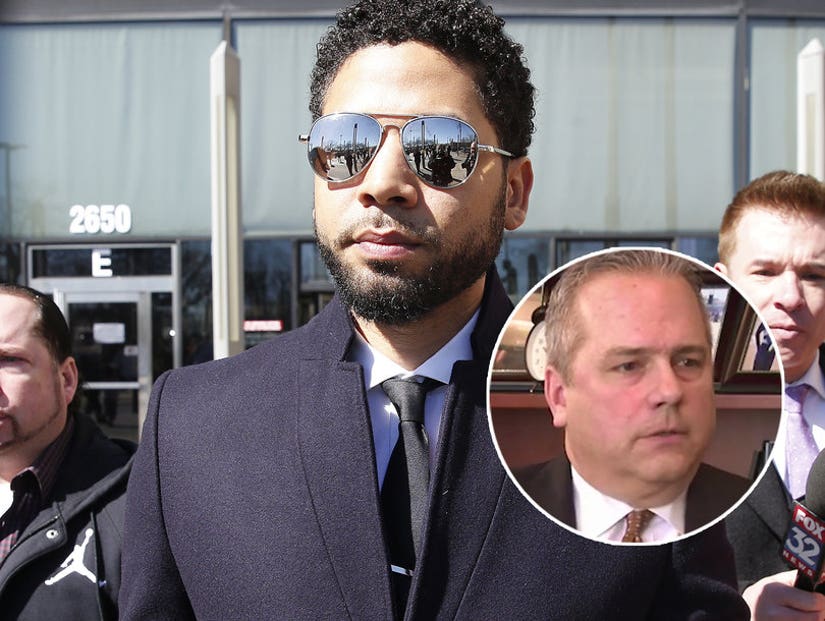 Getty / ABC
"Our priority is violent crimes and the drivers of violence. Jussie Smollett is neither one of those."
Mystery shrouds the Jussie Smollett case — but according to the man who decided to drop the charges, it is all very straightforward.
According to State prosecutor Joe Magats, Jussie is guilty, his $10,000 and community service is enough to pay for the crime, and now police and prosecutors can move on to more important things.
"Our priority is violent crimes and the drivers of violence. Jussie Smollett is neither one of those," he told CBS.
Asked if the 16 hours of community service and the forfeiture of his bail was enough to wipe this clean — in a case that reportedly cost the state $150,000 to investigate — he replied: "I feel that it is."
Magats, a 28-year veteran prosecutor, took over the case after Cook County State's Attorney Kim Foxx recused herself, in a move that added yet another layer of intrigue to the already convoluted affair.
Foxx stepped down after admitting she had been in contact with members of Jussie's family, having been introduced via text by Tina Tchen, a Chicago attorney and former chief of staff for former First Lady Michelle Obama, according to the Chicago Sun-Times.
Foxx claimed the contact happened after Jussie was attacked but before he was a suspect of a hoax; the family were concerned about the investigation and information being leaked to the media. On their behalf, Foxx asked Police Superintendent Eddie Johnson to hand the investigation over to the FBI, where leaks would be less likely.
Foxx had made similar calls to Johnson in lower-profile cases before; as soon as Jussie became a suspect himself, she made the decision to recuse herself which, according to legal experts, was the correct one.
Like Magats, Johnson is also convinced of Smollett's guilt — but he does not agree the case should have been dropped.
"It's Mr. Smollett who committed this hoax, period. If he wanted to clear his name, the way to do that was in a court of law so that everyone could see the evidence," Johnson said.
One of Jussie's attorneys Tina Glandian meanwhile said they were completely willing and prepared to fight in court — but the prosecutor backed down.
She accused Magats of contradicting himself, insisting there was no way he would drop the charges if he really believed in them.
"If they still believe the charges they would have never dismissed the case," she told GMA. "This is such a high profile matter; everyone's been talking about it obviously made national headlines."
"We were ready to move forward, we appeared in court we plead not guilty, we were ready to fight the charges and they're the ones who discontinued this matter so I think that speaks volumes."
"The actions of this case speak a lot louder than words do," she continued. "It's the prosecution, the state of Illinois that decided to come forward and charge Mr. Smollett with 16 counts. Sixteen separate counts from the same incident, they clearly could've proceeded with one count like they originally did in the felony complaint and then they decided to elevate this matter to slice and dice this in every way possible and to charge him with 16 counts."
"Two and a half weeks later they made the decision to voluntarily discontinue the action all together."
When asked if Jussie was considering suing the police for their handling of the case, she replied: "We're weighing our options."