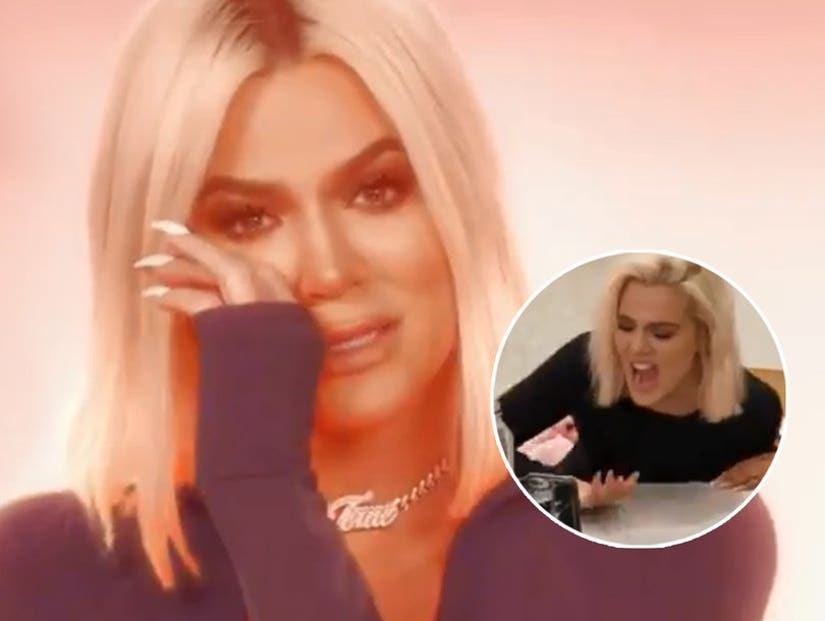 E!
"It just sucks that it has to be so public. I'm not just a TV show... like, this is my life."
Kim Kardashian posted the teaser on Wednesday morning and it was packed with fireworks — literal and figurative.
Fans thirsty for more details on the Khloe Kardashian / Tristan Thompson / Jordyn Woods love triangle will not be disappointed; however they might feel a little guilty when they see just how torn up Khloe is about the public humiliation.
"It just sucks that it has to be so public," a tearful Khloe sobs right at the top. "I'm not just a TV show... like, this is my life."
Khloe's split from her Tristan, father of her daughter True, and his subsequent tryst with Kylie Jenner's best friend Jordyn was one of the most shocking episodes the already drama-plagued family has suffered through.
Indeed as multi-millionaire matriarch Kris Jenner can be heard lamenting midway through: "We just cant seem to catch a break."
Khloe's heartbreak and fury are laid bare throughout the 90 second clip, as she yells "My family was ruined!" down the phone at one stage, and has to be physically restrained as she screams "LIAR!" in another.
"Tristan might love me — whatever that means — he's no respect for me whatsoever," she accepts in one moment of reflection.
Another retrospective wince-inducing scene shows the whole family gathered for dinner with Kris offering a toast to the former BFFs: "Here's to Jordyn and Kylie!"
Kylie mirror's her big half-sister's sentiments, ruing the downsides of being a member of the world's most famous family.
"It's difficult, nothing is private. Everyone feels like they have the right to talk about you — even though they have absolutely no idea what's going on," she declares.
"I just hope that there's a light at the end of this tunnel, I just don't see it right now."
There's other relationship drama in the family teased too; Kourtney Kardashian is asked how many people she's ever been in love with, and replies with a knowing smile: "One."
But the presumable "one" — father of her three children Scott Disick — is then immediately heard declaring: "I didn't think that I was going to have happiness again"... in turn presumably referring to his current girlfriend Sofia Richie.
The dramatic trailer, set to Kanye West's Runaway, also sees Kim admitting a potential move to her husband's hometown of Chicago would be her "breaking point".
It's left to a crying Khloe to have the final words: "Sometimes the world forgets to just be kind and that we're all going through something. Maybe just be a little more understanding 'cause it f--king sucks."
Season 16 of Keeping Up With The Kardashians kicks off on E! on March 31.