The "Sorry" singer tagged the designer of the Nike brand sneakers on his Instagram Stories, telling him, "You're killing me, man."
Justin Bieber just can't catch a break, even when the former bad boy of pop music is doing absolutely nothing wrong. And apparently his latest questionable life choice is wearing fashionable sneakers.
The pop star gave a shout-out to designer Virgil Abloh in his Instagram stories after police stopped and questioned his Off-White X Nike Air Max 90 sneakers. "Virgil, my god, bro. You freaking -- you're killing me, man!" Bieber said in the video.
According to the "Sorry" singer, an officer approached him and thought he still had a security tag on his shoes. Considering the after-market on this particular style of designer shoes is well over $500 these days, it might be easy to understand his concern.
"I had to tell him, 'Bro, it's just fashion," Bieber lamented. "I don't know. He's like, 'It sure looks like a security tag.'" Bieber couldn't help but laugh while sharing the story.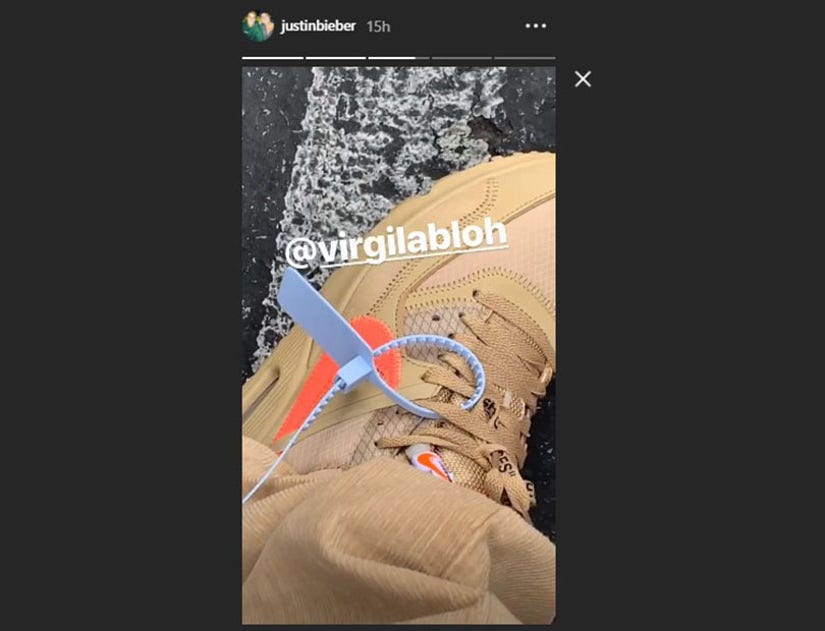 Instagram
"I'm like, 'Nah, bro, you can check it out.' It looks like it though."
He went on to chastise the designer, "You're getting me in trouble," while taking a look at the questionable element. It does somewhat resemble those bulky security tags in department stores. In actuality, it's just a blue zip tie, which becomes patently obvious upon close examination.
It's maybe something to consider for designers in the future, or maybe the "security tag" look will become all the fashion. We can bet that would cause all kinds of headaches for police departments across the nation.
As for Bieber, the singer recently announced via the social media platform that he is focusing right now on his mental health.
"I am now very focused on repairing some of the deep rooted issues that I have as most of us have, so that I don't fall apart, so that I can sustain my marriage and be the father I want to be," Bieber wrote. "Music is very important to me but Nothing comes before my family and my health."
He went on to add, "I will come with a kick ass album ASAP, my swag is undeniable and my drive is indescribable," though many seemed to think the post meant he was stepping away from music for a while.
And while there may have been some frustration in getting questioned by the police over a pair of sneakers, fans can appreciate that Bieber was able to laugh it off and even took to Instagram to share the funny story.