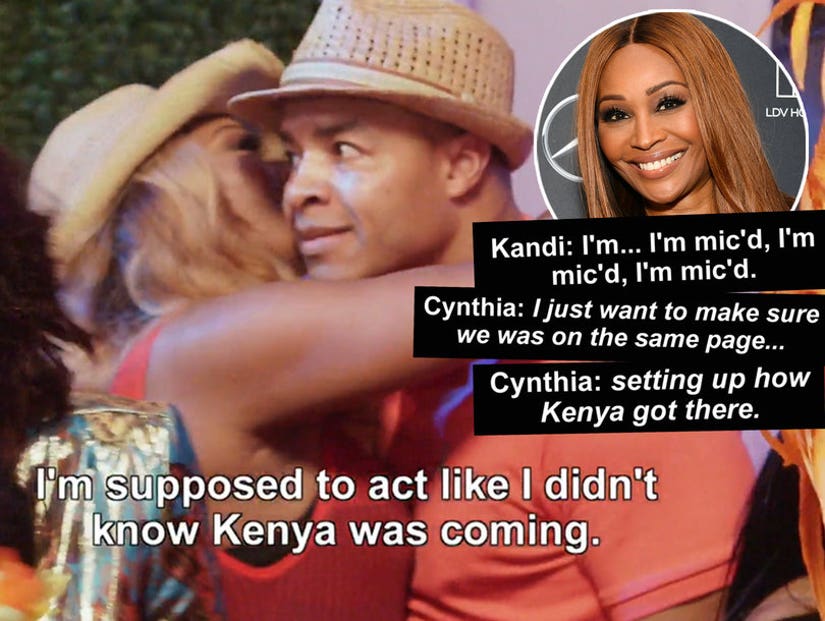 Bravo/Getty
Cynthia gives TooFab an explanation for that sketchy scene with boyfriend Mike Hill and the phone call she made to Kandi Burruss.
Long story short, NeNe Leakes was furious with Cynthia for not giving her the heads up that Kenya Moore would be attending her party to celebrate her new flavor collaboration with Seagram's Escapes, Peach Bellini. But Cynthia claims she didn't know Kenya would be coming, especially since she turned down her invite.
"Had Kenya told me that she was definitely coming, I would've mentioned it to NeNe," Cynthia told TooFab on Tuesday. "Other than that, when Kandi said she wasn't coming, I didn't think it made any sense calling NeNe and telling her she wasn't coming."
According to Kandi Burruss, who showed up to the party with Kenya, she didn't know Kenya was coming until the very last minute. Kenya then made her swear not to tell anyone.
But cameras caught Cynthia whispering to her boyfriend, Mike Hill, during the festivities, "I'm supposed to act like I didn't know Kenya was coming." Then later, mics picked up Cynthia calling Kandi to make sure they were "on the same page setting up how Kenya got there." Fans were outraged thinking Cynthia lied, but she swears she didn't and has explanations for both scenarios.
"I was dancing with Mike a lot throughout the night. I was whispering lots of things to him that may not be G-rated," Cynthia told us with a laugh. "So having footage of me talking to my man in his ear is not anything that you would not see when Mike and I are together. We really can't keep our hands off each other."
"With that said, I will say that when I looked at that footage, I didn't hear me say anything," she continued. "I read a caption of what I supposedly said."
Cynthia urged us to go back and peep the scene in question, so we did. "Think about what you read and what you hear," she said. We didn't hear her say anything, and her face was not in the shot. All we saw was her lean into her man's ear, and when she leaned back out, Mike nodded and replied, "Okay."
"I don't like to try to blame things on editing," Cynthia said. "I would just like for people to think about what they read and what they heard."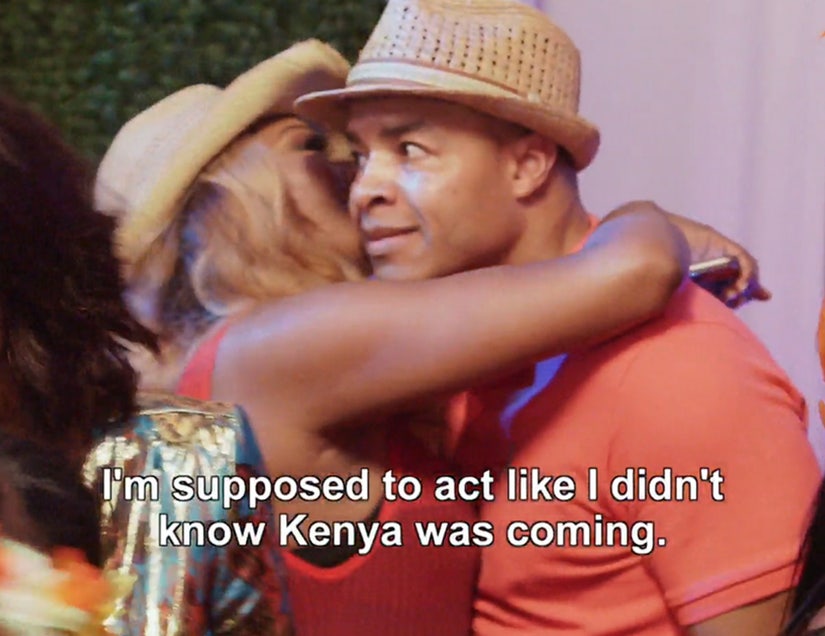 Bravo
"By the time both of these ladies were in the room together, my only goal at that point was to keep the peace," Cynthia told us. "I had had several bellinis at that point. I don't remember saying anything like that because I didn't have any reason to, because to my knowledge, I didn't know Kenya was coming until she walked into the door. That's the God's honest truth, and if it looked differently, it just looked differently. That's all I can tell you."
Fans also felt the phone call Cynthia made to Kandi while on their way to meet with NeNe after the party was a bit sketchy. When Kandi first answered the phone, she warned, "I'm mic'd. I'm mic'd. I'm mic'd," but that didn't keep Cynthia from saying, "I just want to make sure we was on the same page setting up how Kenya got there."
Cynthia explained to us, "I've been on the show for nine years, and before that, I'd done television prior to 'Real Housewives.' I'm very aware of when I have a mic on. When we're speaking to each other, when I call one of my castmates, no matter who it is, if they are mic'd, they're gonna say, 'I'm mic'd.' Basically, that's the courtesy we always give each other. If you say, 'I'm mic'd,' and I have something that I don't want you to hear, I'll say, 'Okay, I'm going to text you.' I'm not gonna say anything that I don't want you to hear."
"Why would I intentionally say anything that was gonna make me look like I was lying?" she continued. "What I said to Kandi was something I had no problem saying [on camera]. At that point, I didn't even know that NeNe was that upset. So once I knew that we were going [to talk to her], I said to Kandi, 'Listen, I just need you to own your part in the situation. You convinced Kenya to come, and I invited her.'"
"I don't have any reason to betray NeNe," Cynthia added. "I don't even know why the word 'betray' was even used! When I think of betrayal, I'm thinking I slept with her husband! But I invited my friends to my party. I've been nothing but loyal and supportive to this woman the whole season. Why in the last hour would I decide to piss her off?"
Cynthia said she wished NeNe had kept her nasty comments about Kenya to herself, or at least chosen another time/place to express them. She also felt NeNe's joke about Kenya being pregnant with a buffalo was "pretty disgusting."
As for Porsha Williams' baby girl, who was born March 22, Cynthia told us, "I have not met Pilar yet, but I've seen a picture, and she's absolutely gorgeous! I couldn't be happier for Porsha. This is her time. She's got a great guy, she's got a beautiful baby. These are things she's been wanting for a long time. Becoming a mom is one of the most amazing things that can happen to a woman. With all the jobs and all the businesses that I have, my No. 1 priority and my most favorite job is being a mother."
Cynthia also said Pilar looks like "a combination" of Porsha and her dad, Dennis McKinely.
"The Real Housewives of Atlanta" three-part reunion begins Sunday, April 7 at 8 p.m. on Bravo.