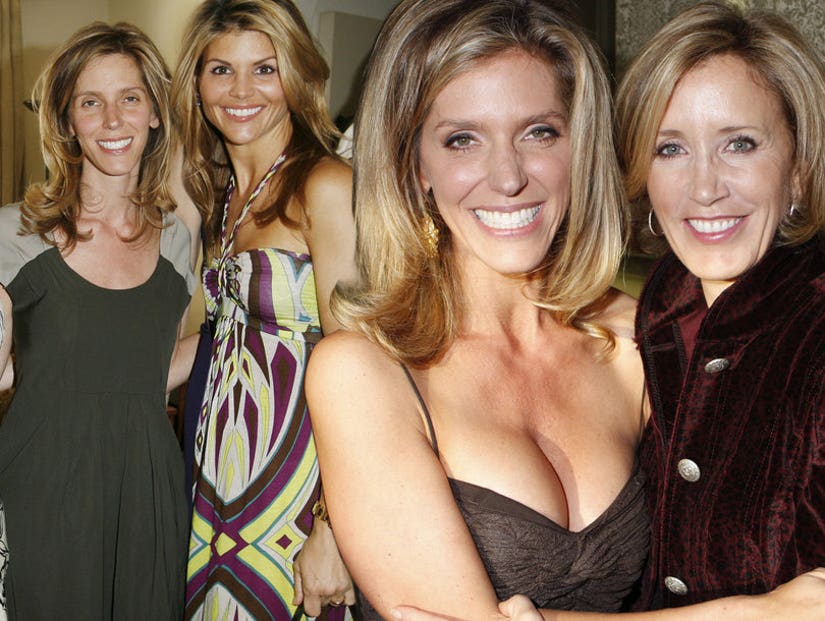 Getty (Lori Loughlin and Jane Buckingham, 2007) / Rex (Felicity Huffman and Buckingham, 2010)
Jane Buckingham, a best-selling author and parenting guru, is also something of a TV star herself.
They are both among the Hollywood elite, both mothers to two daughters, and both stand accused of cheating to get them into college.
Author Jane Buckingham ran in both actress' social circles, and was photographed with each at separate events before mastermind Rick Singer set up his elaborate "side door" into top US schools.
Lori was pictured with Jane at the iVillage Cares Luncheon Benefiting The Children's Defense Fund in Beverly Hills in 2007.
Felicity meanwhile attended a signing of Jane's book, ironically titled "The Modern Girl's Guide to Sticky Situations" in 2010.
The following year, the FBI allege, is when Singer began orchestrating his network of bribery and fraud.
While investigators named the three women among the 50 people allegedly involved in the scam, no word has yet emerged on how each participant was introduced to it, or by whom.
Jane, a best-selling author and parenting guru, is also something something of a TV star herself as the host of the short-lived Lifetime reality show "Job Or No Job," in which she dished out advice to those seeking employment.
She is accused of paying $50,000 to have a proctor take the ACT on behalf of her son Jack — who claims to have been unaware of the plot — to get him into USC; she is also accused of falsely claiming he had a learning disability and is alleged to have even supplied samples of his handwriting for the accomplice to copy.
Huffman is accused of paying $15,000 to have a proctor accomplice correct her daughter Sofia Grace's SAT scores before submitting them.
Loughlin, along with her fashion designer husband Mossimo Giannulli, is accused of paying $500,000 to have their daughters Olivia Jade and Isabella Rose admitted to USC as members of the crew team, even though neither of them competitively rowed before.
Buckingham split from her business author husband Marcus Buckingham, with whom she also shares a daughter, Lilia, in 2018; he maintains he knew nothing about the scam and was not charged.
"I've seen so many young people trying to get a great job — but most don't have the tools they need," she says in the intro for every episode for "Job Or No Job". "No-one's ever told them what they don't want to hear — but I will. It's up to them to sink or swim."
In 2012 she wrote a story for Time Magazine on the dangers of "helicopter parenting", in which she claimed: "For years, they have regularly been given pats on the back, often just for showing up. They took a test — how amazing! When they finally join the workforce, it's no wonder members of Gen Y expect a promotion just for being on time to work for six weeks straight."
According to The Hollywood Reporter, Jane was speaking at a retail conference in 2016, when she continued this train of thought.
"It's not their fault, it's their parents, because that's what happens when you give them a gold star for going to the potty and a trophy for not participating and telling them they are fantastic every day of their life," she said. "Now, ten years later, we are mad at them. We made our beds. We have to lie in it."