Colin couldn't show his embarrassing ink on the show, but don't worry, we found a photo.
Appearing on "The Late Late Show" on Wednesday night, the "Dumbo" star was asked about his many tattoos and current mission to wipe them off his body. Asked by James Corden why he was getting them removed, Farrell said that embarrassment was only partly to blame.
"I'm getting rid of them because I got tired of getting painted in the makeup chair anytime I wear a t-shirt, it buys me an extra 45 minutes sleep in the morning," he explained. "Obviously, none of them had that much significance to me that I would choose 45 minutes over my own history!"
While he has quite a few pieces, Colin told James that his "worst" tattoo was one he had on his chest.
"I got [it] in New York one night at 3:00 AM at a tattoo parlor by somebody I don't think has ever done a tattoo before," he explained. "It was a rose but it actually looks kind of like a cat's asshole on a chopstick."
That description had James and fellow guest Woody Harrelson cracking up. "It's such an obscure thing, but I know exactly what that is," said Corden.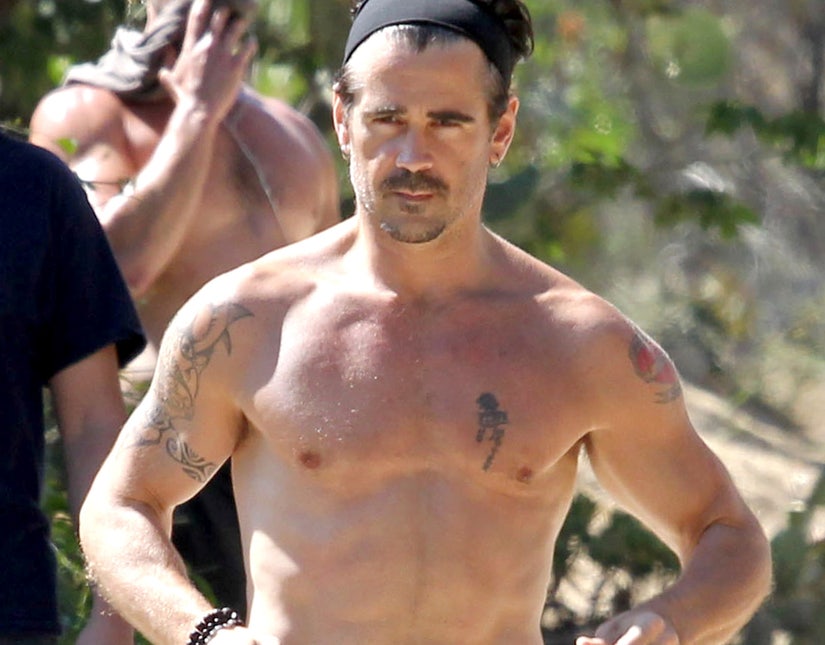 BACKGRID
Farrell said he unfortunately couldn't show it off on the show, because it was "the one we paid most attention to in my initial session when I was getting the laser removal." Don't worry though, we dug up an old photo to show you.
BTW, Farrell said the removal process made him extremely "sore."