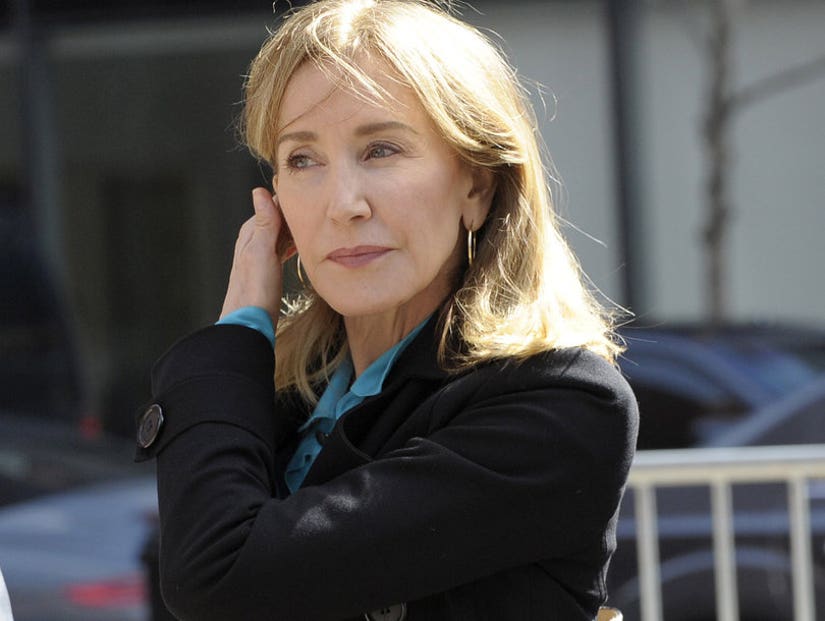 Getty
Had she spent $14,999.99 instead, her potential prison sentence could have been dramatically reduced.
If only she'd negotiated a little discount.
On Monday the actress pled guilty to conspiracy to commit mail fraud as well as honest services mail fraud, after paying mastermind Rick Singer the five-figure sum to have an accomplice proctor correct her daughter's SAT answers before submitting them.
According to sentencing guidelines in her plea agreement, the US Attorney agrees Huffman's "offense level" is 9: 7 being her base level for the crime, +4 because her gain/loss amount was between $15k and $40k, and -2 because she accepted responsibility for her crime.
But Huffman's lawyers tried to argue her gain/loss amount was between $6,500 and $15k, which would bring her offense level up by 2 instead of 4.
Had she spent $14,999.99 on the scam instead, there would be no argument — her offense level would be 7 instead of 9, a reduction of 2... which is the exact same reduction she benefited by pleading guilty.
Upon signing her plea deal, Huffman had to accept that the court was not obliged to follow her lawyers' calculations — and she is not allowed to withdraw her guilty plea if they do not.
Huffman was one of 14 parents pleading guilty on Monday. The maximum sentence for her crime is 20 years in prison and a fine of $250,000.
In its sentencing recommendation, federal prosecutors pushed for "incarceration at the low end of the sentencing range" which, if the judge sides with their math, would be somewhere between four and ten months behind bars, according to TMZ.
If Felicity's calculations are held up instead, she would face between zero and six months prison time.
50 people in total were charged in the cheating ring; 33 parents and 17 organizers.
The scandal's other high-profile participants, Lori Loughlin and her fashion designer husband Mossimo Giannulli, have yet to enter a plea.
In a statement on Monday, Huffman apologized to her daughter Sofia Grace for bringing her shame, insisting the teen knew nothing of the plot.
"I am in full acceptance of my guilt, and with deep regret and shame over what I have done, I accept full responsibility for my actions and will accept the consequences that stem from those actions," she wrote.
"I am ashamed of the pain I have caused my daughter, my family, my friends, my colleagues and the educational community. I want to apologize to them and, especially, I want to apologize to the students who work hard every day to get into college, and to their parents who make tremendous sacrifices to support their children and do so honestly."
She added: "My daughter knew absolutely nothing about my actions, and in my misguided and profoundly wrong way, I have betrayed her. This transgression toward her and the public I will carry for the rest of my life. My desire to help my daughter is no excuse to break the law or engage in dishonesty."