"We can definitely feel episodes coming, and we know how to handle them," Kim says now.
In one of the Mikael Jansson-shot photos for the spread, Kim and Kanye West's kids are also given the chance to shine, as North, Saint and Chicago all join their mama for a shot in their kitchen. While Nori and Kim look camera-ready, Kardashian's two youngest prove it's hard to wrangle all those kids for a high-fashion shoot.
A lot of Jonathan Van Meter's interview with Kim revolves around her desire to become a lawyer and take the bar exam -- which you can read about here -- but her comments about husband Kanye and his mental health are equally as interesting.
While Kanye told Donald Trump he was actually "sleep-deprived" and not bipolar, the article notes he has "once again accepted the bipolar diagnosis." According to Kim, they're "in a pretty good place with it now."
"It is an emotional process, for sure," she added. "Right now everything is really calm. But we can definitely feel episodes coming, and we know how to handle them."
Kardashian said that, for Kanye, medication "is not really an option, because it changes who he is." She noted that he has cut back on his traveling of late, because that tends to "set it off."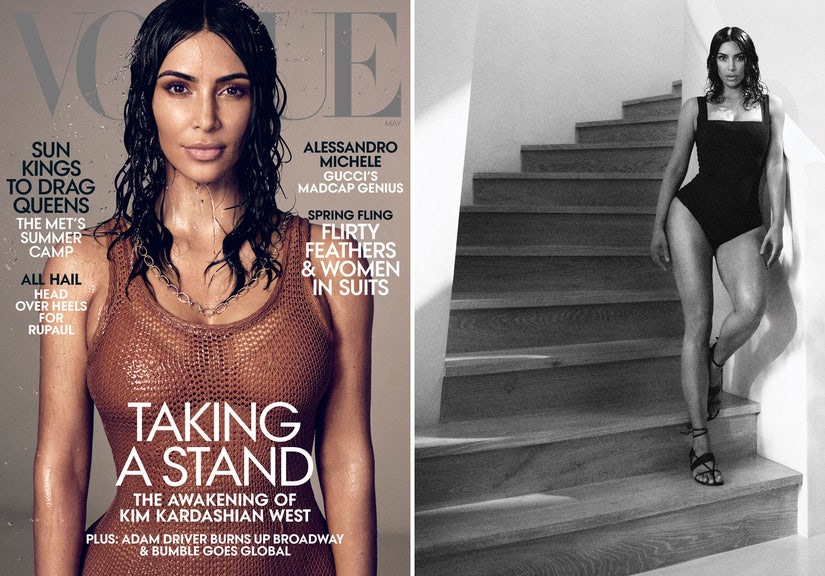 Mikael Jansson/Vogue
"But I think some of the hurtful things that I read online ... What is she doing? She's not stopping him ... Like it's my fault if he does or says something that they don't agree with?" she said. "That's my husband. I share every opinion that I have and let him know when I think something's wrong."
Explaining that Kanye "doesn't represent either side" politically, she also said she's "stopped caring" about a lot of the things he says in public. "Because I used to care so much. I was making it such an issue in our relationship," she added, "and in my life. It gave me so much anxiety."