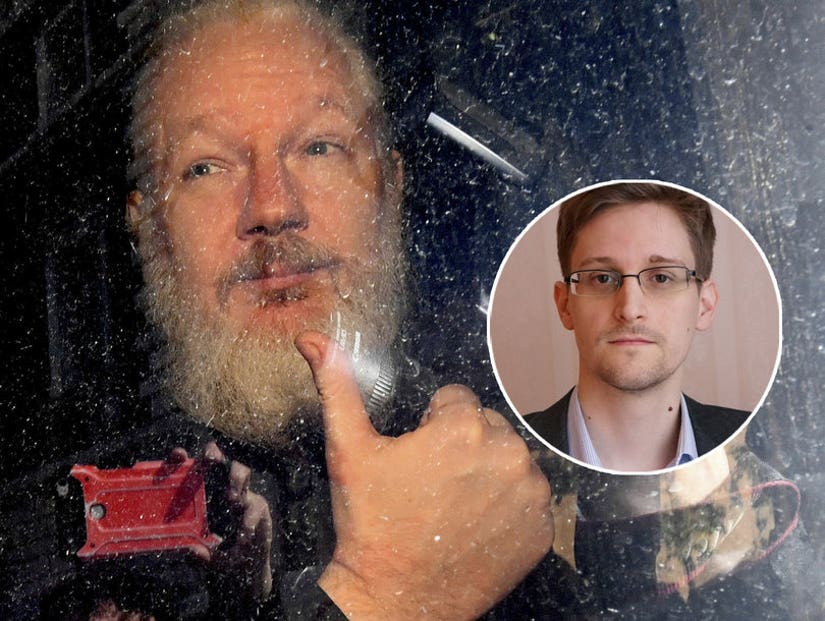 Getty / AP
"Assange's critics may cheer, but this is a dark moment for press freedom."
Julian Assange was dragged out of the Ecuadorian embassy by UK police on Wednesday — and one of the first to react was a fellow whistleblower/fugitive.
Edward Snowden, himself on the run from US authorities in Russia, condemned the arrest, calling it a dark day for press freedom.
"Images of Ecuador's ambassador inviting the UK's secret police into the embassy to drag a publisher of--like it or not--award-winning journalism out of the building are going to end up in the history books," he tweeted. "Assange's critics may cheer, but this is a dark moment for press freedom."
He pointed out that the UN had recently declared his detention to be arbitrary, "a violation of human rights", insisting he be allowed to walk free.
As founder of whistleblower site Wikileaks, Assange has been wanted in the US as part of an investigation into the leak of several confidential documents via former soldier Chelsea Manning, which were damning of the US military.
Snowden was particularly critical of the fact that the charge Assange was being extradited for was "attempting to crack a password".
"The weakness of the US charge against Assange is shocking. The allegation he tried (and failed?) to help crack a password during their world-famous reporting has been public for nearly a decade: it is the count Obama's DOJ refused to charge, saying it endangered journalism," he wrote.
He spent the morning furiously retweeting the many arguments against the arrest, including the ACLU's: "if the US can force the arrest and then extradite foreigners like Assange on foreign soil for publishing docs, what prevents China or Iran or, you know, Russia for doing the same to US journalists who publish secrets about them?"
Pamela Anderson, who describes herself as a close friend of Assange, had an even stronger reaction, calling the UK "America's bitch".
"How could you Equador? (Because he exposed you). How could you UK? Of course - you are America's bitch and you need a diversion from your idiotic Brexit bullshit."
Another who is fighting extradition to the US, Kim Dotcom, also protested Assange's innocence, claiming thing would get much bleaker for him once he arrived on American soil.
"Telling the world the TRUTH about war crimes, human rights abuses, corruption, election fraud and abuses of power IS NOT A CRIME," he tweeted. "Please donate to @Wikileaks now so that the legal team of Julian Assange has funding to fight back. #FreeAssange #FreeJulian"
"The US Justice Department has charged Assange with "Conspiracy to break a password" and says he's facing a maximum sentence of 5 years in US jail. Is it still April Fools Day?" he continued. "The maximum 5 year sentence announced by US DOJ may be a tactic to tempt Assange to consider swift extradition. DOJ may have a superseding indictment with more charges ready on arrival. I can tell you from experience DOJ is full of liars and tricksters. #FreeJulian"
"Westworld" star Jeffrey Wright predicted the President would use the incident to his advantage; in 2016 Wikileaks published the DNC emails alleged to have been hacked by Russian intelligence, which damaged Hillary Clinton's presidential campaign and ultimately helped — collusion or not — Donald Trump get elected.
"Here's the part where they pretend that Assange's commitment to 'transparency' and 'crushing bastards' compelled him to undermine Clinton and, in so doing, support Trump and that Trump may come to his rescue because Trump's a principled protector of a free press," Wright scoffed.
Comedian Jen Kirkman however was on the opposite side of the fence.
She tweeted: "Congrats people who think they're being true liberals by siding w/ Assange. If future unbrainwashed you wants to read this: He broke bail & was conspiring with Russia in election interference. These charges aren't about journalism. He's also not a journalist."
Some people meanwhile, like "Ellen" EP Andy Lassner, simply could not get past Assange's long white beard.
"Has Leno commented on Letterman's arrest yet?" he joked.
Assange, who was born in Australia but was granted Ecuadorian citizenship last year, has spent the past seven years living at the Ecuadorian embassy in the UK capital.
He was a wanted man in three countries: as well as the US extradition request, the Swedish government had issued a warrant for his arrest for the alleged rape and sexual assault of two women in 2010. After surrendering to UK police he subsequently skipped bail, fleeing to the safety of the embassy.
Sweden dropped its investigation in 2017; but he could still be arrested if he returns there before the statute of limitation expires in August 2020.
I am in shock..
I couldn't hear clearly what he said?
He looks very bad.
How could you Equador ?
(Because he exposed you).
How could you UK. ?
Of course - you are America's bitch and
you need a diversion from your idiotic Brexit bullshit.

@pamfoundation
Telling the world the TRUTH about war crimes, human rights abuses, corruption, election fraud and abuses of power IS NOT A CRIME.

Please donate to @Wikileaks now so that the legal team of Julian Assange has funding to fight back.#FreeAssange #FreeJulian

@KimDotcom
Here's the part where they pretend that Assange's commitment to 'transparency' and 'crushing bastards' compelled him to undermine Clinton and, in so doing, support Trump and that Trump may come to his rescue because Trump's a principled protector of a free press.

@jfreewright
Congrats people who think they're being true liberals by siding w/ Assange. If future unbrainwashed you wants to read this:
He broke bail & was conspiring with Russia in election interference. These charges aren't about journalism. He's also not a journalist. https://t.co/q9qBt1aiL3

@JenKirkman