"Not a joke," the singer says about her test results.
It's one thing to hear someone talk about their traumatic past; it's another to see the damage it's done.
On Thursday, Ariana Grande shared images of her brain alongside images of a "healthy brain" and one that's riddled with Post Traumatic Stress Disorder for all of her 150 million Instagram followers to see. Ari's scan showed greater similarity to the one riddled with PTSD.
"Hilarious and terrifying," she captioned a screenshot of a text message conversation she had about the scan. "Not a joke."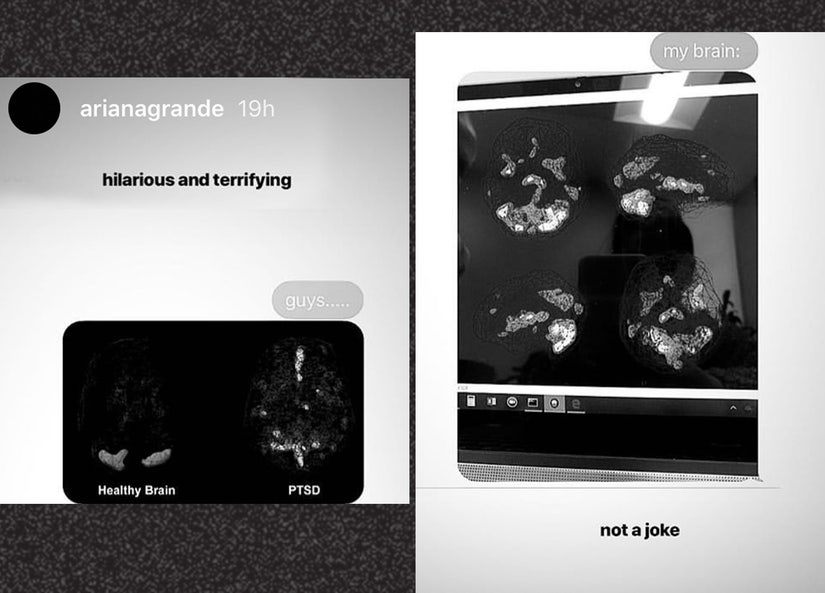 Instagram
Last June, the 25-year-old singer-songwriter opened up about her struggles with anxiety and the "signs of PTSD" she was experiencing following the tragic Manchester Arena bombing she survived almost two years ago.
"I hate admitting it, but it very much is," she told British Vogue when asked if the dizziness and anxiety she felt after the attack were signs of the disorder. "That's what everyone was telling me. It's hard to talk about because so many people have suffered such severe, tremendous loss. But yeah, it's a real thing. I know those families and my fans, and everyone there experienced a tremendous amount of it as well."
"Time is the biggest thing," she added. "I feel like I shouldn't even be talking about my own experience -- like I shouldn't even say anything. I don't think I'll ever know how to talk about it and not cry."
On May 22, 2017, a terrorist attack at the singer's "Dangerous Woman" show at Manchester Arena in the United Kingdom left 22 concertgoers dead and over 100 injured. Ariana vowed to stay strong, sharing that she would return to the "incredibly brave city" for a special performance. She kept her promise.
Two weeks later, Grande was joined by some of the biggest music stars in the world to perform once again at Manchester Arena for the One Love Manchester benefit concert. All proceeds from the concert went directly to the We Love Manchester Emergency Fund.
If you or someone you know is struggling with PTSD, you can visit PTSDAlliance.org for help and resources.