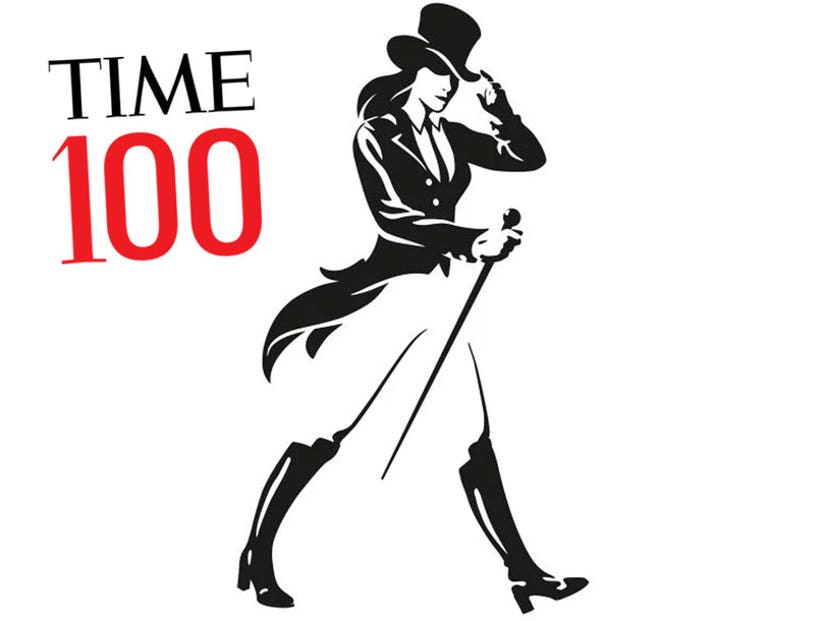 Johnnie Walker
"Jane Walker is a brand icon celebrating the many achievements of women."
It is considered one of the most prestigious lists in the world.
But it turns out slots on the Time 100 are for sale this year, with the sponsored inclusion of Jane Walker, the gender-bending mascot of the famous whiskey brand Johnnie Walker.
Nestled beside entries such as Michelle Obama, Pope Francis and Mark Zuckerberg, was a full testimonial dedicated to the top hat-wearing logo introduced by alcohol giant Diageo last year in a misguided attempt to attract women to the brand.
"Johnnie Walker is an iconic whisky brand with a mission to promote the spirit of progress," it read. "In challenging times like these, Jane Walker represents a step in the right direction. Jane Walker is a brand icon celebrating the many achievements of women and those on the shared journey toward gender equality and equal representation."
The testimonial was written by Pam Elam, President of the Monumental Women Campaign, which is pushing for a statue of suffragette heroes Elizabeth Cady Stanton and Susan B. Anthony in Central Park (as none of the 23 statues already there honor any women).
While the publication did add an extra 101st slot for the sponsored content among the list's 'Pioneers', it was nevertheless a jarring juxtaposition with the likes of Dr. Christine Blasey Ford, or Yemeni human-rights defender Radhya Almutawakel, or Irish reproductive rights leaders Grainne Griffin, Ailbhe Smyth and Orla O'Connor.
Diageo faced backlash when it first unveiled Jane Walker as a limited-edition version of its scotch, accused of pandering by opting for International Women's Day for the launch.
Johnnie Walker vice president Stephanie Jacoby didn't help matters when she subsequently tried to explain that "Scotch as a category is seen as particularly intimidating to women" and that Jane Walker was "a really exciting opportunity to invite women into the brand" — which appeared to have the opposite effect.
The logo's inclusion on this year's list wasn't the only one that raised eyebrows; as well as being fraught with political enemies (Donald Trump, Alexandria Ocasio-Cortez, Mitch McConnell, Nancy Pelosi), Time also included Supreme Court Justice Brett Kavanaugh alongside his sexual assault accuser Dr. Blasey Ford.