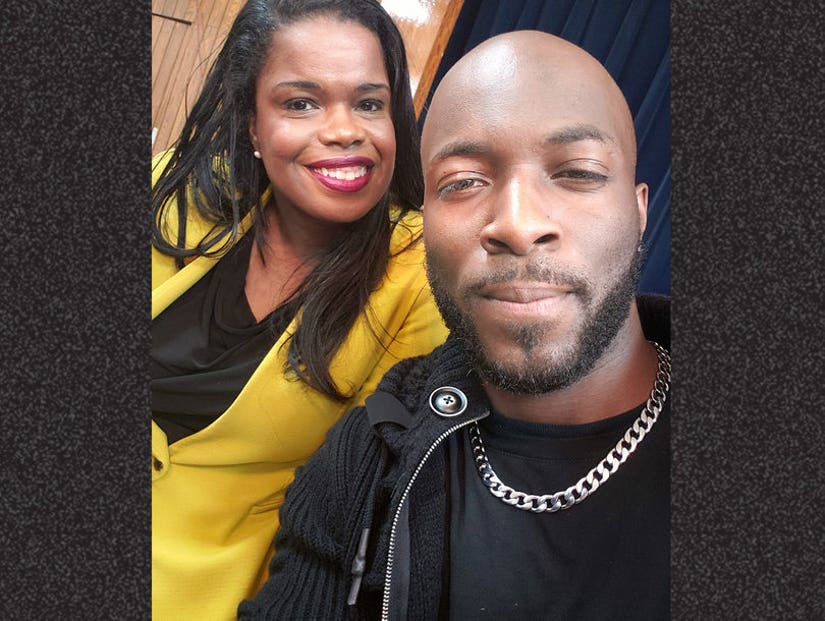 Facebook
"Even though she recused herself and I have to deal with a special prosecutor, I STILL stand with Kim Foxx."
Exactly eight weeks after recusing herself from the Jussie Smollett case, Kim Foxx has walked away from another.
The Cook County State's Prosecutor recused herself from a battery case against activist Jedidiah Brown, after a Facebook selfie of the two resurfaced.
Brown was charged with resisting arrest, obstructing traffic, and two counts of misdemeanor battery to a peace officer last year, after an altercation with police during a protest of the fatal police shooting of South Shore barber Harith Augustus in July 2018. (A video of the alleged "assault" can be viewed here).
On Tuesday morning six police officers demanded a special prosecutor be appointed to the case instead of Foxx, alleging the two had a relationship.
"When you're taking pictures with the prosecutor while you have a case pending, that appearance is of impropriety calls out for removal of that prosecutor," the officers' attorney James McKay said, per CBS. "If a prosecutor has a relationship – whether it's a working relationship, a political relationship, a personal relationship – he or she should remove themselves from that case so it appears to be fair and impartial for both sides."
Afterward an impassioned Brown said the move was a witch hunt against Foxx.
"Even though she recused herself and I have to deal with a special prosecutor, I STILL stand with Kim Foxx," he said immediately afterward in a Facebook Live video.
He shot back at criticism for taking the picture with her: "How many times are we going to allow our lives to be defined by what we are afraid of? Why do I have to be afraid to take a picture with a black woman that I personally have pride in, being the State's Attorney of one of America's largest counties?"
"I still support that black woman 100%," he said. "I believe that the assault against her is because she is making the legal process more equitable in Cook County."
"I'm not working for Kim, I'm not organizing for Kim, I'm not talking to Kim, I'm not with her campaign, and I'm not with her office... that is a f--king lie. I stand with Kim Foxx. I will not stop standing with Kim Foxx."
In February, Foxx infamously recused herself from Smollett's case; he had been indicted on charges relating to fabricating a racist and homophobic attack on himself. All charges were later dropped.
A family friend of Smollett had reached out prior to his indictment over concerns about police leaks to the media; as soon as he was indicted, Foxx stepped aside, albeit informally rather than officially, as she was worried about the appearance of conflict of interest.
This week it also emerged she had received death threats over her handling of the case.