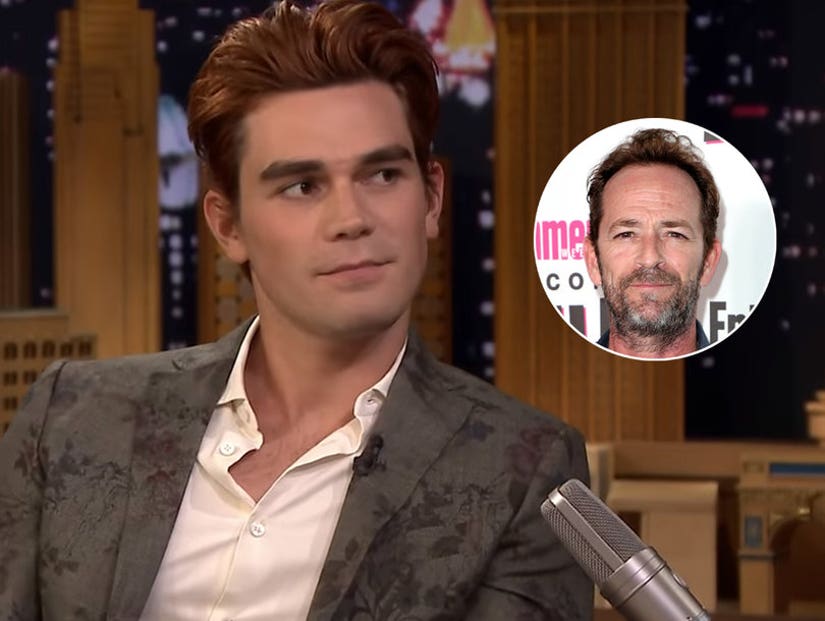 Getty/NBC
"Luke is the kind of person who did everything he can to make whoever you are, however how big or small you were, feel comfortable and feel welcome," Apa says of his late co-star.
"Everyone was pretty shocked," Apa began. "And I think...it's not every day you come across a guy like Luke."
He continued, "Luke is the kind of person who did everything he can to make whoever you are, however how big or small you were, feel comfortable and feel welcome... It's hard to put into words how that makes me feel."
Apa, who plays "Riverdale" lead protagonist Archie Andrews, said he had a "really close" relationship with Perry, who starred as Archie's dad Fred.
"He would call my parents every week and like keep them updated on how I'm going," the New Zealand native recalled, smiling. "Like if I had a cold or something he'd be like, 'I took some Gatorade to his apartment the other day' ... him and my dad were always texting each other."
"He made an effort, he made such a huge effort from the very beginning," he added. "I wish I could be like that." Fallon replied, "You can be like that. You are like that."
Up until this interview, Apa has remained pretty private when it comes to speaking about Perry. Immediately following Luke's death, the young actor posted a photo of Perry smiling on a boat. "Rest in love, bro," he captioned the pic.
Waiting for your permission to load the Instagram Media.
When asked why he chose that specific photo of Perry, Apa said, "I just think he's just in complete and utter peace in that photo. Look at him. He's just living his life."
"That was very beautiful that you did that, buddy," Fallon said.
There are only a few episodes left of "Riverdale" Season 3, however, Perry's final episode he filmed aired last week. His final scene was touching, poignant, and more than anything, appropriate. He only spoke a few words during Wednesday's episode but the short scene encapsulated one of the most beloved aspects of Fred Andrews and served as a touching reminder of the actor's lasting impact.
At the beginning of the episode, titled "Chapter Fifty-Four: Fear the Reaper", Fred, Archie and Co. learned at the hospital that Randy, who Archie beat during their boxing match, had died. Although Archie knew Randy died from an accidental drug overdose, he was worried people would blame him for his death.
Back at the Andrews' house, viewers witnessed Perry's final moments on the show doing what his character, Fred, did best: giving his son advice. Archie was torn up about Randy's death and was worried he played a role because he knew he had taken the drugs and didn't stop the fight. Fred, as he has always done, calmed his son down.
"Son, from everything you've said, it's clear that Randy died from those drugs," Fred said. "An autopsy will support that, you're innocent."
"But I'm not, Dad," Archie replied. "I knew. I knew Randy was juicing. I could've stopped the fight, but I didn't want to forfeit. If I had...I'm never stepping into that ring ever again. I can't."
As the camera zoomed out on Fred's face, we said goodbye to Perry's time on "Riverdale."