The actor talks about the couple's "hectic" 2018 in the new issue of GQ Australia.
Liam Hemsworth is reflecting on his wild 2018, which saw him and Miley Cyrus not only lose their home in a devastating wildfire, but also tie the knot in a surprise year-end wedding.
Speaking with GQ Australia for the magazine's May/June cover story, the actor admits it was a "hectic" year, but one that came with a lot of good to balance out the bad.
In November, the Woolsey Fire ripped through Malibu, claiming 1,643 structures -- including the homes of Liam and Miley, Gerard Butler, Camille Grammer and Kim Basinger.
"My house was in the middle of the red zone," Hemsworth told GQ. "My property is super dry, with big eucalyptus trees, and I'd been saying for years that if ever there was a spark in the canyons, it was just going to go up."
"About three or four AM, I got a call from Miley. She'd found out from a friend, and that was when she told me it was gone," he recalled. "That was pretty gut-wrenching. It was actually real. And it's just a hard, hard thing to come to terms with."
Waiting for your permission to load the Instagram Media.
"Overnight, you literally lose all your possessions and your space, your nest," he explained. "Obviously there are photos and things like that, but the one thing I wish I did grab was this Rolex that Lionsgate had given me as a present, after the first 'Hunger Games' film came out. I always imagined giving it to my first son or something. I don't hold too much sentiment to possessions, but that was probably the one thing I wish I'd taken."
Yes, he does have kids on the brain, but not anytime soon.
"Once we don't have so many dogs," he told the mag. "You couldn't bring a baby into our house right now. But one day, we'll know when it's right. But right now? Not for the time being." When the time does come, he told GQ he wants "10, 15, maybe 20" kids.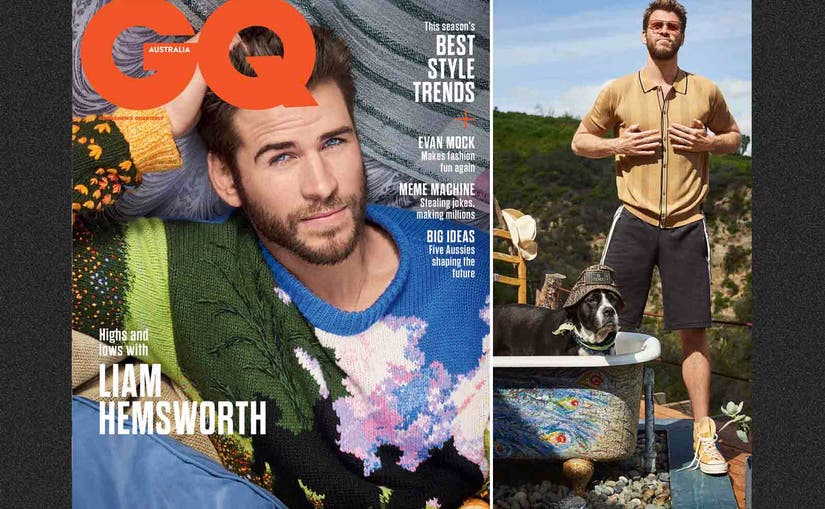 Carter Smith for GQ Australia
The fire is something that prompted the two to tie the knot, news they revealed to the world on December 2018.
"I was 18 when I met Miley," he told the publication about how their relationship progressed. "We really fell in love quickly and had a really strong connection from the beginning and I think in the back of my head I knew it was on the cards, but we weren't planning to have a wedding anytime soon."
"Then just going through something this emotional with someone, it brings you closer and we felt like we'd lost a big part of our lives, so we wanted to make a new part of our lives," he added. "It was something really good coming out of a horrible situation. It was going to happen eventually, but I think this just sped it up a little bit."
The May/June issue of GQ Australia hits newsstands May 6 2019.