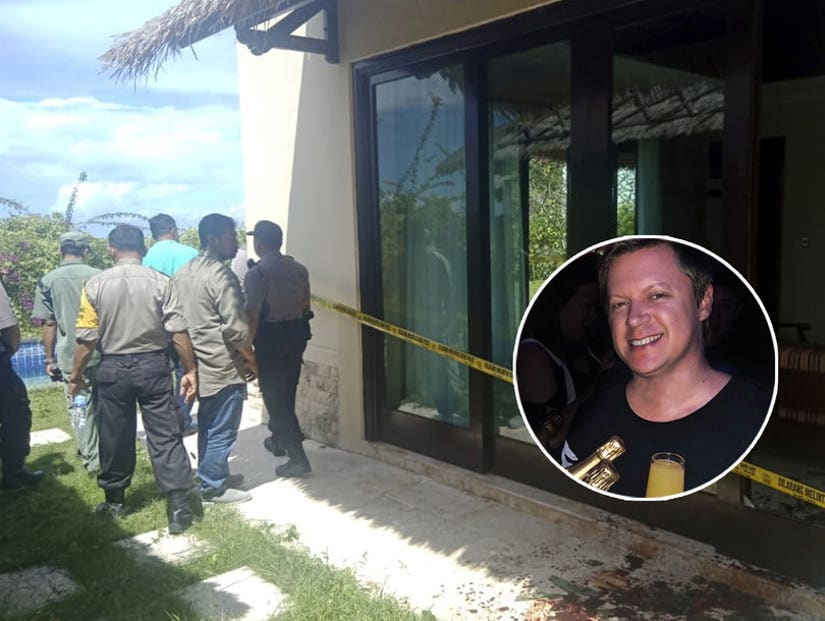 AP / Instagram
Eventually tiring from loss of blood, he lay on the bedroom floor — and never got back up.
Adam Sky was tragically killed during the weekend in a bizarrely unfortunate turn of events.
The popular Australian DJ's body was discovered lying on the bedroom floor of a vacant Bali villa, surrounded by blood and glass. Authorities were only alerted when a hotel employee found his assistant lying outside in the bushes in a bathing suit with a broken leg.
Piecing together what happened, police determined Adam had been hanging out with personal assistant Zoia Lukiantceva the night before at his neighboring villa, some 30 feet above, where they had both been drinking heavily, as evidenced by the number of beer bottles laying around.
Lukiantceva, a 22-year-old Russian, had been swimming in the pool, but after getting out apparently slipped and fell over the terrace, 30 feet to the ground below, breaking her leg.
Sky is believed to have rushed down to help her but apparently couldn't find her; searching around the neighboring villa, he is said to have ended up smashing through a glass door, either falling through accidentally or purposely as part of his search.
Blood trails show he made his way through the villa, either looking for his friend or looking for help, not realizing he had likely cut an artery in his arm.
Eventually tiring from loss of blood, he is believed to have lain on the bedroom floor — and never got back up.
Doctors determined the time of death to be 10am on Saturday morning — right as the body was discovered.
"After his friend fell from their villa, we assume Adam went searching to the vacant villa beneath as he suspected she fell down there. When entering he broke the glass, which is where he injured himself," Indonesian police old the Sydney Morning Herald.
"He continued to search inside and then he lay in the bedroom, probably tired, face up [on the ground] in front of the bathroom. We suspect they were both drunk, because we found many empty bottles of beer in the villa."
Another officer told the Jakarta Post: "He had only one wound, but it affected his artery. He likely died from losing too much blood."
Police consider the death "purely accidental" and were not pushing for an autopsy; Sky's wife Marvie Jean, who arrived in Bali after receiving the news, agreed.
Sky, whose real name was Adam Gary Neat, was just 42 years old.
"It is with great regret that we can confirm Adam Neat was involved in a fatal accident while trying to help a friend who had suffered multiple fractures in Bali on Saturday, 4th May, 2019. Relatives and friends of Adam are traveling to Bali today and handling all arrangements," his official social media channels informed fans. "We ask you to respect the families' privacy at this moment while we all come to terms with our tragic loss."