"MOST IMPORTANTLY I don't give a shit about your opinions on her body, if you think [it's] fake or not!" Kim's trainer wrote.
The big question on many a troll's mind during the Met Gala on Monday night was: what happened to Kim Kardashian's internal organs?
The offensive and certainly uneducated query was spurred on by the spectacle of the reality star's incredibly cinched waist, which was the product of a corset and hours spent enduring grueling workouts, according to Kim's personal trainer.
While the general public was mostly wowed by the "Keeping Up with the Kardashians" star's Mugler gown featuring water droplet transparent embellishments, there was undeniably an emphasis on her physical proportions. And Kim's trainer, Melissa Alcantara, wanted to make it clear just how that look was achieved.
Here's a small sampling of the online troll chatter regarding Kim during the Met Gala.
"Where did Kim Kardashian's internal organs spend the night at Met Gala? Because I can't figure out how anatomically possible it would be to fit them all inside that tiny waist," a person tweeted and another added, "Kim Kardashian's waist is getting smaller & smaller every year at the met gala honestly this is why girls are so body conscious seeing these types of 'transformations' in celebrities"
Others said Kim's waist looked "unrealistically painful" and made her look like a "freak of nature."
"To make things clear, 1. This dress is corseted," she wrote over a pic of Kim's look. "BUT 2. Kim trains her ass off 6 days a f--king week, she wakes up early AF and is dedicated. 3. I paved the road for her but SHE did the work!"
Alcantara continued, "MOST IMPORTANTLY I don't give a shit about your opinions on her body, if you think [it's] fake or not! I see her every morning, I see her train and I see her sweat and I see all the work she does outside the gym and THAT is commendable!"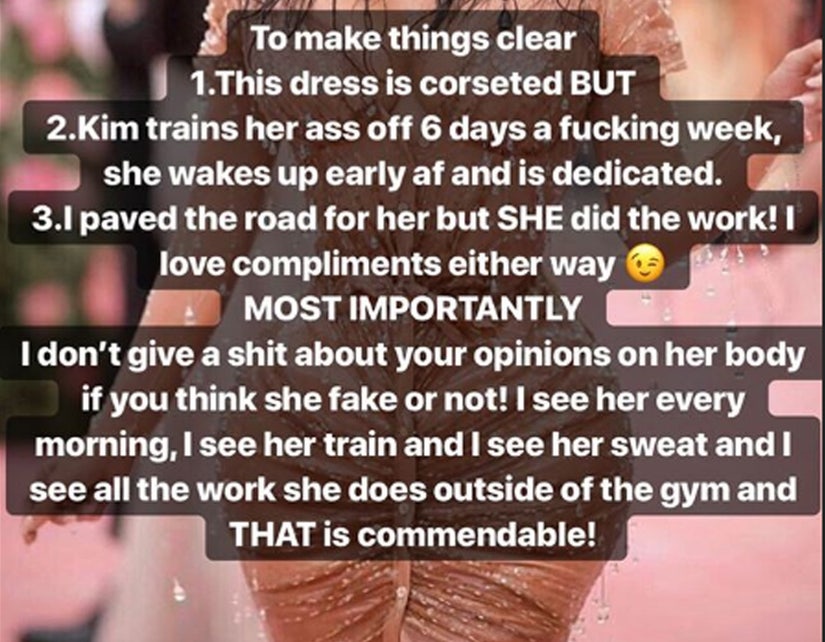 Getty/Instagram
The event, dubbed "Fashion's Biggest Night," is a fundraising benefit for the Metropolitan Museum of Art coinciding with the opening of the Costume Institute's annual exhibit.
This year's theme is "Camp: Notes on Fashion" with the exhibit examining "how the elements of irony, humor, parody, pastiche, artifice, theatricality, and exaggeration are expressed in fashion."
Although some people didn't seem to be a fan of her look, Kim told E! on the pink carpet her gown was a big moment for fashion history. "This is the first time in 20 years that Mr. Mugler has designed for the House of Thierry Mugler," she said. "He hasn't designed in 20 years, so to come and design this gown for me is such an honor. This is about eight months in the making."
Kim added, "He just envisioned me this California girl stepping out of the ocean, on the red carpet, wet, dripping, that is the vibe tonight."