Banks returns to the magazine that helped launch her career, 23 years later.
The 45-year-old stunner came out of model retirement for the 2019 Sports Illustrated Swimsuit cover, the third cover of her illustrious career. Sporting a yellow bikini and her trademark smize, Banks looks incredible in the shoot, which was done by Laretta Houston in Great Exuma, Bahamas.
Tyra is one of three cover stars this year, as Patriots cheerleader Camille Kostek and soccer star Alex Warren also nabbed their own solo shoots.
Tyra was the first African-American woman to cover the magazine back in 1996, when she posed alongside Valeria Mazza, before getting a solo cover the following year.
"There is this stereotype that only a 20-year-old woman in a bikini is hot," Banks said in an interview with Sports Illustrated. "Like once we reach a certain age, we are no longer desirable. But I want to show that modeling has no age. I'm coming out of retirement to practice what I preach."
For the shoot, Banks even paid homage to her 1997 cover by slipping into a new version of the polka dot bikini. "We couldn't find the exact one in the archives – it was the polka dot bikini so we recreated that bikini. I recreated [the shoot] — 25 pounds heavier." You can see that in the video above.
"I am telling people that beauty comes in all shapes, sizes and ages" she added. "I have to put my money where my mouth is. I have to make sure my message is pure."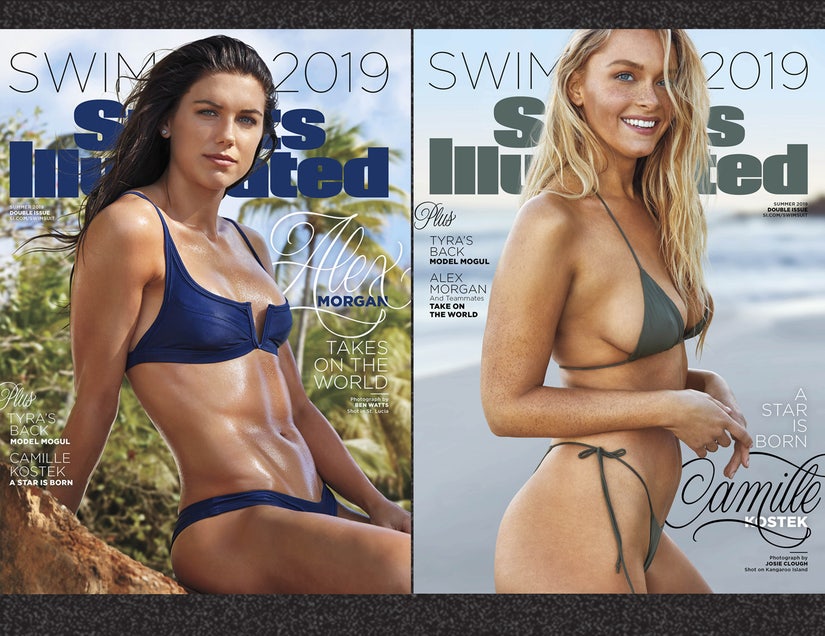 Ben Watts and Josie Clough/SPORTS ILLUSTRATED -- On Sale Now
"Since Tyra's first cover in 1996, she's transformed herself into nothing less than a mogul, a cultural force and a supernova of inspiration and empowerment," said SI Swimsuit Editor, MJ Day. "She's kind of the Swimsuit Issue ethos come to life, everything we know this franchise can be."
Of the two other cover stars, Day added, "Alex Morgan stands for feminine strength and power- using her voice to fight for gender discrimination and equal pay and Camille Kostek, only a year after we discovered her in our annual Model Search casting, marks the launch of a career swimming in potential. These women emulate determination to own who they are and demonstrate how limitless they can be."
SI Swimsuit is on newsstands now.