"The cup bearer does not drinketh the Starbucks tea."
Starbucks garnered at least $2.3billion worth of free advertising from THAT "Game of Thrones" gaffe... and it wasn't even one of their cups.
An errant coffee cup left in a single shot of last Sunday's episode led to more than 10,000 mentions of the HBO show and coffee chain together in online, TV and radio news reports around the world, according to Stacy Jones, CEO of marketing company Hollywood Branded.
She told CNBC this figure didn't even account for the buzz generated through word of mouth and social media.
"This is a once-in-a-lifetime collision of opportunity for Starbucks," she said. "But really, this is just the tip of the iceberg, because what isn't being monitored or estimated is the word of mouth and social media on top of this."
The Seattle chain has remained tight-lipped about the affair — likely because it knows that the accidental prop had nothing to do with them. The combination of light and shade in the Winterfell feast scene just so happened to make it look like one of its mermaid-branded cups, enough so that #StarbucksCup immediately started to trend after the episode aired.
On Wednesday, Emilia Clarke tried to claim innocence, even though the cup sat squarely in front of her in the offending scene.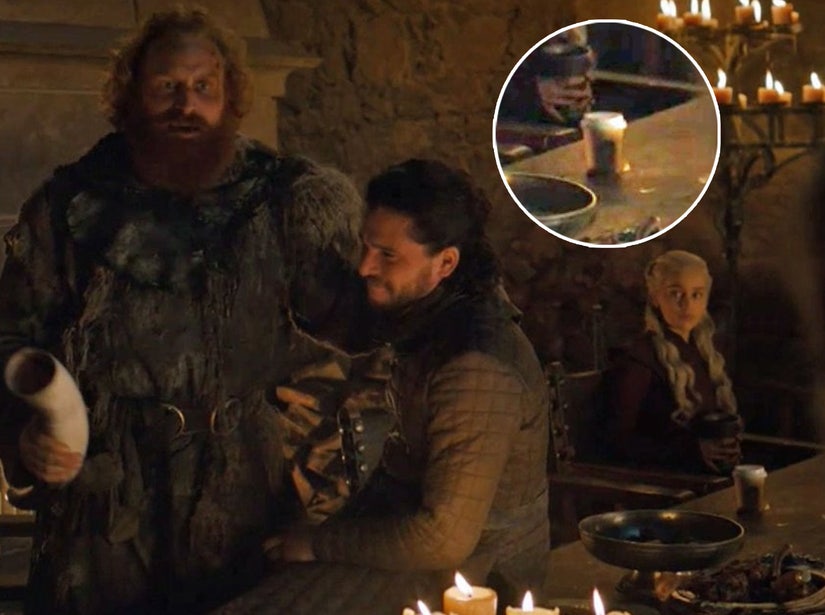 HBO
"Did I just stumble upon the truth here?! The cup bearer does not drinketh the Starbucks tea...," she wrote on Instagram; in the picture, which also features a smiling Peter Dinklage and Jason Momoa, she clutches a disposable coffee cup, notably different one from the one seen in "The Last Of The Starks".
However, it was hardly an exonerating argument, as Emilia knows - along with everyone else now - that the cup seen in the episode was not from Starbucks.
On Tuesday night Liam Cunningham — AKA the Onion Knight Ser Davos Seaworth — further stirred the pot during an appearance on Conan when he presented the host with what he claimed was the offending Starbucks cup, claiming it was Emilia's.
"Emilia probably drinks too much coffee," the normally honorable knight accused.
"What a bastard!" Clarke subsequently told the LA Times, laughing. "I don't even drink Starbucks. I have no idea whose it was. Liam's a cheeky one."
"The funny thing is in Belfast, there is no craft coffee selling Starbucks. Unless we've got the Americans in, some hotshot producer, and then we'll have Starbucks lying around."
HBO has since digitally removed the controversial cup. They admitted the error in an official statement when asked about it, joking: "The latte that appeared in the episode was a mistake. Daenerys had ordered an herbal tea."
Emilia's Instagram post, meanwhile, also raised further questions: Why was Momoa — who played her late husband Khal Drogo in the first two seasons, after whom her remaining dragon is named — on set in Northern Ireland?
Daenerys and Tyrion's outfits were certainly from season 8, and Momoa was still at this stage still rocking his recently-shorn Dothraki beard.
But according to Emilia's caption, Drogo will not be reappearing in the show — rather the "Aquaman" was just visiting.
"oh and this ain't a spoiler just a lost wanderer coming home for a mid filming cuppa.... @prideofgypsies you so fire you make my hair turn blue. #forfuturereferenceileavethebagin #drogonyouhavemyheart4lyfe #familyvalues @gameofthrones #forthethrone #forthecaffeine #forthedragons" she wrote.
Momoa himself replied to the post with a "love you", while Jacob "Grey Worm" Anderson even chimed in with a couple of laughing emojis.
Emilia, as it turns out, may have been telling the truth; Momoa has previously dropped by the NI set while visiting Dublin, two hours south in the Republic.
Waiting for your permission to load the Instagram Media.