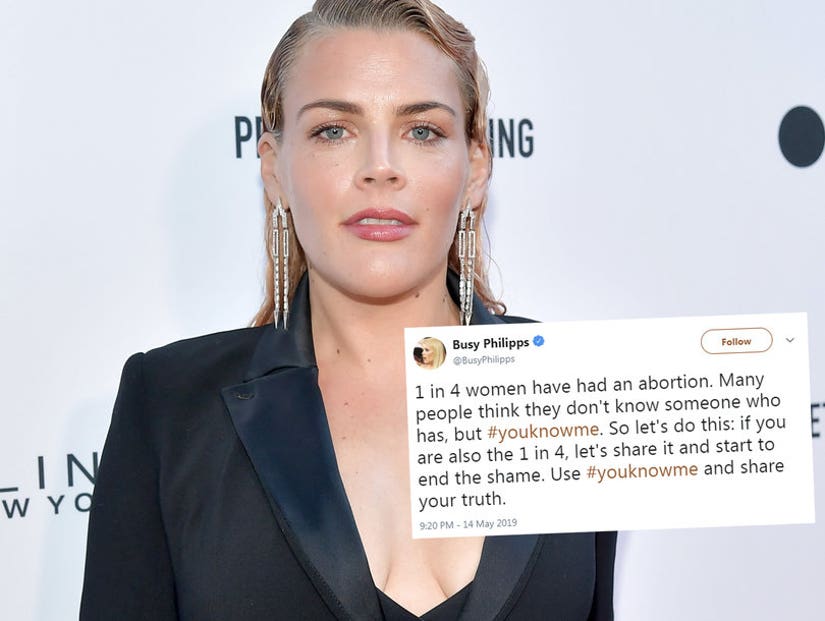 Getty
"Many people think they don't know someone who has, but #youknowme," the actress tweeted.
It's been a dark couple of days for women in America, as Alabama passes a law that bans abortion with VERY few exceptions. But there's hope in the form of celebrities using their platforms to break the stigma.
One star leading the initiative is Busy Philipps, who spoke her truth about having an abortion at age 15 on "Busy Tonight" last week. But the courageous actress didn't just stop there. Philipps also urged her followers to share their stories and "end the shame" by hosting an open forum on Twitter.
"1 in 4 women have had an abortion," Philipps' tweet on Wednesdays began. "Many people think they don't know someone who has, but #youknowme."
"So let's do this: if you are also the 1 in 4, let's share it and start to end the shame," she continued. "Use #youknowme and share your truth."
"#youknowme" instantly became a trending topic on Twitter. Philipps' original tweet has already amassed 4.2K replies, and growing, with retweets and responses from Minka Kelly, Amber Tamblyn, Alia Shawkat, Cynthia Nixon, Jameela Jamil, Rosanna Arquette and director Miranda July.
Kelly shared that she had an abortion when she was younger, calling it "the smartest decision I could've made, not only for myself & my boyfriend at the time, but also for this unborn fetus." Shawkat too said she had one when she was 20, explaining she wasn't "ready to raise a child alone or to be a mother" and her partner at the time wasn't allowed in the United States. Tamblyn called hers "the right choice, at that time in my life."
Waiting for your permission to load the Instagram Media.
i was 20 and my partner at the time wasn't aloud into the united states because he is Palestinian . I wasn't ready to raise a child alone or to be a mother #YouKnowMe

@ShawkatAlia
In 2012, I had an abortion. It was one of the hardest decisions I've ever had to make. I still think about it to this day. But these truths do not make me regret my decision. It was the right choice for me, at that time in my life. I have not a single doubt about this. #YouKnowMe

@ambertamblyn
Almost 60 years ago, my mother had an illegal abortion. It was too harrowing for her to discuss, but she made sure I knew it had happened. In 2010, my wife had a legal abortion after we found out her pregnancy was not viable. We cannot and will not go back. #YouKnowMe #YouKnowUs

@CynthiaNixon
I was 27. My then-boyfriend, who was big on "pulling out in time", thought we should consider having it and I said something like DO YOU HAVE ANY IDEA HOW MUCH I AM ON THE VERGE OF DOING?? 2 years later I started shooting my first feature. #youknowme https://t.co/AA6kiKKz0v

@Miranda_July
I am here and able to mother my incredible daughter because of the health- and life-saving abortion I had when she was three years old. #YouKnowMe

@JessicaValenti
Busy isn't the only Hollywood star taking a stance on the issue. On Thursday, Rihanna took aim at the Alabama senators who voted to pass the bill.
Last week, Alyssa Milano called for a #SexStrike due to "our reproductive rights being erased."
"Until women have legal control over our own bodies we just cannot risk pregnancy," the actress tweeted. "JOIN ME by not having sex until we get bodily autonomy back. I'm calling for a #SexStrike. Pass it on."
Our reproductive rights are being erased.

Until women have legal control over our own bodies we just cannot risk pregnancy.

JOIN ME by not having sex until we get bodily autonomy back.

I'm calling for a #SexStrike. Pass it on. pic.twitter.com/uOgN4FKwpg

@Alyssa_Milano