"I can't spend two-to-three hours every day in the gym like I used to," he explains.
"Jersey Shore" star Ronnie Ortiz-Magro took extreme measures to make sure he got washboard abs in time for Season 3 of MTV's reboot, "Jersey Shore: Family Vacation."
On Friday's episode of "The Doctors," cameras followed the new dad as he went under the knife to receive vaser high-definition liposuction of the abdomen at the hands of board-certified plastic surgeon Dr. Christopher Khorsandi. It's a procedure Dr. Khorsandi says "wasn't even available 10 years ago."
Here's a Before & After, taken moments following the procedure: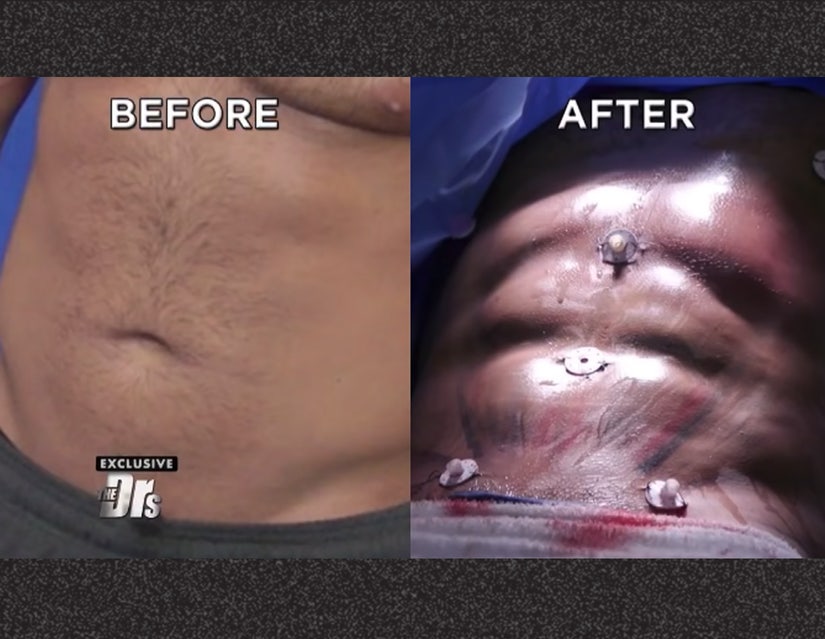 The Doctors
"I've always been a workout fanatic and I've always been in shape, but it also takes a lot of hard work to stay in shape," Ronnie explained. "One year ago to the day, my life completely changed. I had a little baby girl. She's like my guardian angel, and now, I can't spend two-to-three hours every day in the gym like I used to. Gym, tan, laundry for me is now gym, tan, diapers."
Ronnie decided to "try something new" and pay Dr. Khorsandi a visit. "We're gonna be able to get that area in between each of his abs completely defined so that he actually has a six pack for many, many years to come," Khorsandi explained.
Warning: Graphic content in the video below:
After the surgery, he told Travis Stork over the phone that he was feeling like "crap," but was "excited to show off the new abs" on the reality show. "If you're a fan of Jersey Shore, you know that I was one of the biggest fitness freaks in the house, always eating healthy and my protein shakes, all that crazy stuff," he continued, "it's true when they say, you realize when you get older, you don't burn fat when you get older. I'm realizing that right now."
"Back in the day, I could eat almost anything I wanted and still look good," he added. "Now I have a french fry and a cheeseburger and I gain 13 pounds."
"You just gotta keep this up in the gym," Dr. Khorsandi explained, "and he's gonna be just fine. That sick-pack is there to stay."