"I was shocked!" the celebrity chef says when asked about the confusion on "Watch What Happens Live with Andy Cohen."
Celebrity chef Rachael Ray was shocked and downright flattered that Beyonce's die-hard fans thought she was the woman once speculated to have had an affair with Jay-Z.
In April 2016, Beyonce dropped her bombshell album, "Lemonade," featuring the scorned-woman anthem, "Sorry," which contained the lines, "He only want me when I'm not there. He better call Becky with the good hair."
That same night, fashion designer Rachel Roy seemingly outed herself as being "Becky with the good hair" with an unfortunate caption on an Instagram photo of herself with a friend. "Good hair, don't care," the since-deleted caption read. "But we will take good lighting for selfies or self-truths, always. Live in the light. #NoDramaQueens." The Beyhive lost its collective mind and mistakenly thought the celebrity chef was the woman to sting.
"I was shocked!" Ray said when asked about the confusion on Thursday's "Watch What Happens Live with Andy Cohen." "It was Rachel Roy, who is a fabulous, beautiful clothing designer. At the end of the day, I go home, and I'm cooking dinner in King Kong slippers. I'm not hanging out with these people."
"I mean, I have to say, I thought it was a little flattering that people thought I even was like in that world! 'Oh, yeah, I hang out with them all the time!'" she joked.
Once the Beyhive had the correct alleged perpetrator, they swarmed her instead, forcing Roy to make her Instagram account private. She later tweeted about the scandal, saying, "I respect love, marriages, families and strength. What shouldn't be tolerated by anyone no matter what is bullying of any kind."
Roy then outright denied any involvement.
"I want to put the speculation and rumors to rest," she told PEOPLE three days after her caption sparked speculation. "My Instagram post was meant to be fun and lighthearted; it was misunderstood as something other than that. There is no validity to the idea that the song references me personally. There is no truth to the rumors."
Roy started her career as an intern at Rocawear, Jay-Z and Damon Dash's fashion label. She worked her way up and was named creative director of womenswear for the brand. It was then that she fell in love with Dash.
In 2004, Dash and Jay parted ways as business partners. In multiple interviews about the split, Dash alluded to having had a personal falling out with his former friend.
"All we did is made a company together and sold the company and went and did other businesses," Dash told The Global Grind in 2013. "It was a business arrangement, obviously... Maybe what you might want to ask is about the friendship [and] what happened with that, but that's more personal."
In January 2005, Roy married Dash. Four years later, she filed for divorce, and the two continued to battle over custody of their two daughters, Tallulah and Ava, until 2015.
In 2012, Beyonce's younger sister, Solange Knowles, accompanied Roy to Anna Wintour's star-studded annual gala in New York City. The good friends posed and smiled together on the red carpet.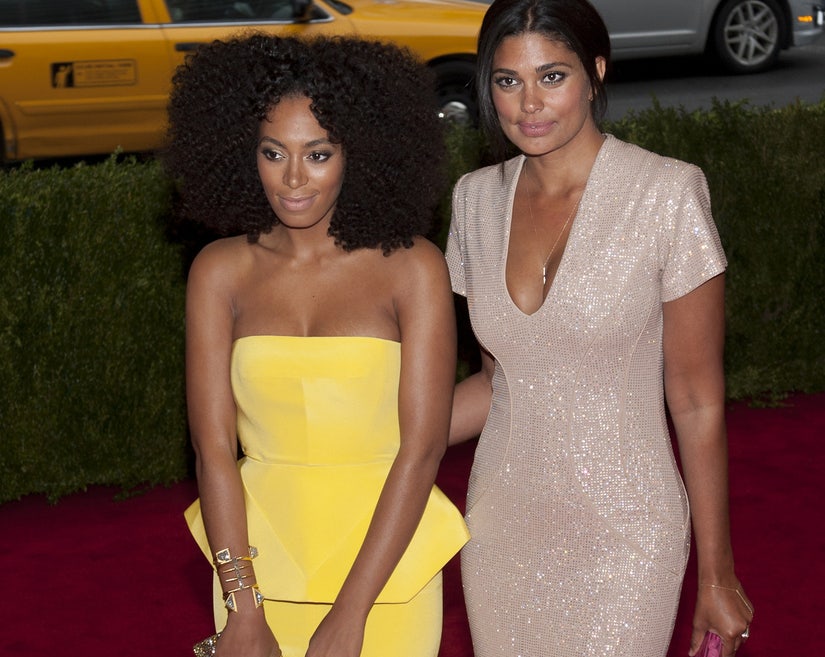 Getty
Then in 2014 -- a week after Beyonce, Jay-Z and Solange attended the Met Gala -- TMZ obtained surveillance video from inside an elevator at the Boom Boom Room, where the trio had attended an after party. The shocking footage showed Solange screaming at, kicking at and attacking her brother-in-law.
Rumors circulated that Solange and Roy had had an argument moments before the incident and that it had to do with her alleged affair with Jay.
While Jay-Z recently admitted to having had an affair during his marriage, he never identified who it was with. Neither Beyonce nor Solange have given any clue.