"I didn't say I wanted to cover it you melons."
Hey Mister, go Mister, soul Mister -- no Mister.
Ed confirmed on Thursday that he never intended covering an all-male version of "Lady Marmalade" following significant backlash online.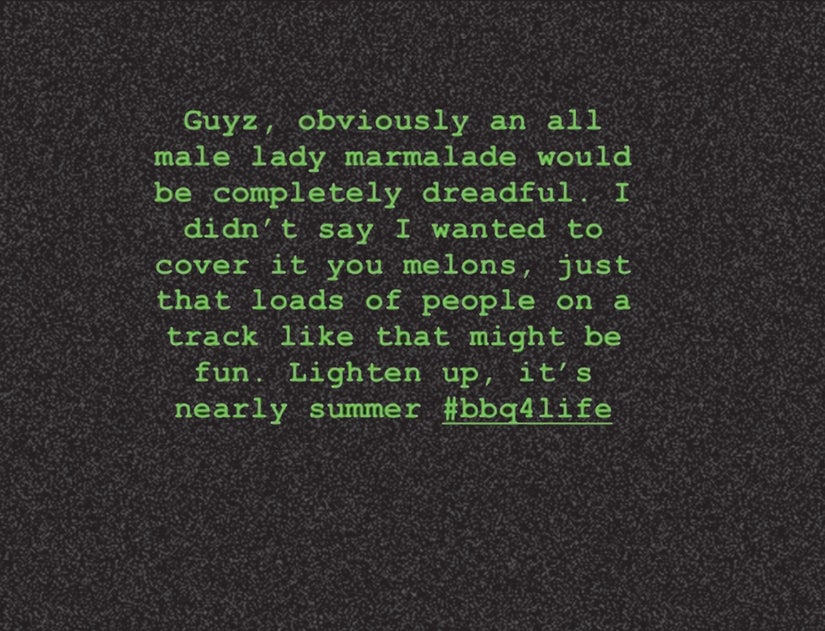 Ed Sheeran Instagram
"Guyz, obviously an all-male 'Lady Marmalade' would be completely dreadful," he posted on Instagram. "I didn't say I wanted to cover it you melons, just that loads of people on a track like that might be fun."
He added: "Lighten up, it's nearly summer #bbq4life."
Earlier this week, the mental image conjured itself when Sheeran revealed during an interview with Charlamagne Tha God that the famous 2001 "Moulin Rouge" colab —- featuring Christina Aguilera, Lil' Kim, Pink, Mya and Missy Elliott —- was the inspiration for his upcoming album, "No.6 Collaborations Project".
"This project actually started with one idea I had, which was — you remember 'Lady Marmalade', right? This is such a silly idea, but I had an idea of doing that," he said. "And I was like, 'You could get Bruno, Bieber and me on a record.' How fun would that be?"
The 'idea' went down like a lead balloon online, as fans made it clear that was a gender-switched reboot they most definitely did not want to see.... or hear.
Read some of the reactions below.
Ed Sheeran has now messed with:
- Game of thrones
- Galway Girl
- Bridget Jones
- Lady Marmalade
IS NOTHING SACRED

@harriet1marsden
Ed Sheeran has now messed with:
- Game of thrones
- Galway Girl
- Bridget Jones
- Lady Marmalade
IS NOTHING SACRED

@harriet1marsden