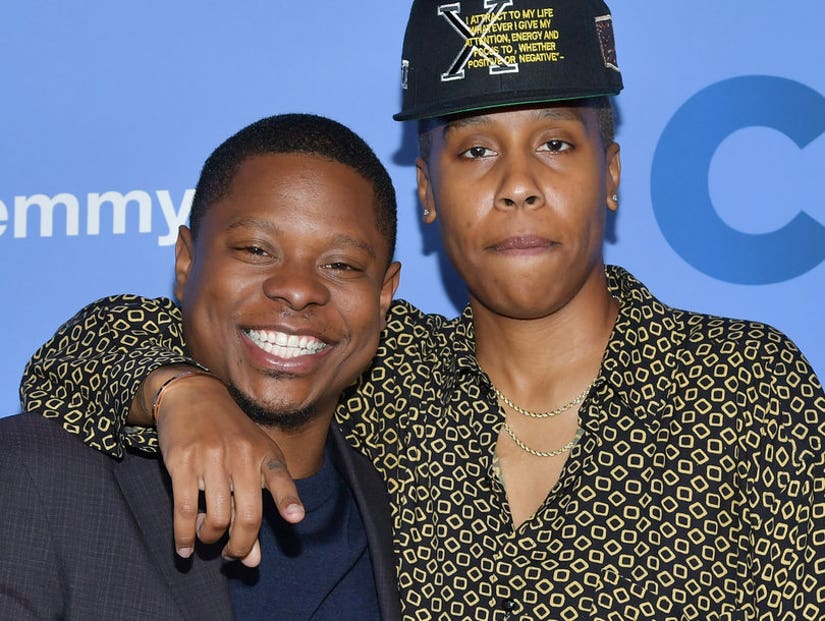 Getty
"For anybody to even assume or say that I would stand by while a woman is being mistreated or harassed and not doing anything it's just not true. It's just not who I am," Waithe says.
In a 40-minute interview with "The Breakfast Club" Thursday morning, the Emmy winner clarified how much she actually knew about Mitchell's alleged misconduct, her involvement in rectifying the situation and what she would have done differently.
"Season 1 of The Chi, that was shot maybe three years ago, before people really knew who I was," Waithe began. "I was one of those powerless women of color in this industry...I didn't have a whole ton of power or a lot of say. And now, I have a really strong relationship with the studio and the network, but it was just kind of how things go. For your first thing, you are almost an employee on your own thing."
"I wasn't made aware of anything going on with Tiffany until after the season had wrapped," she continued. "When Tiffany and I had a conversation, and out of respect for her privacy I will keep that conversation private, but we did discuss that this stuff wasn't appropriate. And I remember looking at her -- because we were Facetiming -- and I was like, 'Yo, this is not cool. I feel awful that you had an experience on my set that was not pleasant.' And by that point, when the season had wrapped, I had a little bit more power and I had a little more clout, and I was like, here's what I'm going to do to change that. I'm going to hire a woman of color as a showrunner."
The showrunner she hired was Ayanna Floyd, who earlier this week told The Hollywood Reporter Waithe was the one who informed her of Mitchell's alleged misconduct issues. Actress Tiffany Boone, who portrayed Mitchell's on-screen girlfriend, filed a complaint about him after the first season had wrapped filming and ultimately left the series over it. Mitchell has since been fired from the series and Floyd ended up departing after Season 2.
A source close to Waithe told the outlet originally that she was unaware that the conduct had continued. When made aware of Floyd's contradictory statement, the source amended their statement to say Waithe had been advised by Floyd of the ongoing behavior issues, but that Floyd would take care of it."
When Charlamagne flat-out asked Waithe Thursday if she was "aware" of the allegations that were made against Mitchell after Season 1, she gave a very lengthy explanation.
"Right...that was handled," she said. "And there [were] conversations that were had, HR was made aware and all the parties involved were like, 'This thing has been resolved enough that both parties were willing to return to the show.' So I was like, 'OK, if you want to come back, I want to make sure that the environment is different.' I made sure that when [Boone] came back to set, it was a whole different crew... And there were huge precautions that we took: The writers had extensive sexual harassment training. There was extensive harassment training on set."
According to Waithe, when they started Season 2, things seemed to be "running pretty smoothly." However, apparently, this didn't last very long.
"And then I get a call from Ayanna saying things are persisting, not a lot has changed, in that area," she said, alluding to allegations against Mitchell. "She said to me, 'You can't reach out to anybody, you have to sit tight and HR has to handle this.'"
Waithe explained her "biggest regret" was that she should have reached out to Boone herself. "I should have just said, 'Forget that,' and not trusted anybody to do my job and just reached out to Tiffany on my own, like, 'Yo, what's going on? What can I do? What can Lena do?' And instead, I trusted someone else to do my job."
"And the truth is, can't nobody do my job like me," Waithe continued. "I'm a person that I'm very blunt, I'm a chick from Chicago and I don't play. But what I wanted to do was trust my showrunner at the time and ultimately the situation wasn't handled appropriately. I'm not trying to throw anybody under the bus, but I what I want to do is own, I wish I could have handled the situation differently and I wish I would have done more. I think that's my issue when these things come out, people don't own their shit."
"What I want to do is own my part in it," she added. "I know what that's like to feel powerless, particularly as a woman of color. For anybody to even assume or say that I would stand by while a woman is being mistreated or harassed and not doing anything it's just not true. It's just not who I am...I would not let something bad happen to somebody, knowingly. I was trying to put people in positions of power to change that. But ultimately, that wasn't the answer. I'm always the answer. Lena is the answer. That's the biggest lesson I've learned in all of this."