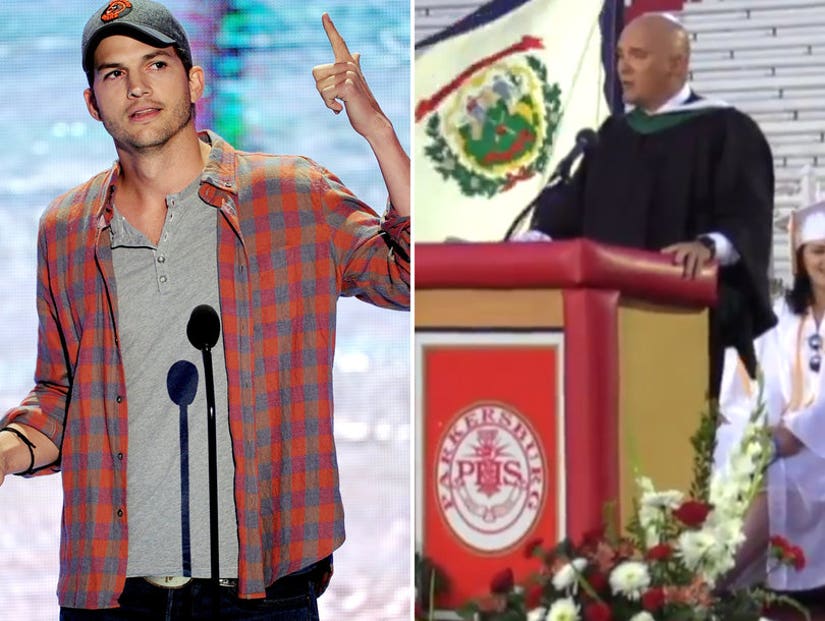 Getty / Facebook
"I believe that opportunity looks a lot like hard work," said the principal, who apparently put zero work into writing his speech.
Plagiarism is seriously frowned upon at most schools... especially if you are the principal.
A high school head looks to have been caught ripping off his graduation speech from Ashton Kutcher's famous pep talk at the 2013 Teen Choice Awards.
Student Abby Smith, a graduating student at Parkersburg High School in West Virginia, spliced together a video of Ken DeMoss's address with the one Kutcher gave when accepting his Ultimate Choice surfboard six years ago... and they bore more than just a passing resemblance.
Waiting for your permission to load the Facebook Video.
In the cringeworthy vid, DeMoss opens by telling students he's going to "spill the tea" on three things: "opportunity, being intriguing , and living life."
He had wisely edited Kutcher's list of "opportunity, being sexy, and living life."
"I believe that opportunity looks a lot like hard work," Principal DeMoss went on, replicating Kutcher's exact words.
He then began listing all the jobs he had growing up, including "carrying shingles up to the roof" on a building site... which was the exact same first job Kutcher had with his dad. DeMoss didn't specify if he was also helping Kutcher's dad at the time.
"Being intriguing" and "being sexy", it turned out, in both men's opinions, meant "being really smart", as both speeches immediately converged once again.
"Be smart, be thoughtful, be generous.... everything else is just crap, crap that someone is trying to sell you," the two men say, one after another in the edited video.
For his third point, Kutcher then quoted Steve Jobs, presumably because he had just played him in a film. DeMoss meanwhile, quoted the Apple founder, just because.
They both close their speeches by telling their respective audiences: "I love you guys."
After the video went viral, DeMoss issued an apology on the school's Facebook page, admitting he had seen the Kutcher video... but claimed he did not get "all his ideas from Ashton."
"As a proud father and a man of faith, I want to sincerely apologize to those I have obviously offended," he said. "It was never my intent to take credit for what I said or give specific credit because of how I prefaced my speech."
His preface, according to the Parkersberg News and Sentinel, had alluded to the "many great ideas and thoughts that have helped me be who I am today."
In his apology, he claimed he had "heard and seen many similar speeches at coaching and leadership clinics and at professional development that many of you have not," insinuating there were simply too many sources to cite in his closing address.
"The format of Ashton's speech I liked the most, because it had the most impact on me. I did not get all my ideas from Ashton. Format yes, (but the) thoughts and ideas were from my heart."
He went on: "Saying something in which I receive no money for, or academic credit, or a transcribed grade is what led me to not be as specific as I should have been, instead of prefacing with a blanketed statement," he said. "And unfortunately when I don't cite everyone, I'm personally taking a hit. Lesson learned for me."
"In the future, anything that is spoken by me or any other administrator to the public, if it has been said by anyone else, it will be cited."
Smith meanwhile didn't think much of her former principal's "apology".
"I didn't see it as an apology, but as a deflection, which is all too common in our public discourse," the 18-year-old said. "I think that Mr. DeMoss holds a position of authority and leadership in Parkersburg High. If I am held to a high standard, I believe that my administrators and faculty should also be held to the same standard. It's all about accountability."