The actress plays against type in the horror series, tapping into her dark side.
She wants to be the most popular ghoul.
In the new installment of "Into the Dark: They Come Knocking," "Teen Witch" alum Robyn Lively tapped into her supernatural side unlike ever before ... and loved every second of it.
The latest episode of Hulu's horror anthology series -- a new one drops every month -- centers around a father (Clayne Crawford) on a road trip with his two daughters following the loss of his wife, their mother, to cancer.
Lively -- who, yes, is sister to Blake IRL -- plays the late mom, Valerie, both before and after her death. Let's just say that when Val returns, she's taken on more sinister form (above).
TooFab caught up with Robyn before the episode drops this Friday, where she talked about stepping out of her comfort zone and into some prosthetics for the role and revealed one thing about how the press covers her famous family that really ticks her off.
Thank you for chatting with me today. I watched the 'Into the Dark: They Come Knocking' last night and I was sufficiently spooked.
Thank you so much. Oh my gosh, it was so much fun.
This is kind of outside your comfort zone. How was it tapping into a darker character and really getting your creep on?
It's an actress' dream to go completely out of your comfort zone. You should have seen the amount of videos that I took of myself when I was ... it was such a transformation. It's just unlike anything I've ever done and I absolutely loved every second of it because I got to play literally like two different roles in the same episode.
So this is a two-part role. How did you approach each one and what was that process like for you?
The [Val] where I was just a normal mom, that was fairly easy for me because it's so true to me and my life and my own personality. Of course, I've never had to deal with anything as tragic as what this family has gone through. You put so much of yourself into each role and a piece of you into each role and to have to embody that character is so emotional because I know there are people that have these struggles and, gosh, it was such a fulfilling role for me to play.
And to be able to play opposite Clayne. I've actually worked with him a few years ago, several years ago actually, so it was nice to be able to be with him again and have this project together. And, because we have history together, it was just instant chemistry, which is so nice. It was so helpful and we just really good friends, so that was so so wonderful and so beneficial to both of us. Easy to access emotions and the girls were phenomenal. That was a bit easier.
I was in prosthetics for about four and half hours every time I was Evil Val. Thankfully, I loved the makeup team. And I remember walking out the first day and everyone was just completely blown away. But I took it very seriously and in order to do that I didn't want it to come across hokey. You know the scene in the container where she comes after [her on-screen daughter]? And she's screaming. The night before I was like --because it's just written that I come at her and say 'Come to Mommy' and I'm like, how am I going to do this -- So I'm in my closet, just a walk in closet, I have mirror in there. I'm like, what am I gonna do, this feels hokey and even imagining myself in the prosthetic. So I decided to get on the floor and start crawling and I could see myself in the mirror like oh, that's creepy. So I said to [director Adam Mason], what if I crawled like this and he's like let's see it and I did it. He goes, Oh my God you're doing that, do that every time.
It's very unnerving. So good work.
It's also easier to embody that when you look at yourself in the mirror. You can see yourself and feel like I'm just a completely different human non-human.
For you, what was it like looking in the mirror the first time after your transformation and what kind of videos were you're shooting for yourself on set?
I took so many photos and videos because I never ever had the opportunity -- or the good fortune I should say -- to play a role like this and to have such a wonderful cast and crew and everyone was so encouraging and it makes all the difference. And the wardrobe was so cool, just everything about it, you really feel like a different person. I felt evil, it's so contradictory to who I am. I loved it.
Have you always been a horror fan? Is that an area you always kind of wanted to do or at least enjoyed from home?
Actually, no, I never. To be honest, I hate scary movies. I don't like being scared. So when this came to me -- and the role actually developed after I accepted it -- it became a lot better to be honest with you. And Adam is such a visionary. He's such a wonderful wonderful director. He changed the entire tone of it and made it much more emotional. Much more about the family. The family unit. And not just jump scares, you know. I had no idea to the extent when I read it what it would look like or what the process was in the prosthetics, the bald cap, all of that stuff was just surprising in the most wonderful way here. You cannot be vain when you're doing something like this. For me, this is one of the best things about being an actor, is being able to embody so many different characters and not just playing yourself over and over.
How do you think you would personally fare in the middle of nowhere -- maybe not surrounded by evil children and ghosts -- but if you find yourself broke down in the middle of the desert?
I should start watching more of those shows like Naked and Afraid, because I don't know what in the world I would do. I am grateful that my husband is an Eagle Scout and my son, because I really don't know what I would do. I actually feel like I'd be pretty strong though.
But you don't want to test that.
No, absolutely not! Give me a motor home, I'll be in the comfort of a motor home!
What did your family think of your transformation, once your kids and your husband saw it?
It's so funny because they completely freaked out. My husband loved it so much and I just showed my 11 year old. When you Google search 'Into the Dark' and our episode, 'They Come Knocking,' there's a screen grab and the image is of me and [Josephine Langford] and I showed my son this morning and he grabbed me, 'No momma, it's so scary!' We were hugging each other.
That's the reaction you want!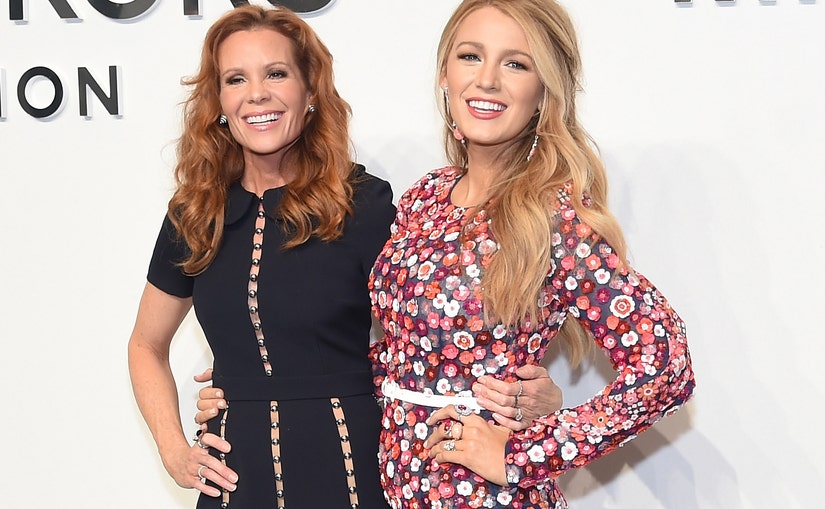 Getty
In this episode, the sister dynamic is very interesting. They have a bit of an age gap, they don't quite get along so much. I know you have a big family, with four siblings and a few major age gaps. What was the dynamic like for you all?
We've always been a very close family. And as my siblings have gotten older, the age gap is completely non-existent. For so long, my younger siblings were just my little babies. But it is still interesting, because sometimes I'll read things like, 'Robyn's half sister, Robyn's half brother.' There's nothing half about it. We grew up in the same family, it feels so awful when I read that. I'm like, 'No, she's my sister. He's my brother.' There's nothing half about the family. So the dynamic really shifts as you get older, it's like there's really no age gap at all.
We know you have another Hulu project coming up as well, with Season Two of 'Light as a Feather,' right? What can you tell to us about that. In the horror world again.
The universe is trying to tell me something I think. This is this show that John McAlary, he cast 'Light as a Father' as well. This came to me as such a surprise and such an absolute pleasant surprise because it's such a wonderful group of people to work with like Liana and Haley -- honestly, the entire cast -- has been so phenomenal because the first day I was like, 'New girl, hi, everybody.' They were so welcoming and so wonderful and now it's just been an absolute joy to be a part of this show.
"Into the Dark: They Come Knocking" drops Friday on Hulu.