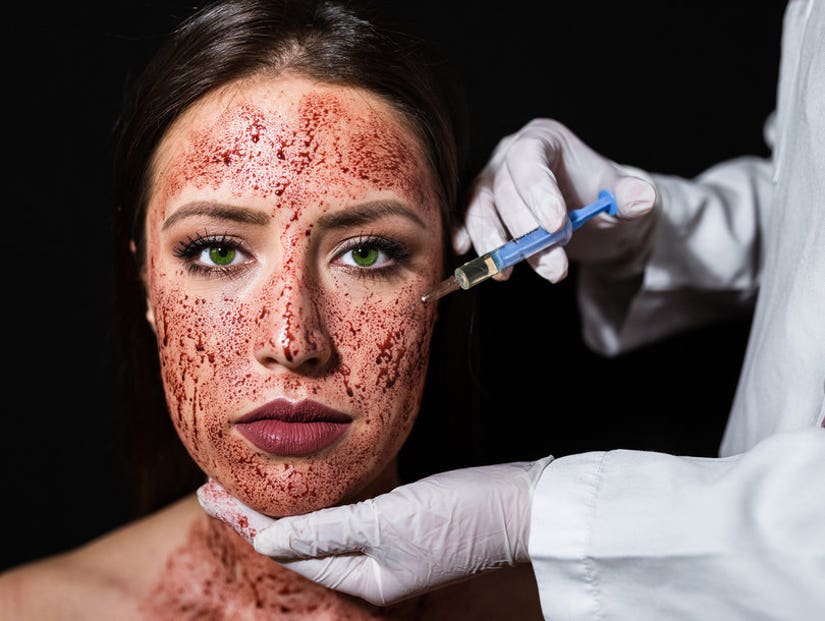 Getty
update 4/23/2021 10:24 AM
Salon owner Maria de Lourdes Ramos de Ruiz has been indicted on 24 felonies, including: practicing medicine without a license, racketeering, fraud, money laundering, and tax evasion.
"Individuals who jeopardize the health and safety of New Mexican families must be held accountable," Attorney General Hector Balderas announced in a statement Wednesday. "We look forward to presenting this case at trial."
He called on anyone who believes they may have been exposed at VIP Spa — or indeed any spa — to contact his office.
He also advised anyone considering a vampire facial to ask the following five questions beforehand:
Whether or not the establishment uses universal precautions - similar to tattoo parlors or a medical facility.
What precautions are utilized?
Who will be performing the procedure?
Will it be performed by a licensed medical professional? Cosmetologists and estheticians are not licensed to conduct medical procedures. At a minimum one must be qualified as a phlebotomist to draw blood, and if injections are administered below the subdermis, a nurse or physician must perform the procedure.
Does the establishment have a medical director? If so, what are their qualifications? Is it a physician or a nurse practitioner?
original story 6/7/2019 3:50 PM
A criminal investigation has been launched after two people contracted HIV after "vampire facials".
New Mexico State Attorney General Hector Balderas has issued a warning against the procedure, which is completely unregulated.
The so-called vampire facial, a form of Platelet-Rich Plasma (PRP) Therapy, was made famous when Kim Kardashian underwent the treatment in 2013, posting the jarring image of her face covered in blood afterwards. Kardashian has no involvement in the criminal investigation nor does she have any connection to the affected parties.
Last year, another establishment offering the service (different from where Kardashian received her facial), the VIP Spa in Albuquerque, was shut down after two patients subsequently tested positive for the AIDS-causing virus. The Department of Health shut it down after discovering unsafe practices; subsequent tests had found two patients had contracted the same HIV virus.
"I am highly concerned that these procedures are not being regulated at the State and Federal level and am announcing a criminal investigation into this incident," Balderas said.
"In addition, I am calling for action by the FDA and State Attorneys General across the nation. We cannot allow more people to fall victim."
After the alert was initially raised, 130 more terrified patients came forward to get tested, although only two cases of HIV were confirmed.
PRP is performed by withdrawing a patient's blood, running it through a centrifuge to separate the red blood cells from the plasma, and reinjecting the latter back into the patient.
It is used for a variety of bone and muscle injuries, and is even sometimes injected into the vagina supposedly to improve orgasms, though clinical evidence to support any of these claims is lacking.
The vampire facial sees the blood injected back into the face, supposedly for anti-ageing effects, and has recently seen an upsurge in interest thanks to celebrity endorsements.