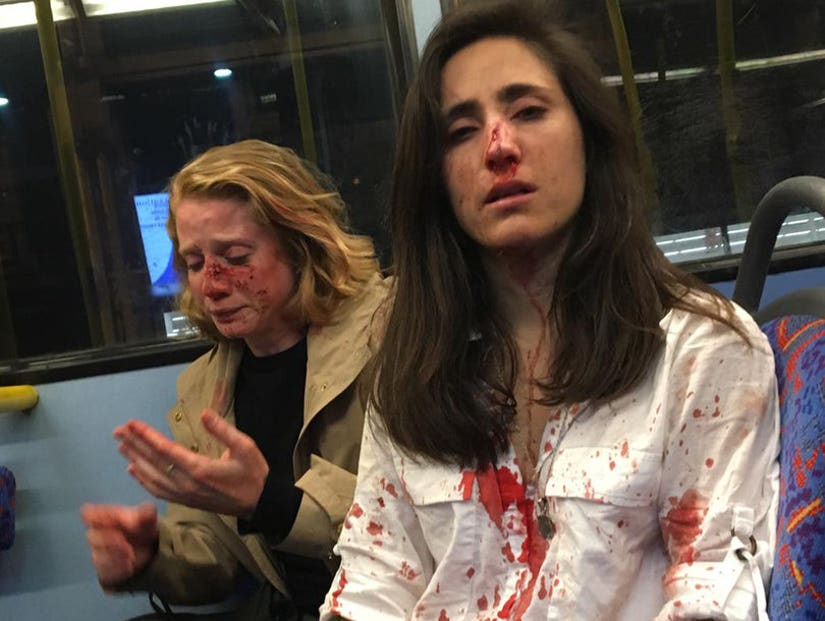 Facebook / Melania Geymonat
"The next thing I know is I'm being punched. I don't remember whether or not I lost consciousness."
UPDATE 2:21 P.M. PST 6/7/2019:
Four males aged 15 to 18 have been arrested by metropolitan police in London, on Friday June 7, under suspicion of a hate crime and robbery. They are currently being held for questioning at separate London police stations.
According to authorities, both alleged victims were taken to a hospital to treat facial injuries. They have since been released.
Detective Superintendent Andy Cox said on Friday: "This was a disgusting attack on two women who appear to have been picked out and targeted by a group of youths. The suspects have made a number of homophobic comments towards the couple before throwing coins at them. When the women tried to reason with the group, the attack escalated to an assault."
"CCTV footage from the attack is being reviewed by detectives. We continue to appeal for information from the public, particularly those who were present on the bus before or after the attack to come forward and tell police what they saw."
"A number of active enquires are in hand to trace other individuals suspected to have been involved in the incident. Lots of people will understandably be outraged by this attack. Our efforts to trace all the suspects involved and bring them in for questioning will be relentless."
If you have any information regarding the incident you are encouraged to contact London police. They can be reached on Twitter at @MetCC or by phone 0800 555 111.
A lesbian couple were left covered in blood after they were attacked by a mob on a London bus for refusing to make out with each other.
Air stewardess Melania Geymonat posted a horrific photo of the aftermath on Facebook, which has since received more than 10k shares.
Describing her ordeal, the 28-year-old said she was heading home with her American girlfriend Chris after a date night, when a gang of at least four men started harassing them.
"They started behaving like hooligans, demanding that we kissed so they could enjoy watching, calling us 'lesbians' and describing sexual positions," she recalled. "I don't remember the whole episode, but the word 'scissors' stuck in my mind."
With no-one else on the bus besides the couple and the gang, Melania said she tried making jokes in an effort to calm things down, while Chris even pretended to be sick — but they wouldn't leave them alone.
"The next thing I know is that Chris is in the middle of the bus fighting with them," she said. "On an impulse, I went over there only to find her face bleeding and three of them beating her up."
"The next thing I know is I'm being punched. I got dizzy at the sight of my blood and fell back. I don't remember whether or not I lost consciousness."
"Suddenly the bus had stopped, the police were there and I was bleeding all over. Our stuff was stolen as well. I don't know yet if my nose is broken, and I haven't been able to go back to work."
Melania said the thing that upset her most was not the attack, but the fact that violence has now become so commonplace that she knew it would take a picture of the two covered in blood to make people even take any notice.
"I'm tired of being taken as a SEXUAL OBJECT, of finding out that these situations are usual, of gay friends who were beaten up JUST BECAUSE," she said. "We have to endure verbal harassment AND CHAUVINIST, MISOGYNISTIC AND HOMOPHOBIC VIOLENCE because when you stand up for yourself shit like this happens."
She added: "By the way, I am thankful to all the women and men in my life that understand that HAVING BALLS MEANS SOMETHING COMPLETELY DIFFERENT. I just hope that in June, Pride Month, stuff like this can be spoken out loudly so they STOP HAPPENING."